JetSmarter founder Sergey Petrossov gave us advice for starting a company.
Earlier this month, TheRichest had the opportunity to speak with Sergey Petrossov, CEO and founder of JetSmarter, an innovative aviation solution to clogged airports, wasted time and the frustration that many face with traditional air travel. During our chat, we asked Petrossov if he had any tips for our readers who might be thinking of starting their own companies and he was kind enough to impart some words of wisdom, especially for TR's budding entrepreneurs. For the whole scoop, you can read our full exclusive interview here.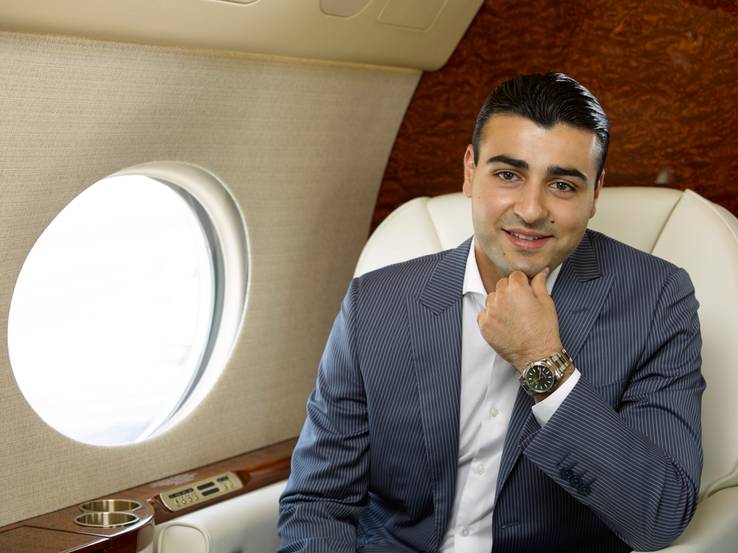 RELATED: EXCLUSIVE — HOW JETSMARTER IS THE NEW FLIGHT CLUB
Petrossov was inspired to create his company after he found out that thousands of private jets used to sit unused in hangars, depreciating in value,  not to mention the private jet pilots who waited for the previously not-so-common private flights to be booked. We wanted to know more about how Petrossov discovered the niche in the market, which is not an easy thing for an entrepreneur to do.
Petrossov told us that he discovered the niche in 2009 after he met a private jet operator. The pilot agreed to give Petrossov a "behind the scenes" look at how the typical booking process for private flights worked. The pilot explained that a person wanting a private flight would have to call up a company and speak to someone. Incredibly, even as of 2009, there were no digital means for booking a private jet, not even a website. Petrossov was astounded at this discovery and spent the next three years attending trade shows and started putting the numbers together. He found out that the average private jet was flying about $200 per year while commercial airplanes were flying anywhere from $3,000 to $4,000 per year. The planes simply were not flying enough and there were not enough private aviation customers in existence. 
"People would have these flying clubs and they'd try to get out of their city and they'd try to aggregate enough people," Petrossov said of the old system before JetSmarter hit the market. "The problem with that is the lack of speed with information and the critical mass. Only through technology, can you get millions of people in a system and notify them at the same time… You can only do that with technology and get enough people to be notified about certain events in seconds."
Finally, we asked Petrossov what advice he would give to someone who was trying to find a niche in the market they were interested in.
"Don't give up and be comfortable pivoting," Petrossov answered.
Good luck out there, entrepreneurs! Shoot for the stars!
NEXT: EXCLUSIVE: JETSMARTER IS THE NEW ALTERNATIVE TO PRIVATE FLIGHTS
Source: Read Full Article