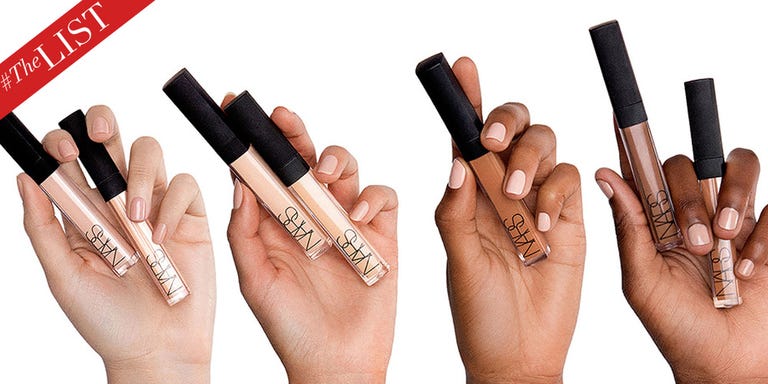 We couldn't live without concealer. Okay, maybe that's a bit hyperbolic, but we'd sooner have bare lashes and lips than face the world without our skin-perfecting armor. A good concealer can fake a night's sleep, give the illusion of flawless skin, and even double as foundation. Concealers can be used to highlight and contour, clean the edges of lipstick, and act as a base for eyeshadow. What we're trying to say is thank you, concealers, for being the MVP of our makeup bags. Ahead, shop the 17 best concealer formulas in the world for zits, dark circles, and everything in between.
This cult-favorite concealer flies off shelves for its ability to brighten and conceal dark circles without looking heavy or cakey. Bonus: it comes in more than 20 shades.
Beauty bloggers have been using this concealer to highlight and contour for years, but we particularly love how the formula doesn't crease or settle into fine lines on mature skin.
On one side is an illuminating concealer ideal for under-eyes, on the other is a lipstick-like matte formula perfect for scribbling over zits. Basically, it's the only concealer you'll ever need to buy.
Available in 20 shades, this concealer is a world's best because it can last through almost anything. Hot, humid, rainy weather—bring it on. This concealer doesn't budge.
The Radiant Creamy Concealer mentioned above is so popular that Nars released a shimmer-free, matte version that is our new go-to for concealing spots and zits.
This is the concealer to buy if you're looking for a formula that feels like nothing at all but somehow is both waterproof and life-proof (seriously, this lasts all day).
Striking the perfect balance between a hydrating formula with a matte finish, this luxe formula won't settle into fine lines and doesn't need to be set with powder.
The Rolls Royce of concealers got an upgrade this year with the addition of SPF 25 (as if it wasn't already a staple in evert makeup artist and beauty junkie's kit).
One of the best-selling concealers last year was this $4.99 tube from a brand called L.A. Girl. Beauty bloggers can't get enough of the formula, since it can also be used to flawlessly highlight and contour.
This milky, highly pigmented formula dries down quickly, so you know it won't skip out on you before the end of the day.
A delicious little jar of skin-illuminating concealer that is so divine you'll want to use it all over your face (and you can, it doubles as foundation).
Flexible concealer sounds like a bad thing, but its actually what you'll need if you struggle with fine lines and patchy texture. This lightweight concealer is strong enough to disguise a zit but still moves with your skin, so it doesn't look unnatural.
You can't make a concealer list without mentioning Secret Camouflage, the OG of skin-perfecting formulas that can still be found in the kits of makeup artists and celebrities around the world. It's ideal for covering dark spots and zits.
The perfect blend of full coverage with a weightless finish, fans love this concealer because it doesn't settle into fine lines.
A sheer, buildable, glowy concealer that is as green and clean as it is beautiful on skin. It's best for under your eyes on around your nose.
Shape Tape is one of the best-selling concealers in the world, and in 2018, Tarte is listening to feedback and expanding the shade range to include darker skin tones. Dry-skin-havers beware: once this formula sets, you might not want to set it with powder.
All the benefits of the most expensive, HD, camera-ready concealers on this list—but for less than $5.
Source: Read Full Article