With her signature curls, contagious smile, and joyful demeanor, it's easy to recognize Olympic gymnast Laurie Hernandez, whether she's coming to you live from a gymnastics meet or on TikTok with her playful posts. These days, she's on a rigorous training schedule as she prepares for the upcoming 2021 Summer Olympics and all that goes along with it, including the sport's notoriously rigid hair policy, but you'd never know it from the way she effuses a fun-loving attitude — and shows off her enviably luscious curls — any chance she gets.
In fact, you could even say Laurie's hair is like a reflection of the vivacious energy she possesses on and off the mat. Despite her nonstop days, she'll always make time for her hair-care routine. "Hair care is something I have fun with and make a priority!" Laurie said. "My hair goes through a lot between training and working out, so I really try to take care of my curls as much as I can." Between her varying curl pattern and new color (she went blond in 2020!), Laurie's main objectives are to keep her curls healthy and her color vibrant, and she trusts Hair Food's range of products to do just that. Ahead, discover her go-to lineup and tips for keeping her hair nourished.

"I have always loved my curls but haven't always known the best products to use in my hair," Laurie said. Over time, she's landed on an ideal routine, but almost more important than the products she uses are the ingredients. She ensures anything she puts on her head is full of ingredients she wants to put in her hair, not the ones she doesn't. In other words, she relies on nourishing superfood-inspired, simple recipes, like the ones found in Hair Food products. "I take care of and fuel my body with nourishing foods, so why not do it with my hair, too? Using clean products is important to me, and Hair Food has no sulfates, no parabens, no dyes, and no mineral oils."
She washes her hair twice a week with the shampoo and conditioner from the brand's Color Protect collection with white nectarine and pear, made to cleanse, strengthen, and protect. "One thing I really noticed when using the Hair Food conditioner is that it doesn't leave a coating that can weigh down my hair like other conditioners sometimes do."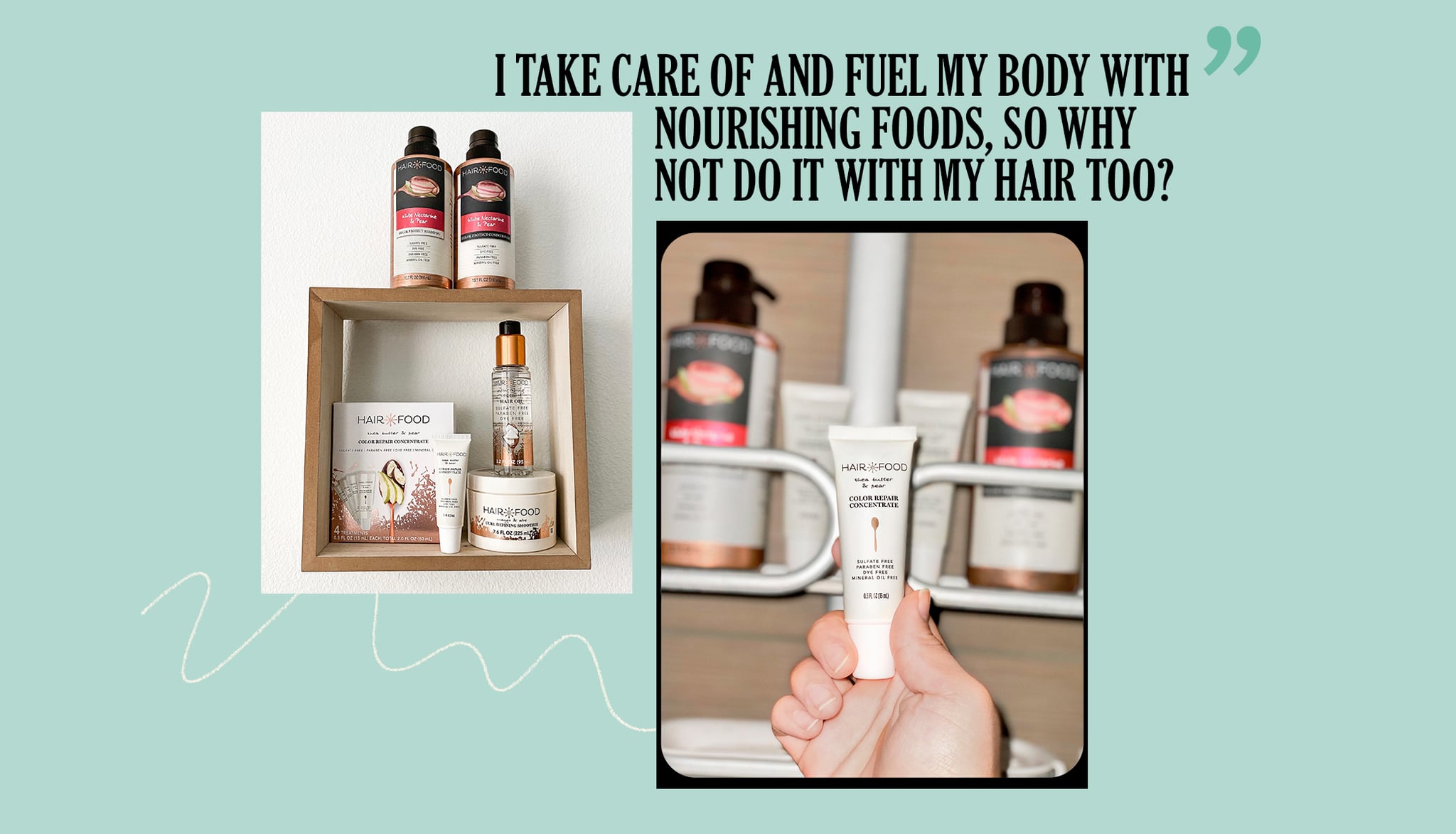 "I went blond last year during quarantine and am currently loving it!" Laurie shared. "I protect my color so I don't have to get it done quite as often." While the shampoo and conditioner help in this regard, she also relies on a secret weapon to maintain salon-worthy color at home: the Color Repair Concentrate with shea butter and pear.
After rinsing out her conditioner, she'll apply the concentrate to damp hair, spread from midlength to ends, then rinse to help boost shine and vibrancy and prevent fading. "It really helps with the look of fried or dry hair. My hair goes through a lot with always being tied back for training, so I like to use the concentrate to give it an extra boost."

As a stark contrast to how she wears her hair tied back for gymnastics, you'll often find Laurie with her curls down and on full display when she's not on the mat. "I always like to just let them be free," she shared. But it takes a couple more products to get them to look the way they do. Once she's out of the shower, she applies the Leave-In Curl Defining Smoothie with mango and aloe vera to help define her curl pattern. "While my hair is still damp, I pull through the smoothie from the middle of my hair to the ends and then scrunch my curls just a touch to make them bouncier. It gives my curls a little more hold and helps them last longer — it usually gives me an extra day out of my styled hair."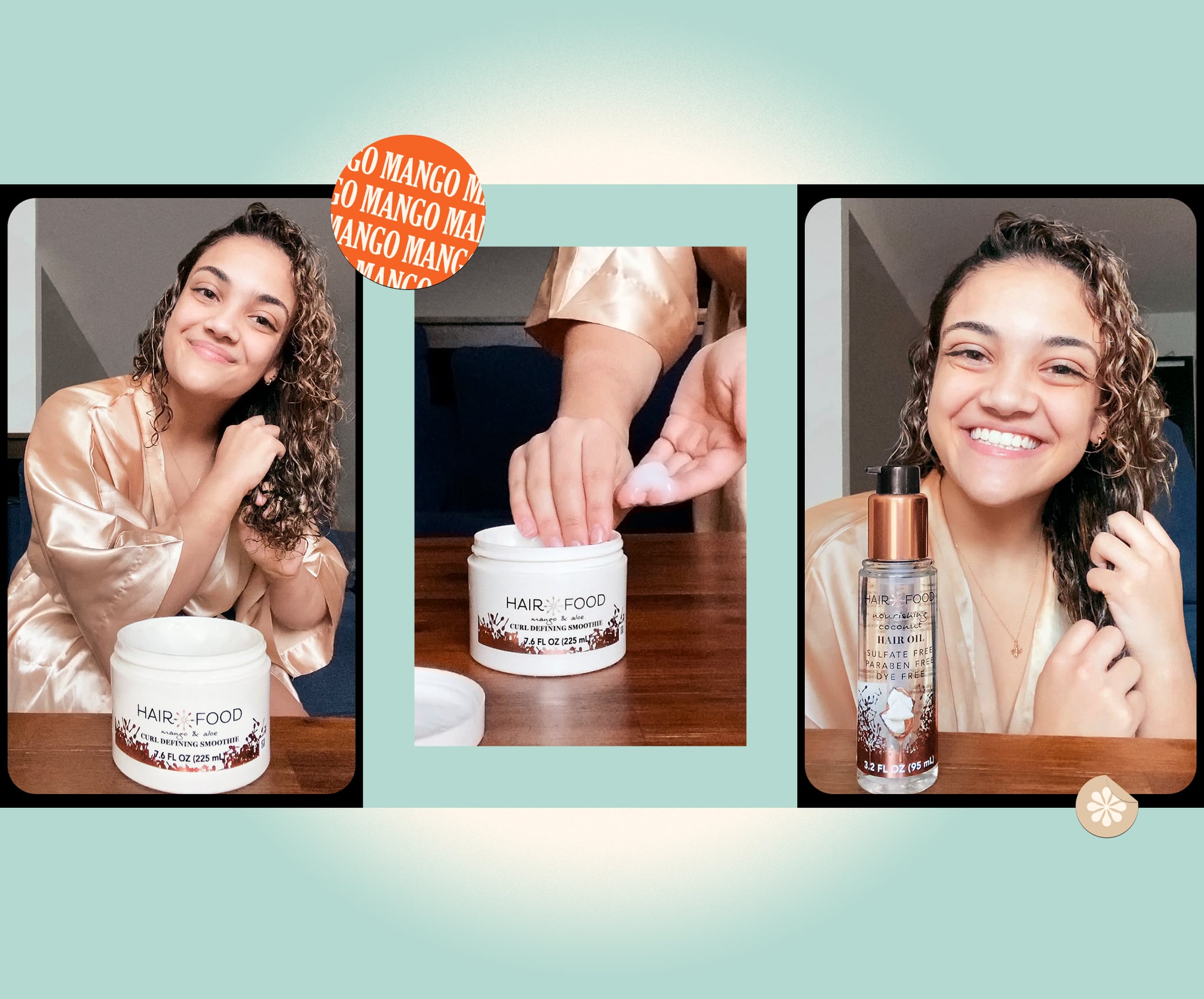 From there, she'll dry her hair with the help of a diffuser, a bit of the Nourishing Hair Oil with coconut oil, and one of her favorite styling tricks: "When blow-drying with the diffuser, I may notice a few strands that get frizzy, and this is where the hair oil comes in. I'll condition those pieces with the oil so they dry just as curly as the other pieces. It really helps everything lay a little more evenly."
"My curly hair makes me feel confident and unique. Growing up in gymnastics, I didn't see a lot of other girls that looked like me, so I like to wear my curls and represent for all the curly-haired people out there. I love seeing other people rock their curls, too!"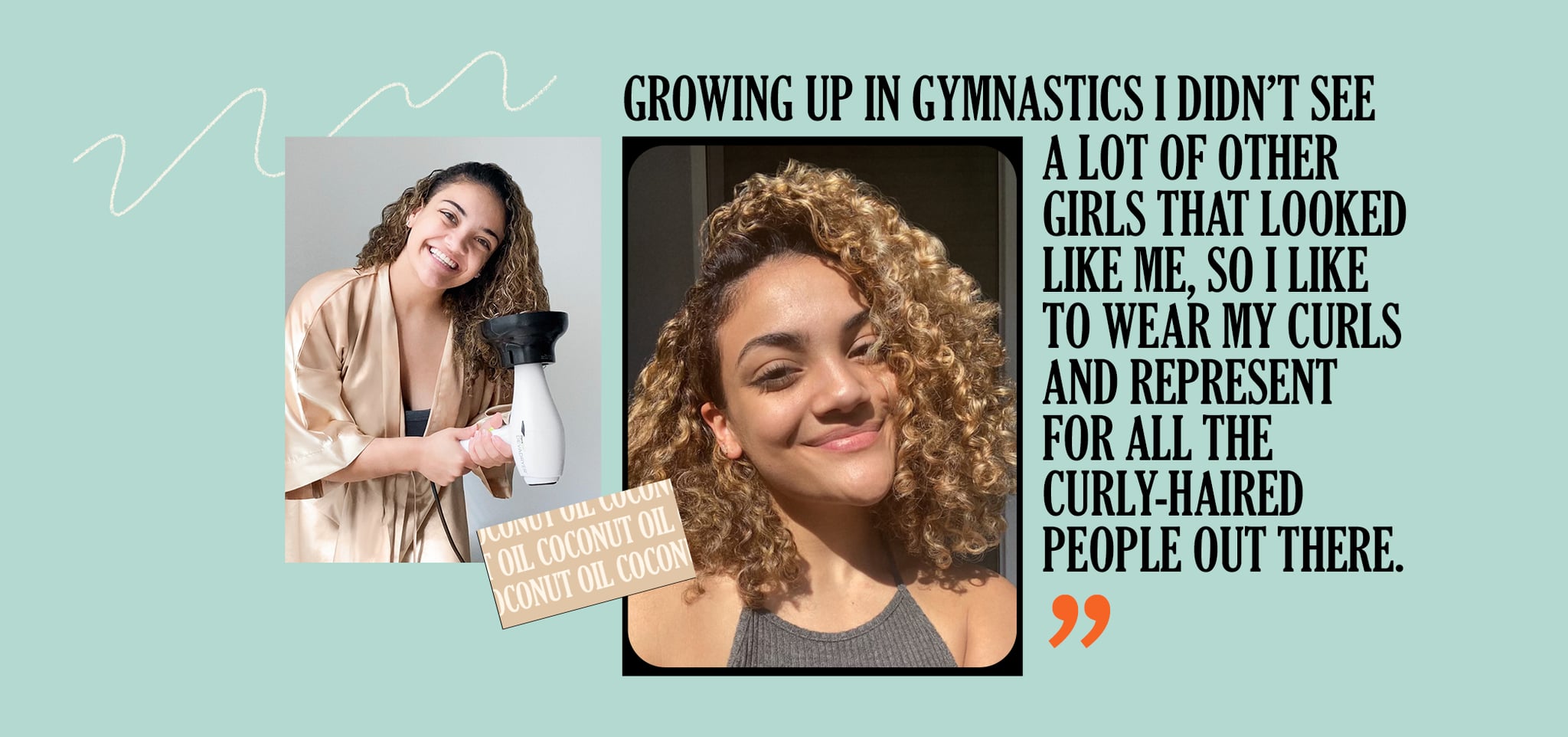 Hair Food Color Protect Shampoo With White Nectarine & Pear

$8

from Hair Food

Buy Now

Hair Food Color Protect Conditioner With White Nectarine & Pear

$8

from Hair Food

Buy Now

Hair Food Repair Concentrate With Shea Butter & Pear

$13

from Hair Food

Buy Now

Hair Food Leave-In Curl Defining Smoothie With Mango & Aloe Vera

$10

from Hair Food

Buy Now

Hair Food Nourishing Hair Oil With Coconut

$14

from Hair Food

Buy Now
Source: Read Full Article