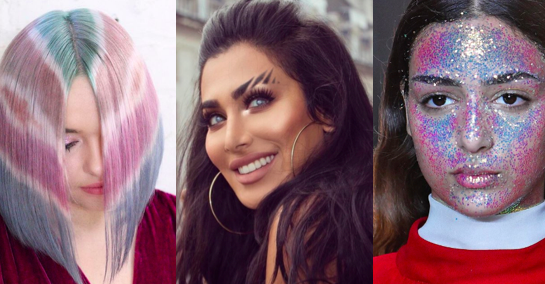 Beauty trends are moving fast and loose in the age of Instagram—with makeup artists competing for who can win the award of craziest eyebrows ever. Halo brows, tiger brows, rainbow brows—in 2018, beauty was all about a brow, but it wasn't the only wild trend to take the Internet by storm. We rounded up the craziest beauty trends of the year for your amusement, inspiration, or horror.
With nothing but a little concealer and brow product, you can create the negative space effect needed for a fishtail brow. That is, if you care to try it yourself.
One of the most horrifying beauty trends of the year, this nail tutorial recreated Kylie Jenner's first photo of her daughter Stormi. Watch it at your own risk.
Halo brows are brows connected in a halo shape across the forehead. This is a trend best left on the internet.
When Rihanna was teasing her new Fenty Beauty Body Lava, she dropped the hottest makeup tutorial of all time. It was so popular, in fact, that men and women alike began recreating and posting the shoulder-brushing tutorial in droves.
Yellow blush sounds terrible in theory, but in practice it's one of the most beautiful beauty trends of 2018. Sweep it high across the cheekbones and across the eyelids for the boldest effect.
Royal Wedding fever made its way into the beauty world by way of lip art and nail art, as well as a newfound preference Meghan Markle's sheer foundation, freckles, and peach lipstick.
Corkscrew nails—they look cool but cant actually open any wine bottles. And imagine trying to put contacts in your eye with these contraptions.
A shaved undercut looks even cooler when designed and dyed like fish scales.
Makeup guru Huda Kattan tried out yet another wild brow trend—tiger brows.
The rhinestone makeup Lily Collins wore to the Met Gala, inspired by Our Lady Of Sorrows, became a fan-favorite to copycat within the Instagram makeup community.
Florals have always been a motif in makeup—just not on eyebrows. #GardenBrows were trending this spring on Instagram, and they can range from whimsical to downright shocking.
The glitter trend jumped the shark in 2018, when models hit the Giambattista Valli fall runways in Paris wearing a face-full of duo-chrome glitter.
Pencil brows are exactly what they sound like: eyebrows shaped like pencils–because why not?
Iridescent ice-blue lipstick paired with inky black liner combine to create a cool dragonfly wing-inspired lip art.
South Korean nail artist Unistella created these three-dimensional sushi nails that look (almost) good enough to eat.
Why wear regular black eyeliner when you could create an intricate floral design instead? It's a painstaking process but the end result is beautiful.
Rainbow hair is so 2017. This year, it's all about the rainbow part.
Perhaps the most horrifying trend of the year, tooth-inspired nail art went viral on Instagram. You just have to see it to believe it.
Farsali—Instagram's favorite skincare brand—released new shades of their cult-favorite jelly highlighter this year.
When two trends combines you get this: glitter face masks. The glitter doesn't really do anything for your skin other than look really cool.
Everyone's favorite '90s hair accessory made a comeback this year on the Alexander Wang runways: claw clips. Finished in chrome and covered in a designer logo, claw clips are cooler than ever.
The internet lost its collective minds when beauty brand Chaos Makeup debuted this color-changing, magical makeup pigment.
Pastel hair color done on a backdrop of a subtle, shimmering silver base was the genius creation of @Studio_Wolf.
Makeup artist James Molloy went viral this year for his gold chainmail editorial eye look.Recreating this look at home requires patience and clear lash glue.
Though the gloss trend has been slowly returning for years, leave it to Pat McGrath to herald the return with the best lip gloss we've seen since the year 1998. Unapologetically glittery, thick, and shiny—McGrath's LUST Gloss is absolutely crazy in a good way.
Expertly traced and blended white eyeliner can give the illusion of a neon sign to eyes and lips. Paired with bright colors and textures, the neon makeup trend was born.
Rainbow eyebrows were achievable with lipstick and eyeshadows way before brow products were ever available in the necessary shades. But in 2018, Kat Von D released a collection of brow pigments in primary colors, giving way to the rainbrow trend.
Kim Kardashian and her longtime makeup artist Mario Dedivanovic brought back the color cobalt back into our collective makeup arsenals. Their KKWxMario makeup palette inspired millions of women to wear color on their eyes again (and blue at that).
You can blame (or thank?) this look created by Pati Dubroff on Margot Robbie for the surge of yellow makeup looks this year. The unexpected makeup color looks fresh and striking on every skin tone.
Hairstylist Boho Brushed created this southwest print hair color that looks as every bit as tie dyed as the shirts you made at your preteen sleepovers.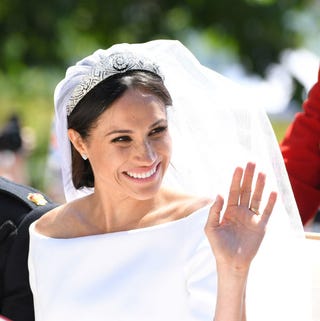 Source: Read Full Article