Stephanie Darling has a volume-boosting hair treatment and finds a fashion-forward "cleaning spray" fragrance.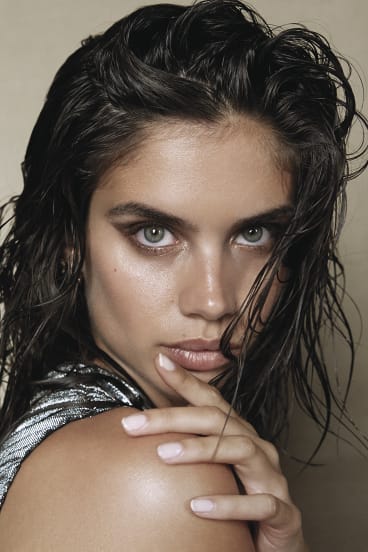 Sara Sampaio.
ROAD TEST
This week I try … a hair primer treatment
The lowdown I love hair therapy as much as a facial, so imagine the allure of combining hands-on attention with a volumising and moisture boost that claims to last for up to seven washes. Though the salon is pumping, I feel a sense of calm as my hair is shampooed twice with KMS Moist Repair, then towel-dried before the two primers are worked through my hair. KMS Volumising Primer goes on to the roots and ends, and Moisturising Primer is applied to the mid-section and combed through. They're left on for five minutes and then washed out. The final step is a relaxing blow-dry.
Pain factor Zero as I zone out. Downtime A well-spent 45 minutes.
Results My hair looked and felt healthier and, even better, it did go the seven-wash distance.
Elizabeth Arden Skin Illuminating Brightening Hydragel Cream, $90. L'Occitane Aqua Réotier Ultra Thirst-Quenching Cream, $56.
Where to get it Sydney: Wildlife Hair, wildlifehair.com. Cost: $25 for the treatment; $60 for the blow-dry. Melbourne: Shibui, shibui.com.au. Cost: treatment plus home mini, $62 with a cut, colour or blow-dry.
At home Try KMS Mini Style Primer Add Volume and Mini Style Primer Moist Repair, $32 each, kmshair.com.au.
Trend: Thirst-Quenching
Glam Glow Waterburst Hydrated
Glow Moisturizer, $49.
Creams Hydration (or lack of it) is the buzzword for parched autumn skin and the latest bevvy of fluid-based skincare products is testament to this. Choose from the calcium-rich L'Occitane cream, the plumping hyaluronic acid from Elizabeth Arden, or Glam Glow's clever, long-lasting moisturiser.
Add to Cart
Moschino's newest scent is gold, literally. I've loved every one of the company's quirky "cleaning spray" collection for the packaging alone, and this is my favourite. The scent's not bad, either, with notes of mandarin, rhubarb granita and peach with a hint of jasmine thrown in. Moschino Gold Fresh Couture EDP, 100ml, $129.
Ask Stephanie
How do I keep my lips protected from the sun?
Moschino Gold
Fresh Couture EDP, 100ml, $129.
Don't make the mistake I used to of applying sunscreen as the finishing product of my skincare routine, then cleaning my teeth. In the process, I'd end up diluting the sunscreen on and around my lips. Instead, apply some sunscreen to the back of your hand and then kiss that spot, blotting the sunscreen on to your lips.
Follow Stephanie Darling on Instagram @mrssdarling. Send questions to [email protected]
Source: Read Full Article