Damn Becca! Back at it again with another highlighter. The brand known for giving cheekbones a glazed donut glow is out to make beauty lovers drool one again. This time, Becca launched a Royal Glow Shimmering Skin highlighter that'll reign supreme over any other illuminator on the market.
It's safe to say that highlighters are Becca's speciality. The glow-getters recently upped their game with a highlighter created for women of color. Then, the brand followed up with a Dreamsicle pressed highlighter that looked yummy enough to eat. As if all of that shimmery perfection wasn't good enough, Becca masterminds hit the labs to craft an illuminator that even the royal family couldn't resist. Not sure if the Queen would actually approve of having an out-of-this-world glow, but when you catch a glimpse of this beauty, you'll want it for yourself anyway.
The newest member of Becca's highlighter family was inspired by British royalty, so you know it's the real deal. Launching just in time for Meghan Markle and Prince Harry's big day, the Royal Glow Shimmering Skin Perfector was made for both IRL princesses and wannabe royalty. There's just one catch: the shade is limited edition and it's not exactly available to the masses — sigh.
Royal Glow just landed in London. If you read that correctly, then you understand that means you can't snatch this beauty up at a stateside Sephora or anywhere else that carries Becca illuminators.
The shimmering gold pearl powder is available in the UK, exclusively via the John Lewis website. For those not hip to UK happenings, the retailer is practically Nordstrom, as it's a high-end department store chain carrying cosmetics, clothing, and even home décor.
Of course, anyone outside of the UK could always order the highlighter — that's the beauty of online shopping with retailers that ship internationally. Just expect to pay a higher delivery charge if you really want to give this baby a home within your beauty stash.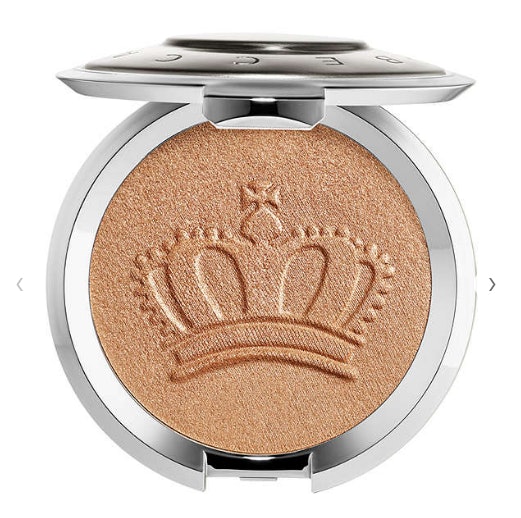 £30
Unlike any of Becca's other highlighters, Royal Glow features unique packaging. There's a crown pressed into the powder, giving it an air of luxury. Of course, this isn't the first Becca highlighter to feature alternative packaging — the Dreamsicle highlighter had ice cream swirls design elements — but it's the only one to get this fancy schmancy.
Swatches of the highlighter are enough to make you goo-goo-ga-ga for glow. International makeup artist and global ambassador for Becca @Nikki_Makeup on Instagram has got you covered with footage of the royal highlighter in action, so you can peep just how stunning it truly is.
It's obvious that Becca did. not. come. to. play! Royal Glow is the gilded gold of any highlighter fanatic's dreams, giving the face such beautiful luminosity. You're seriously going to want to bathe in it — and Nikki_Makeup gives you every reason to believe that you shouldn't do otherwise.
Fans really have British aristocrats to thank for such a dreamy new highlighter. With the Meghan Markle effect in full swing and royal wedding frenzy constantly brewing, Becca found the best way to transform all of the hype into a glitzy new piece of merch.
Only more swatches from the beauty community will tell if the highlighter is truly flattering on all skin tones. Chances are it's probably a winner for the masses, considering Becca's knack for inclusivity makes the brand appealing to beauties of varying skin tones.
Its "limited edition" stamp means quantities on the highlighter may be limited, so there's no telling just how long the shade will be around. In other words, you're wasting time if your fingers aren't already typing "John Lewis" into your search bar.
Source: Read Full Article