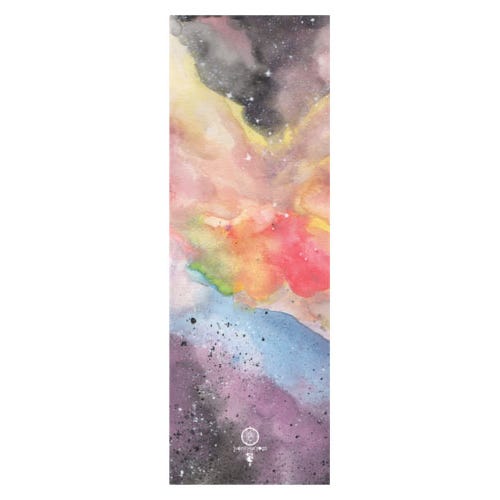 Best Overall
Lucent Hue Yoga Iriah Mat, $120, lucenthueyoga.com
Buy It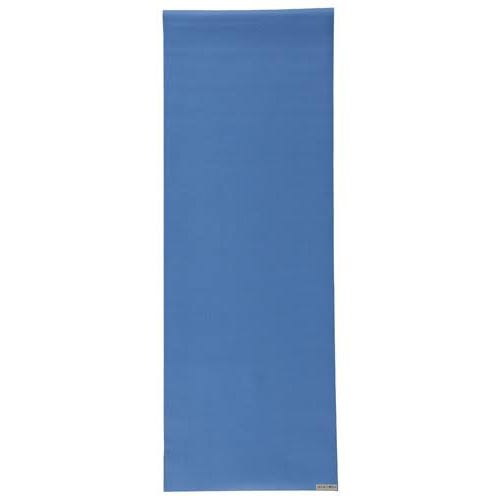 Best Grip
Jade Harmony Yoga Mat, $75 – $89, amazon.com
Buy It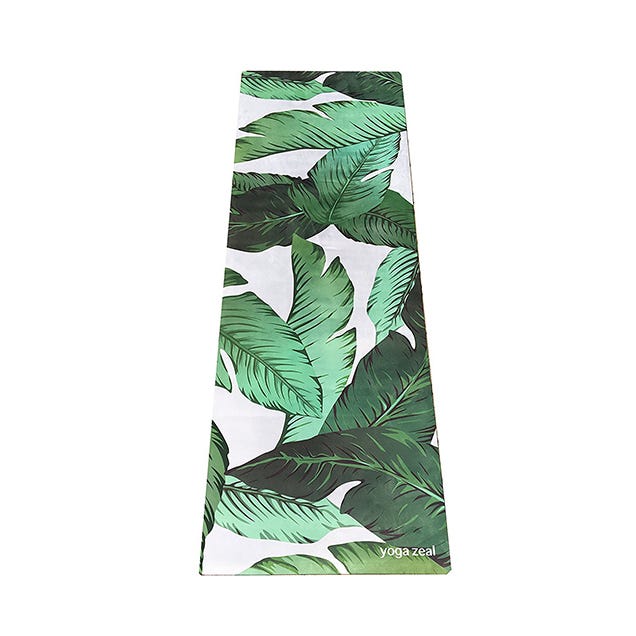 Best For Hot Yoga
Yoga Zeal Yoga Mat, $78, amazon.com
Buy It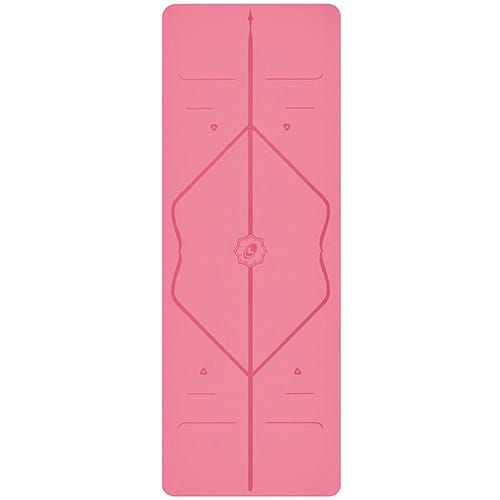 Best Splurge
Liforme Yoga Mat, $150, amazon.com
Buy It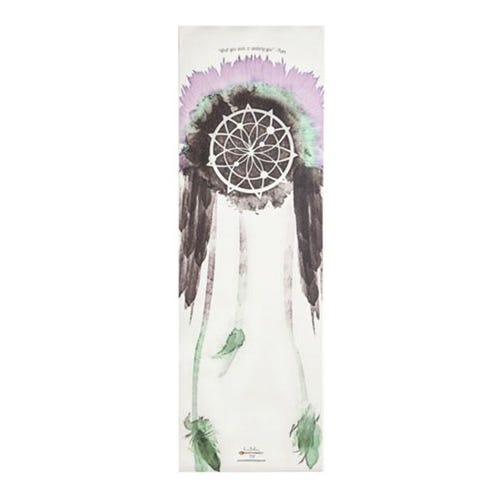 Cutest
La Vie Boheme Dream Catcher Yoga Mat, $86, saksfifthavenue.com
Buy It
Picking the right yoga mat might seem like picking the right flavor of ice cream—is there really a bad option? But then you get a dud that gives you no grip and leaves you slipping all over the place during class, you realize yoga mats are definitely not all created equal.
Choosing the best yoga mat for you isn't a decision that even a chill yogi should take lightly. After all, besides costing you money, it can really alter your practice. But how do you make the perfect pick? There are just SO many different kinds available.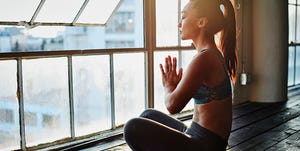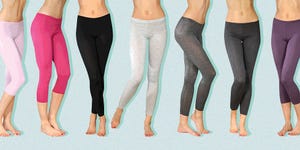 Some are thick, while others are thin; some are super grippy and others are smooth. Are you better off opting for a pretty mat or one that looks super durable? And are the more expensive ones actually worth their price tag? HAAALP!
It's not like you can test out every single one on the market to know what feels the best during your flow—but, luckily, there's a wonderful group of people out there who have tested countless mats: yogis.
These are the eight best yoga mats out there, according to some of the top teachers across the country.
Best Cushioned Mat: Manduka Pro Mat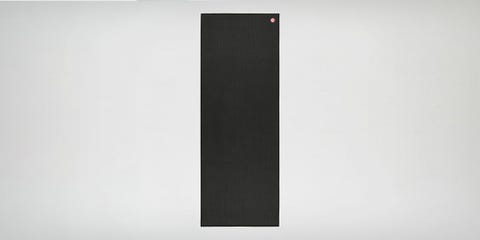 Courtesy of Manduka
$82, amazon.com
Buy It
Mandy Ingber, an L.A.-based celebrity yoga instructor, has taught clients including Jennifer Aniston and Jennifer Lawrence. Her favorite mat, the Manduka PRO, is a tried and true pick that's great for many yogis. Ingber likes that this comfortable mat is fairly light, but the best part about it is that it "doesn't leave a rubbery smell on your hands and has a slight cush without being too slippery." A bonus: It's latex-free for those of you that might be allergic. (Nobody wants hives during savasana.)
Best Grippy Mat: Jade Harmony Yoga Mat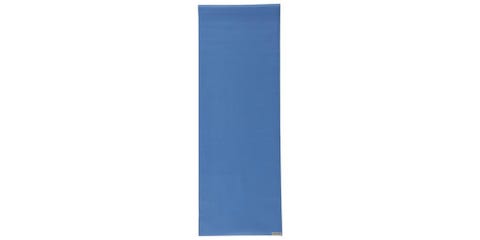 Courtesy of Jade Yoga
$73, amazon.com
Buy It
Do your hands always get super hot and sweaty during class? The Jade Harmony Mat, the favorite of Sam Emrich of New York City-based Y7 Studio, is the pick for you. You can sweat buckets in zillion degree heat, and this mat, made from open-cell, natural rubber, is staying put. "This mat has really great grip, which is important during an intense yoga class," says Emrich. "It prevents me from slipping and sliding when I'm sweating." It comes in lots of sunny colors, too.
Best Mat for Travel: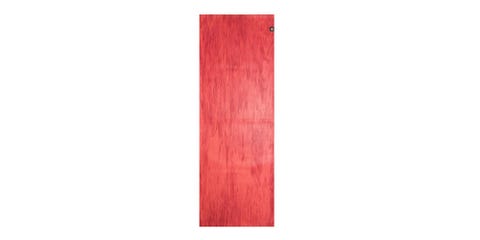 Courtesy of Manduka
$35, amazon.com
Buy It
When it comes to a mat that's truly portable, "The best mat that I have ever used is my Manduka EKo Lite," says Madison Semler, yoga instructor and founder of Salvajé Yoga in Malibu, California. This ultra-thin mat can literally be folded up and tucked into your purse or suitcase with ease. Plus, it comes in a variety of beautiful colors. Semler also notes that it's made of natural rubbers and biodegradable, and also: "it is extremely slip resistant and super easy to clean after class. It is the ideal mat for all different practices."
Best Upgrade Mat: Liforme Yoga Mat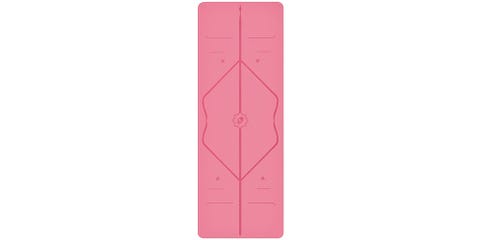 Courtesy of Liforme
$150, amazon.com
Buy It
This one is a little more expensive than your standard mat. However, if you're really hoping to take your practice to the next level, Colleen Saidman Yee, celebrity yoga instructor and founder of acclaimed Yoga Shanti studios in The Hamptons and New York City, says the Liforme mat is worth the investment. "The mat has the perfect amount of stick and cushioning for my 58-year-old body. Plus, the geometric drawings on the mat are wonderful for alignment, stride, and symmetry—all which make a world of difference to the asana practice." She also adds that the colors—purple, pink, green, blue, and black—are particularly pleasing shades.
Best Mat for Hot Yoga: YogaZeal Yoga Mat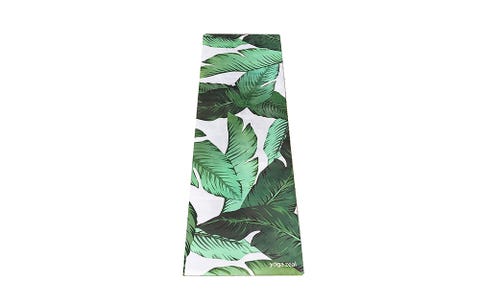 YogaZeal
$78, amazon.com
Buy It
Obsessed with hot yoga? Private yoga instructor Alexis Novak, based in L.A., gives the highest marks to YogaZeal's eponymous mat. Not only does she love the design, but "they're able to be machine washed and hung to dry. No need for a towel because they're a towel and mat in one." Which is basically a yogi-on-the-go's dream come true.
Best Mat for Vinyasa: Gaiam Sol Yoga Mat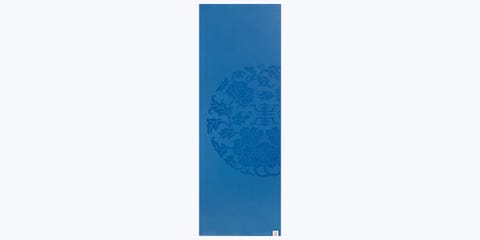 Courtesy of Gaiam
$45, amazon.com
Buy It
The last thing you want when you're zoning into your flow is sore hands and feet from a lack of cushioning. That's why Bethany Lyons, founder of Lyons Den Power Yoga in New York City, loves Gaiam's Sol, a dense mat that'll still allow you to connect with your body. "It's super cushiony, so I can work my hands and feet on the mat," she says. And if you really want to go this distance, this mat will go with you, Lyons says. "It's great for handstands, too!"
Best for Studio Style: La Vie Boheme Dream Catcher Yoga Mat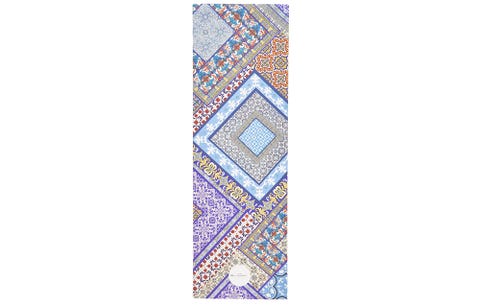 La Vie Boheme
$86, SaksFifthAvenue.com
Buy It
Sometimes, you just do yoga so you can get into a gloriously hippie-zen mood—so you should have mat that matches that goal. Lauren Taus, instructor at Sweat Yoga and Equinox in Santa Monica, loves this gorgeous mat for that reason exactly. "They're the most beautiful mats. I love how it feels to lay out my mat, and practice on something that visually grounds and inspires me," she says. As a bonus, Taus adds that she feels good practicing on a non-toxic and latex-free mat, owned by two awesome women.
Best Durable Mat: Lululemon The Reversible Mat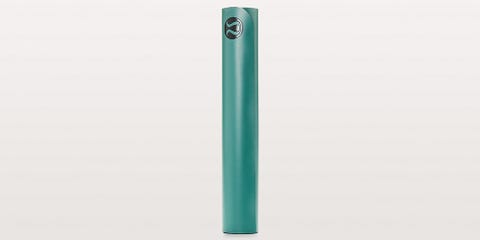 Courtesy of Lululemon
$68, lululemon.com
Buy It
Bring on the sweat: "Lulu's mat is incredibly durable and perfect for heated classes," says CorePower Yoga's Claire Ewing. "My hands and feet don't slip when I'm practicing and it's super easy to clean." Lululemon's Reversible Mat may not be as pretty as some of the other picks, but if you're toting your mat all over the city and are looking for a great hybrid of form and function, you can't go wrong with a solid natural rubber with an antimicrobial additive that also easily hangs dry.
Best Budget Mat: Kulae EASYmat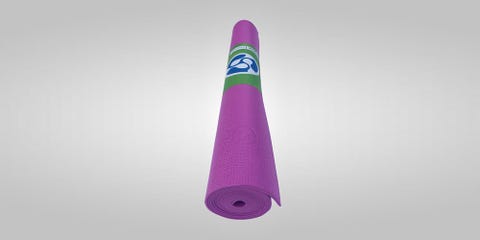 Courtesy of Kulae
$24, kulae.com
Buy It
Want to get the most bang for your buck? Jen Lobo, yoga instructor and co-founder of bodē nyc, recommends the Kulae EASYmat. "Since its so thin, there's more stability," she notes. "It's difficult finding the footing on a soft, squishy mat." And, despite it's thin design, Lobo notes that the mat doesn't buckle or shift during class, even during the most intense flow. Plus, at only $24, it's an amazing buy.
Best All-Around Mat: Lucent Hue Iriah Yoga Mat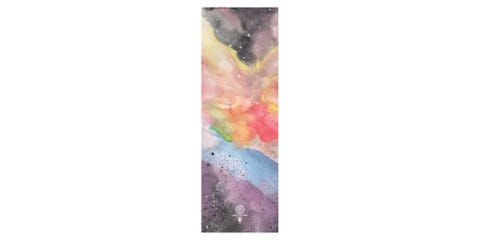 Lucerne Yoga
$102, lucenthueyoga.com
Buy It
Yes, the Esme Mat is, quite possibly, the prettiest mat in the history of mats. But it's not just looks. Kristin McGee, a celebrity yoga instructor in New York City who's helped celebs including Tina Fey and LeAnn Rimes Cibrian get fit, likes this mat for its function, too. "It's got a good grip, has a nice thickness, plus it's soft and cushy, too," she says.
Source: Read Full Article