Twenty four. That's how many fragrances comprise Britney Spears' vast perfume portfolio. The singer has been thriving in the celeb fragrance space since 2004 — when she dropped her first Eau de Brit. Her 24th fragrance is special, though! Britney Spears Prerogative perfume is her first gender-neutral scent. As the caption of the sexy Instagram promo clip so succinctly states — it's a fragrance for all. She is nearly 15 years into the fragrance field and she's not phoning it in.
The unisex scent shares its name with the '90s smash hit "My Prerogative" by Bobby Brown. Spears covered the track in 2004 and gave it a new lease on life — introducing it to a new generation of fans.
Now, the singer and Las Vegas residency queen is reminding us that inclusivity has become a standard, rather than an exception, in the beauty industry. Spears has a huge platform and a massive LGBTQ fanbase. She also accepted the GLAAD Vanguard Award at the 2018 GLAAD Media Awards this past April.
Therefore, Spears creating, backing, and connecting her name to a unisex scent is incredibly awesome. Despite marketing to the contrary, smells have no inherent gender. So, it's great to see a perfume icon recognizing that.
What does Prerogative smell like? It boasts notes of pink pepper, espresso foam, and amberwood. Oooh! That sounds super yummy and unique.
That caption, though. It says everything we need to know and need to hear. Plus, you can't argue with how sultry Spears looks in her glossy, black latex ensemble.
Prerogative is available at Walmart locations and the retailer's website as of this month. It will the cruise into Kohl's stores and its website in August.
So many of Spears' past scents, like Fantasy, have leaned feminine. But she is trying new things and the Britney Army is so here for it.
"It's [about] saying, 'This is what I'm going to do without — any judgments,'" Spears told PEOPLE about the concept behind the scent.
She continued, "The fragrance is really good, but the name is very cool because it's empowering. It's [about saying], 'I'm going to what I want to do and be happy in that moment and not worry about what people think.'"
The fragrance is not only inclusive — Spears wants the scent to give the wearer supreme confidence.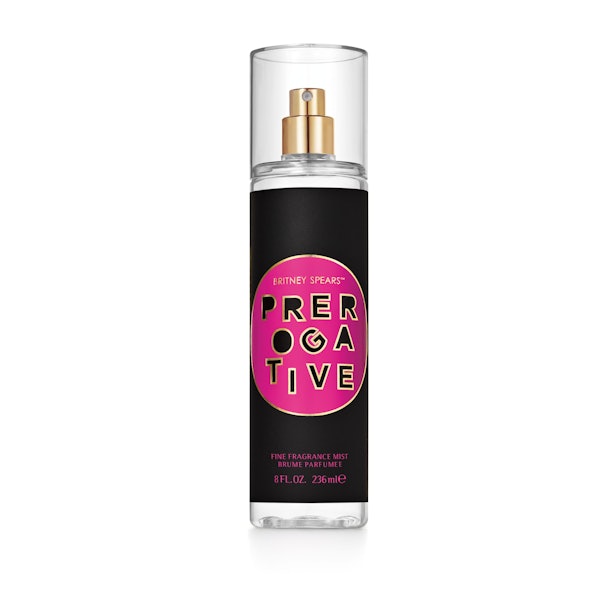 $8.98
The scent is also manufactured in body mist form, so you can wear different variations and versions. The product description labels the mist as an "oriental, woody, and amber scent for both women and men." No boundaries.
Of course, Twitter was pleased over Spears' latest entry into the scent sweepstakes.
Spears always slays.
The thrill over this fragrance is palpable. The Brit Brit Nation loves both the promo clips and the concept. Prerogative is ticking off all the boxes and is totally answering the inclusivity call.
It truly is a fragrance for all.
Need indeed! Bring it, Brit.
The people have spoken and they want Britney Spears' Prerogative. Men and women have chimed in so the singer, her team, and her brand are reaching their intended audiences with this new launch.
With over two dozen scents in her repertoire, Spears is up there with Paris Hilton and Jennifer Lopez in terms of defying the waning celebrity perfume market. Spears is clearly doing something right. While her Britney Spears Intimates Collection appears to have gone inactive, her fragrance business remains strong AF. Big ups to Brit for adapting to the times and for ensuring that her fragrance brand is inclusive. Here's to hoping she and her team will offer up future gender neutral Eau de Britneys.
Source: Read Full Article