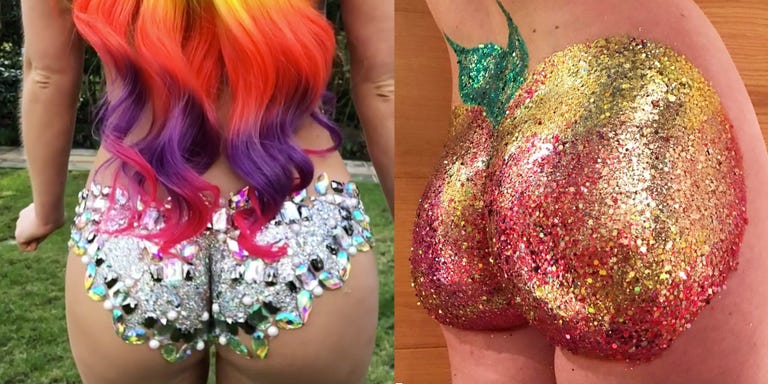 Stressed about what to wear to your next festival? Well, boy, do I have the solution for you! Meet glitter butts, the most self-explanatory beauty (fashion? Asshion? Sorry) trend about to take over your Insta feeds.
Sure, you're probably already familiar with the concept of glitter boobs, seeing as it was the hot thang of 2017's festival season, but this year, glitter is migrating downwards, wrapping itself around your backside to form 2018's newest look: Glitter butts.
I first spotted the look on UK glitter brand Go Get Glitter's Instagram page last week (though, yes, I'm sure people have been glitter-izing their butts for decades, and I'm sure your mother's best friend's hairstylist actually created this look in 1963, etc, etc, so don't @ me), when they posted a photo of a butt painted like a glittery peach with the caption, "Feeling #peachy in the Palm Springs sunshine! ?☀️ #COACHELLA."
Adorable, right? The brand then rolled out a few specialty designs, using thick layers of glitter, along with giant rhinestones, studs, and crystals to create the illusion of underwear. And then, naturally, recorded the look in slow-mo.
"We are all about being creative, free and loving the skin you're in, which is the message we wanted to portray to people when we created this look," Sophia Levy, makeup artist and co-founder of Go Get Glitter, tells MarieClaire.com. "So who knows—maybe jewel underwear will be the next trend?"
In case you're thinking, "Wow! That sure seems uncomfortable!" then hey! You'd be correct. At least, that's what I'm assuming, considering I lose my shit if I feel a rogue hair tickling my arm for more than a second. Meanwhile, this trend requires sticking a bunch of itchy glitter all up and down (and in) your butt cheeks.
Still, I am fully here for this look. Please, douse yourself in glitter (that is, ideally, biodegradable), take a bunch of selfies, and love your body. Here's hoping you don't need to sit or, like, sweat, while wearing this trend, though. Good luck!
From: Marie Claire US
Source: Read Full Article