A short scroll through the @Nicky_B_On_Hair Instagram feed and it's clear to see why Nicole Newland is considered one of the most badass celebrity hairstylists. There's the tousled mix of locs, braids and waves she gave iconic supermodel Iman. We're still mesmerized by the futuristic triple ponytail look she slayed on fashion stylist June Ambrose. And then, of course, there's the textured-to-a-T tresses that she gave Insecure's Issa Rae for our June cover.
In fact, that cover shoot was the last project that Newland worked on before COVID-19 shut down the world. "I think Issa is probably the last person I truly hugged," Newland told Cosmopolitan. Not only is that telling of the times (#socialdistancing), but it's also a testament to how adored Newland is within the glam industry. And while her clients are patiently waiting for the day Newland will be playing in their hair again, she's been plenty busy working on the frontlines of the current global pandemic. Legit.
"I think Issa Rae is probably the last person I truly hugged."
Until recently no one in Newland's beauty universe was aware that she's also a registered nurse–and has been for the past 14 years. "I used to keep it to myself because I'm doing hair and that has always been the focus," Newland said. "But then I decided to say, 'Why not? Why not speak on it and show—especially young women and young men—that you don't have to just be one thing in life?' This pandemic has definitely helped me open up."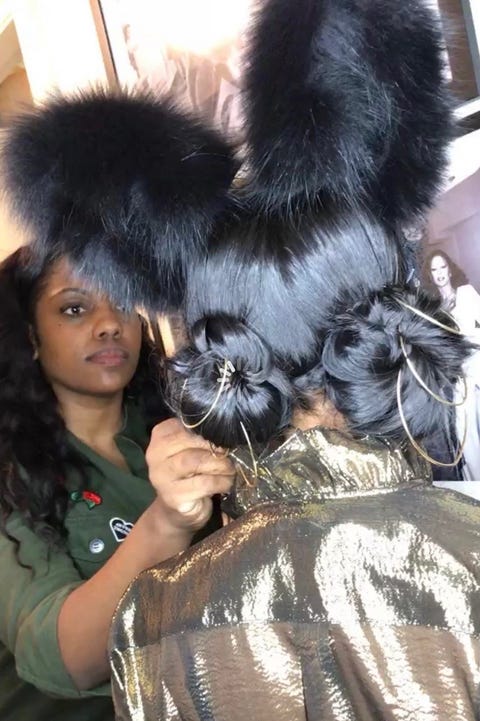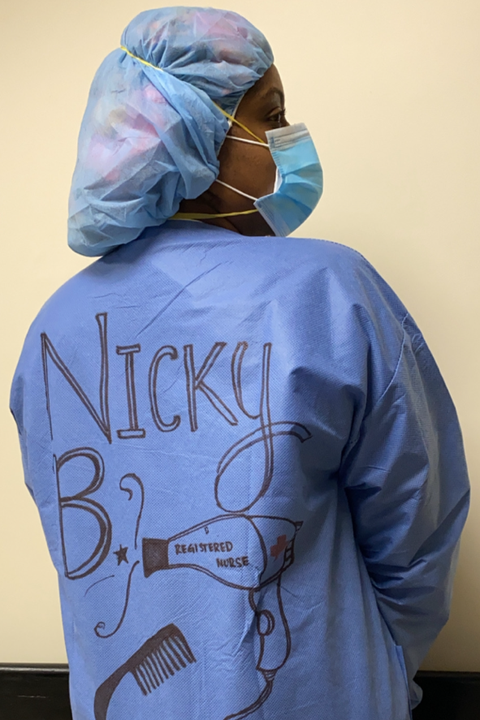 Newland, 37, who is currently working two days a week in the ICU (intensive care unit) at Lenox Hill Hospital in New York City, juggled both hairstyling and nursing for well over a decade. Why? Well, it's a tale as old as time.
"I used to keep it to myself because I'm doing hair and that has always been the focus"
"I come from a Caribbean background and my single mom was like, 'Okay, you can do hair, but you also have to have a real career,'" Newland explained. The born-and-raised Brooklynite quickly landed on nursing school. Becoming a nurse checked several boxes—it was a personal area of interest; it was prestigious enough to impress her mother; and most importantly, it would allow her a schedule that was flexible enough to pour into her true passion: hair.
Now that hairstyling is on an indefinite hold, Newland is navigating her new reality as a part-time nurse—which is proving to be more fulfilling then she thought. She's even managed to incorporate some bedside glam into the mix.
Here, we caught up with Newland about her days as an essential worker, how she's finding time to self-care, and what the future of the glam industry might look like post-COVID-19.
Nicky B on becoming a frontliner: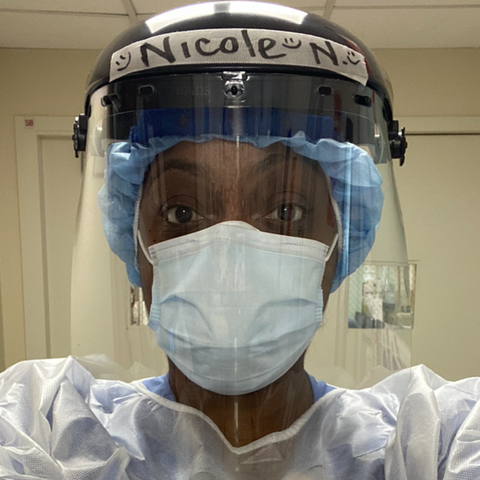 "I was terrified in the beginning because you're walking into something that has no cure…that has no treatment. I was super anxious. I couldn't sleep. I wasn't eating. We're just basically treating the side effects of this disease. There was a moment when I stopped in the middle of the hallway of work on my unit, I just looked. You take a second and you just look at all the chaos that was going on, and I was in tears because it's something so new."
On working with COVID-19 patients:
"So many families aren't able to visit the hospital, so I take time during my breaks to visit with patients. Whether it's helping them call up their family so that they can say a prayer over the phone or just sit there and talk to them. I also love combing their hair and putting cute braids in it or I even shave male patients' beards. I think people sometimes forget that these are people's loved ones and they're human beings as well, and they should be treated as such."
On self-care during the pandemic: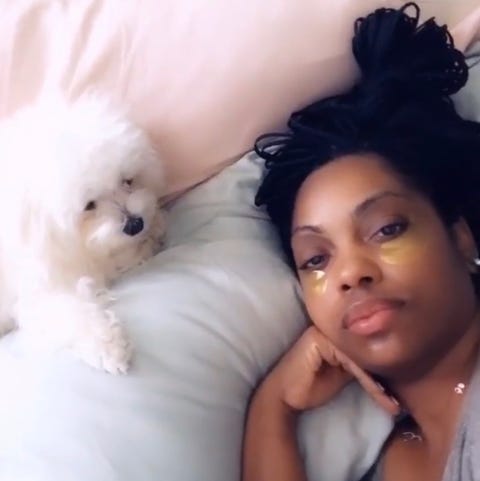 "On my days off, I just try to meditate and relax and pray. I've ordered some nice facial masks because my face is so damaged from wearing the N95 masks. Hanging with my dog also brings me joy and a form of therapy. Plus, I don't have to worry about a long commute to the hospital. For the past month, I've been staying here in Manhattan rather than Brooklyn. The city of New York has given myself and other healthcare workers and first responders hotel rooms."
On not letting down our guard: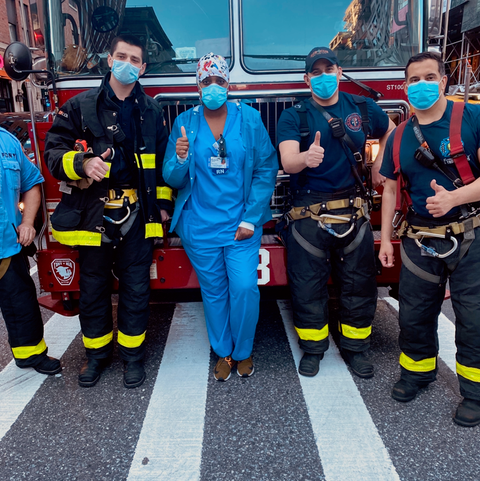 "We recently had our 1000th COVID patient leave the hospital, which is amazing. The number of patients that are coming into the hospital in the intensive care unit and our critical care unit is thankfully dropping. But I still don't want people to lessen the things that they're doing and to just think things are back to normal because it isn't. Far from it."
On one of her most rewarding frontline moments:
"One of my patients, an African American man in his late forties was sitting at the side of his bed. And before I left for the day we were just chatting. He said 'Thank you so much for taking care of me. Although I'm not able to know how you look because I can't see your face at all, because of all your garments, I can see your character and your spirit. I thank you so much for taking care of me through this time, for putting your life on the line to take care of me. I will never forget your heart.' That was such a beautiful moment despite all the chaos."
On the future of the glam industry: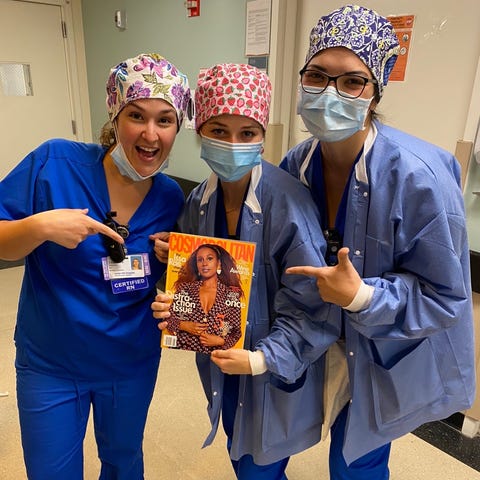 "I'm beyond eager to get back. I'm ready to slay some hair! But everything is going to be different. I don't think we'll be able to bring assistants. Everyone will have to wear shields and a face mask on set. And we're also going to need a lot more time. Hair and makeup can't be up in a client's personal space at the same time. It Just won't be safe. But I just can't wait to be back around my colleagues, makeup artists, photographers, editors, models and fashion folks. We have to get back to that. It's a must."
This interview has been edited and condensed for clarity.
Source: Read Full Article