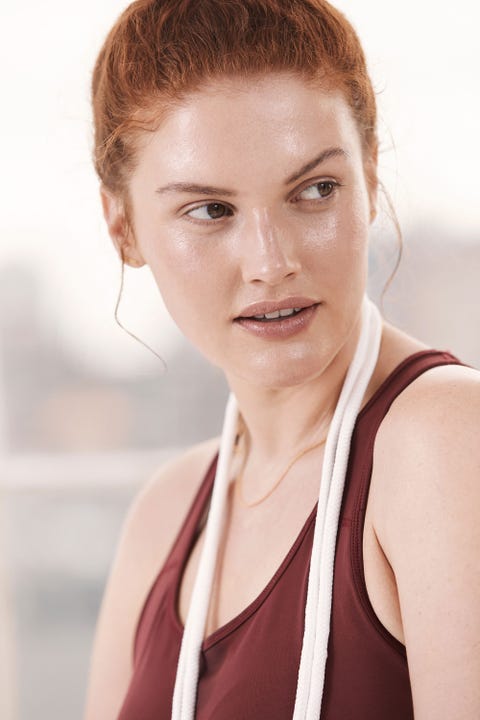 Photographed by Jeff Allen
Be honest: When you hit the gym, do you work out with foundation, concealer, or even a *little bit* of CC cream on your face? NBD, right? Think again. We asked experts to weigh in on what happens to your skin when you continuously exercise with makeup on. Hint: It's not pretty.
Yes, it's that bad to work out with makeup on. Here's why.
"Makeup covers the surface of your skin as well as pores. While you're working out, you're producing sweat and oil that further congests pores and leads to bacteria overgrowth," explains Yunyoung Claire Chang, MD, a dermatologist at Union Square Laser Dermatology in New York City. The result: the perfect breading ground for breakouts.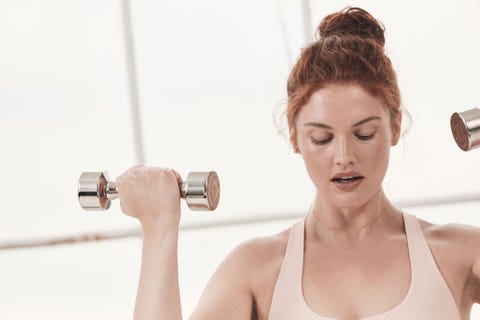 Photographed by Jeff Allen
"If you work out at the end of the day, it's no longer just makeup on your face," says Sejal Shah, MD, a dermatologist at Smarter Skin Dermatology in New York City. "You also have micro-particles and environmental pollutants that are sticking to the layer of makeup on your skin." All of this combined can equal clogged pores, overall dullness, and acne flare-ups.
Exactly how to cleanse your skin pre-workout
Because it's not as simple as using whatever face wash they have in the locker room, here are a few things to keep in mind.
🚫 Avoid gel cleansers, which tend to contain more harsh detergents (such as sodium lauryl sulfate) and skip exfoliating ingredients like salicylic acid, even if you have acne-prone skin.
Use a gentle creamy formula that won't strip natural oils and leave your skin super dry. We like Olay Total Effects Revitalizing Foaming Cleanser because it contains glycerin and is able to completely remove makeup easily and gently.
💦 If you prefer an on-the-go option, throw some makeup removing cloths that replenish while cleansing into your gym bag.
We like Olay Daily Facials 5-in-1 Cleansing Cloths, which contain hydrating glycerin. The super soft dry cloths easily lather when you add water and don't leave behind any pore-clogging residue (which pre-moistened kinds sometimes do).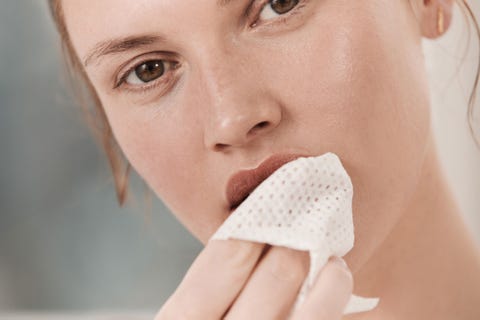 Photographed by Jeff Allen
☀️ Heading outside to work out? Be sure to put on some SPF post-cleanse. To avoid clogged pores, look for a super light texture that easily absorbs into skin and has a barely-there feel, such as Olay Sun Facial Sunscreen + Antioxidants Broad Spectrum SPF 35 Lotion Shine Control.
PRO TIP: If you wear a lot of makeup or have sensitive skin, you may need to double cleanse. "Start with a gentle cleanser to remove makeup, then follow it with a water cleanser to wipe away residual makeup or impurities," says Joshua Zeichner, MD, a dermatologist at Mount Sinai Medical Center in New York City.
Try Olay Daily Facials 5-in-Cleansing Cloths first, then Olay Sensitive Hungarian Water Calming Cleansing Water Fragrance Free.
BTW, washing your face after you work out is equally important. Here's why.

First, you want to get rid of all the sweat and oil that's now on your skin. Second, gyms and workout studios are not the cleanest places on the planet—and the equipment that you're coming in contact with every time you pick up a weight or up your treadmill speed is covered in bacteria.
Since the average person touches their face around 2,000 times per day, these microbes are one hundred percent on your skin.
And take note: If you left your makeup on and worked out, all that stuff has something to stick to. (Yes, it's gross.)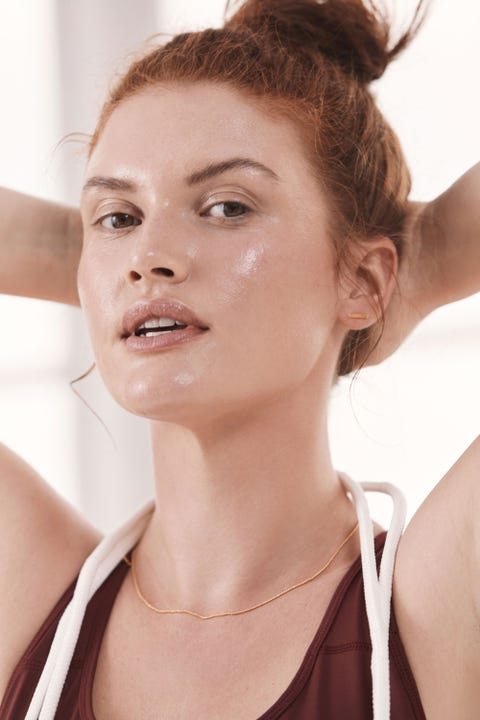 Photographed by Jeff Allen
Exactly how to cleanse your skin post-workout
Because your skin is already makeup-free, you don't have to do a deep clean. "Use a cleansing water or a non-lathering cleanser to remove superficial impurities," says Dr. Zeichner. Soak a cotton pad with Olay Sensitive Hungarian Water Essence Calming Cleansing Water Fragrance Free which contains extracts of aloe, cucumber, and green tea to cleanse and rebalance skin.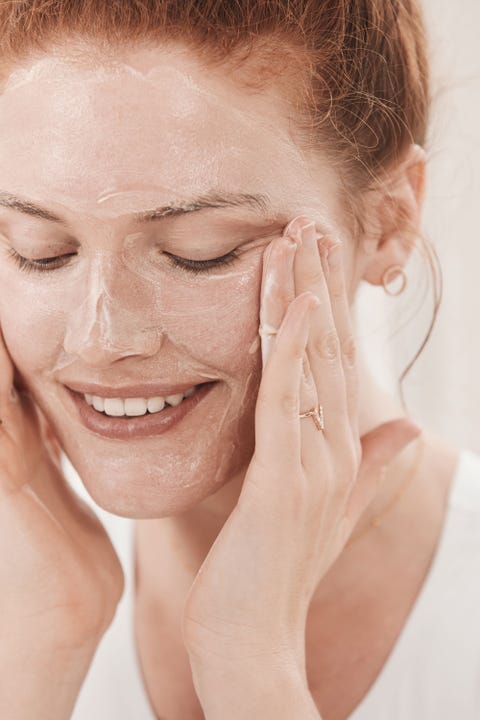 Photographed by Jeff Allen
Or try a super gentle lotion-like cleanser such as Olay Sensitive Hungarian Water Essence Calming Liquid Cleanser that has hydrating glycerin as well as petrolatum, which strengthen skin's barrier function.
Is your skin on the dry side or easily gets pink (or straight up red) from products? If so, take your gentle cleansing to the next level and try a fragrance-free formula such as Olay Sensitive Calming Liquid Cleanser Fragrance Free.
Fashion Credits: Miranda Frye stud earrings; Astrid & Miyu choker; Gorjana mini bar stud earrings; Aday top; Astrid & Miyu circle stud earrings
Source: Read Full Article