Meghan Markle has a skincare secret. As the royal-to-be told Allure back in 2014, "it's not the most glamorous thing," but it really works. Her self-professed "cure-all" is tea tree oil, which she cops to using for treating cuts, burns, and breakouts (yup, she gets those too!). And she's not alone. As it turns out, Victoria's Secret Angel and Maybelline ambassador Josephine Skriver is a fan of the popular beauty oil, too.
The model told POPSUGAR that, along with drinking water and not picking at blemishes, "Tea tree oil works" at quelling acne. But even she's prone to stress breakouts. Josephine's advice is to, "Cleanse your face, and don't sleep with makeup on." However, we all know that doesn't always work. "There are times when I'm superstressed and my hormones are crazy and I wake up with a few [pimples] here and there," she confessed. "It just sucks, and it's annoying because everyone is looking at my face . . . It makes me feel a bit insecure about things." While our faces may not be gracing the VS runway, we can definitely relate to that sentiment.

When Josephine does get a surprise little blemish, her go-to is a Maybelline Cover Stick Corrector Concealer ($6). She always keep the chubby in her purse. "It somehow just covers zits, and it's a little creamy, so you don't feel like you're drying out," she said. Josephine also puts it under her eyes to cover dark circles. "Sometimes you're like, 'Oh, I look tired today, here put on some concealer,'" she said.
Along with a cover-up, Josephine that believes you only need two more products to look put together in the morning. "I feel like a blush just makes you look fresh," she said. "A brow pencil like Total Temptation ($8), a little bit of concealer, and a blush makes you almost look like you're not wearing makeup. It looks like you didn't try even, though you totally tried."
Why the minimalist approach? In Josephine's eyes, "Makeup should be a beauty enhancer, not a mask." She went on to say, "It should be something you can put on, and it makes you feel better, like that feeling when you put on red lipstick and you can take over the world and you feel badass. but you shouldn't necessarily have to cover up."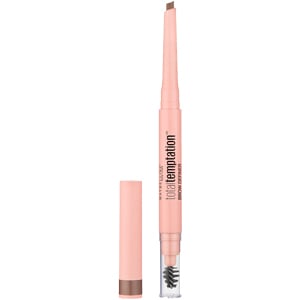 Source: Read Full Article