Just days after releasing the images of her new perfume, Twitter users are accusing Kim Kardashian of ripping off her KKW Body Fragrance bottle from Jean Paul Gaultier's Classique Perfume. The bottles both feature the busts of women without arms or legs. But according to Cosmopolitan, Kardashian had other inspiration for her design though. She's sticking by her design and has plans for even more fragrances on the way.
For those of you that were not around, Jean Paul Gaultier's Classique Perfume came out in 1993. The bottle holding the pink-tinted fragrance is shaped like a women's bust with no head, legs, or arms. Instead of being complete naked, like Kardashian's bottle, the design shows the women figure wearing frosted lingerie.
While Kim tells Cosmo she likes the classic bottle, she adds that Classique was not the inspiration for her KKW Body Fragrance.
"Sculptures were my inspiration, but I love that bottle," Kardashian tells Cosmopolitan. "It's iconic and celebrates the woman's body, but my inspiration was a statue. I wanted [mine] to be really personal with my exact mold, but I've always loved the Gaultier bottles."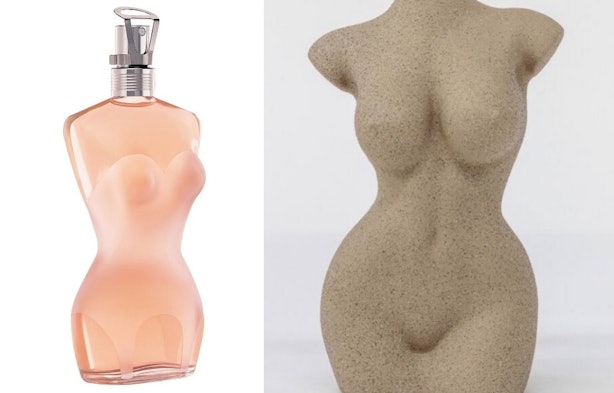 $57
In a truly Kim K response, she says that she was inspired by, well, her own body. After all of the selfies she's taken over the years, this really comes as no surprise. It's not wrong for fans to see the similarities between the two perfumes though.
According to her Instagram posts, Kardashian took a mold of her entire body to get the shape for the bottle. You know, all of those completely nude photos of Kardashian covered in clay with her private parts blurred out. She told Cosmopolitan that this wasn't just for the bottle. According to the publication, she plans to make a life-size replica of her own body as well.
"We were making a mold of my body for the fragrance, but we were also making it to make a big sculpture," she revealed.
Cosmopolitan says that the sculpture might just end up in her home, which would be the most Kim K thing that Kardashian has ever done.
This is the third perfume bottle from KKW Beauty. The first was the crystal shaped bottle with the perfume that came in three different scents. Just like her new KKW Body, the shape of Kardashian's bottle was unique. The crystal shaped bottle didn't actually stand up, so you have to lay it flat on your makeup table. Her second was a line of limited-edition Kimoji shaped bottles.
Kardashian continued the quirky packaging with her third scent. If the naked body of the bottle wasn't enough, the actual box it comes in will be. When the box is untied, all four of the walls come down, like the bottle is actually a piece being unveiled in the museum.
This woman is nothing if not a great marketer. She has been releasing photos of her clay-covered body throughout the week, before finally sharing the bottle on her social media page. She also announced that she will not be release press boxes for the launch, which is different than in the past. The social media star broke the internet — yet again — when she sent perfumes to her "haters."
You just never know what Kardashian will do next. But there's a good chance that it will be something that take inspiration for something that came before them. The sisters have a knack of ending up in hot water over launches, and they don't plan on stopping the launches any time soon.
Source: Read Full Article