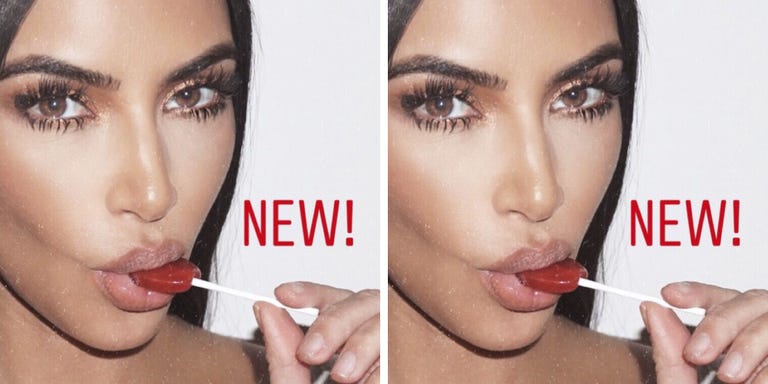 Kim Kardashian West is in hot water again over an Instagram ad—just not with the FDA or F.T.C. this time. Fans are outraged and taking to Twitter to share their thoughts about Kardashian West's latest ad for a Flat Tummy Co. appetite suppressing lollipop. She posted and then reposted the ad twice in the last 24 hours—then deleted it off her Instagram and Twitter feed (it's still live on her Stories).
Kardashian West posted a photo of her seductively sucking on a red lollipop (so another day in her universe), but the caption is what got all the backlash. She wrote, "#ad You guys…@flattummyco just dropped a new product. They're Appetite Suppressant Lollipops and they're literally unreal. They've giving the first 500 people on their website 15% OFF so if you want to get your hands on some…you need to do it quick! #suckit." On the Flat Tummy C0 website, no information about the ingredients in the lollipops is offered, other than the active suppressant being a "clinically proven safe" ingredient derived from "natural plants." Make of that what you will.
Fans are calling out Kardashian West for promoting an unhealthy product to young, impressionable fans. Appetite suppressants can curb cravings, leading to weight loss—but multiple studies have not proven their safety or efficacy. Some fans are even criticizing the timing of the post, given that eating disorders are most common among young women and it happen to be Mental Health Awareness month. Other fans are wondering why Kardashian West, who is worth an estimated $175 million, needs to be promoting these types of products in the first place. Last year, Michael Heller, the CEO of digital-marketing firm Talent Resources –the company that arranges many of the Kardashian-Jenner family's deals–told US Weekly that some companies have been known to pay up to $500,000 to get access to Kardashian West's IG followers.
This isn't the first time Kardashian West has found herself facing backlash over an Instagram ad. Back in 2015, she got in trouble with the FDA for posting about a prescription morning sickness pill without listing the lengthy side effects. The ad in question was deleted and later reposted with the hashtag #correctivead. This was after the FDA admonished the drug company and called the original 'gram "false or misleading."
The Kardashian and Jenner family have previously posted paid Instagram ads for Sugar Bear hair gummy vitamins, Hairfinity, flat tummy teas, and controversial waist trainers. Last year, the F.T.C, released a warning letter to influencers—including the first family of Reality TV—reminding them of the necessary practices of properly tagging advertisements and sponsored posts.
Source: Read Full Article