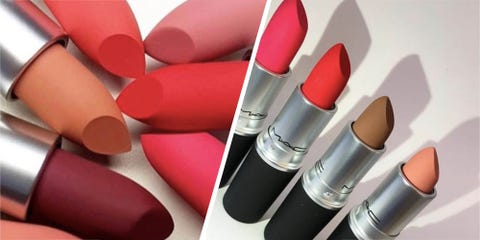 If, like me, you are fluent in MAC lipstick language, you will be able to name all their different finishes off by heart: Amplified, Frost, Cremesheen, Satin, Matte, Retro Matte, Lustre and Lip Glass.
Soon you will have one more to add to the roster, because MAC has just announced its latest launch: Powder Kiss Lipsticks.
Designed to give a soft-focus finish on the lips, the formula promises to deliver a moisture-matte, weightless feeling. Think more of a lip balm feeling, rather than a dry, crusty powder.
View this post on Instagram
Backstage tested, artist approved, coming to you in October and moving from #NYFW to #LFW now. #MACPowderKiss ?: @fatimasees
A post shared by M·A·C Cosmetics (@maccosmetics) on
The lipsticks won't be launching until October, but MAC makeup artists have been using them backstage at New York Fashion Week—which is where Instagram first spotted them.
View this post on Instagram
Softly blurring the lines with Powder Kiss #comingsoon #softmatte – – – #macpowderkiss #mattelips #maccosmetics #macbackstage #macseniorartist #sneakpeek #fallinlove #sweetnosugar #lfw #nyfw #makeup #kitshit #maclipslipslips #macloveslips
A post shared by Keri Blair (@keriblair) on
View this post on Instagram
A kiss isn't just a kiss when it's a POWDER ? KISS ? …#macpowderkiss – – – #macseniorartist #macbackstage #maccosmetics #maclipslipslips #macloveslips #macfwartist #nyfw #lfw #sneakpeek #comingsoon #staytuned #makeuplovers #makeupjunkie #make4glam
A post shared by Keri Blair (@keriblair) on
MAC Senior Artist, Fatima T, described Powder Kiss as "a comfy lip balm, with a silken feel," and said it was "the forefront of beauty and technology." Which is a preeeeeetty bold claim.
View this post on Instagram
Softly blurred lines with a powder kiss! Coming soon! #october #maccosmetics #macpowderkisslipstick #macunionstation #unionstationdc #downtowndc #macmidatlantic #matsquad
A post shared by MAC Union Station (@macunionstation) on
Fashion month is a key time for MAC, as the brand use their makeup artists to test out new formulas and products backstage before they are officially released. Here's hoping that Powder Kiss is the first of many exciting new launches coming our way over the next few months!
Powder Kiss will be available in 16 shades and we will update you with exact launch details as soon as we have them.

Follow Laura on Instagram.
From: Cosmopolitan UK
Source: Read Full Article