As somebody who shamelessly decorates my entire home for Halloween on Sept. 1 and watches a different horror movie every night in Fall, I've always felt that people who only embrace their spooky side one day a year are missing out. Halloween isn't just a holiday — it's a lifestyle! So why not celebrate your darker side year-round by transforming bath time into a moody experience that would delight any Halloween-obsessed beauty babe or vampire?
Etsy creator Life After Death Designs handcrafts a sturdy bathtub tray that's perfect for holding your favorite spellbook, an ambient black-flame candle, and a glass of wine while you relax with a spooky bath bomb . . . oh, and did I mention that it's shaped like a coffin? The bestselling bathroom accessory isn't just handy for rest and relaxation; it'll infuse a bit of Halloween into your bath all year long.
Ahead, shop the bathtub caddy, and enjoy spookily gorgeous photos from real customers who love their coffins trays.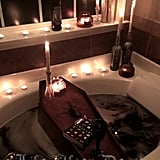 Source: Read Full Article