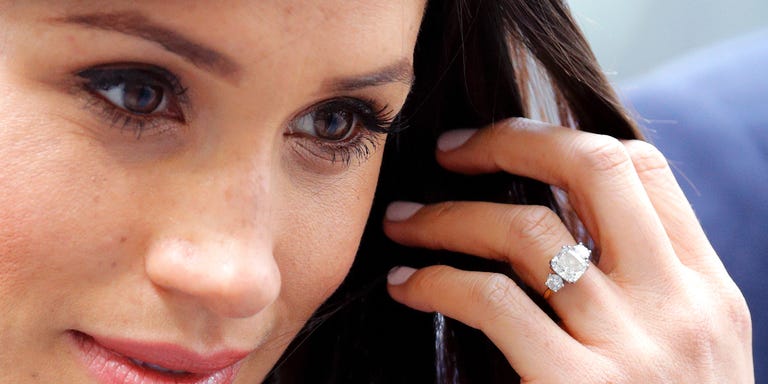 There's a reason you'll never see The Duchess of Cambridge or Meghan Markle wearing the latest metallic or marble manicure trend: the Queen allegedly won't allow it. Royals are expected to wear their nails neat, clean, and groomed at all times. If you're not going to wear your nails bare and budded, nude nail polish is allowed, as is one particular shade of pink: Essie Ballet Slippers (it's reportedly the Queen's favorite shade.)
So for the Royal Wedding on May 19, we won't be shocked to see Markle wearing a pretty—but safe—sheer shade of pink, nude, or ivory nail polish. Her future sister-in-law, Kate Middleton, wore the shade Allure by Essie on her wedding day back in 2011.
Here are some classic nail polish shades we think Markle might wear on her wedding day (Ballet Slippers being our top pick):
It's been previously reported that Markle favors a salon in the posh London neighborhood of Mayfair called Nails & Brows. Manicures there can run anywhere from $30 to $80, depending on the add-ons you choose like a massage or shellac.
The Queen has worn the same $9 nail polish, Ballet Slippers, for over 30 years. Committing to a signature shade will definitely save you time at your next manicure appointment, but it doesn't leave a lot of room for creativity. When Middleton announced her engagement back in November 2010, she wasn't even wearing a stitch of nail polish (but her nails were shaped and groomed).
Markle did opt to wear nail polish for her ring reveal and engagement announcement—a sheer, nude-pink shade that looks just like Ballet Slippers. No one was able to identify the exact shade, however. In every public appearance since, she's been spotted wearing a sheer but bright white manicure or a classic nude, with her nails filed square.
Source: Read Full Article