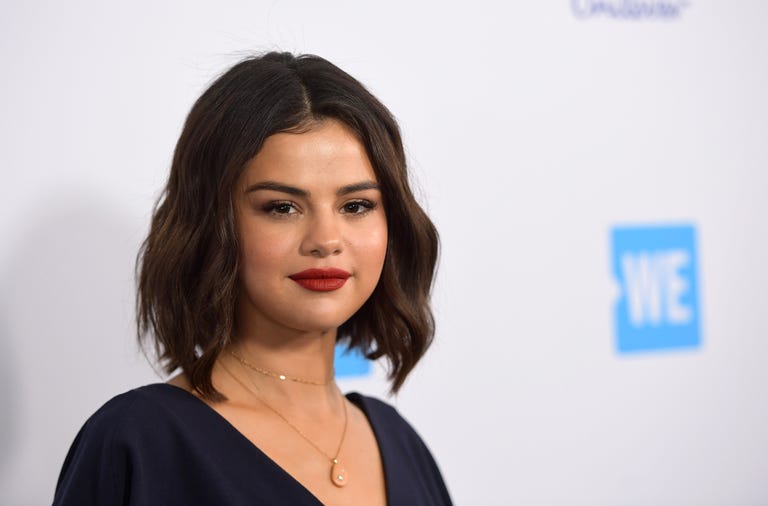 Selena Gomez has had blonde hair, brown hair, short hair, and long hair in the last four months—but the hairstyle she just debuted in Germany might be her most drastic change yet.
At an event celebrating her partnership with Puma in Germany, the multi-hyphenate star debuted a shaved head. Well, a small section of buzzed hair known as an undercut.
Gomez's natural hair is a shoulder-grazing bob, which she showed off a few days earlier. But to debut the undercut, Gomez added extensions, pulled her hair into a super-tight ponytail, and then shaved the bottom quarter of her scalp in a triangle shape.
Gomez relied on two hairstylists Marissa Marino (for styling) and Tim Duenas (for the cut) to nail the new hairstyle. Marino wrote, "My girl #selenagomez at it again…she loves to keep me on my toes"—implying that the undercut was a last-minute decision by Gomez.
Tons of celebrities have rocked undercuts over the years—including Kylie Jenner, Miley Cyrus, Rihanna, Cara Delevingne, and Natalie Dormer. The edgy style works well if you have super-thick hair, but the grow-out process can be brutal (it's particularly tough on the side of your head). A hidden undercut like Gomez's, however, is easily hidden when your hair is down.
Gomez, who is the face of Pantene haircare, is no stranger to making dramatic hair changes. Late last year the star debuted a platinum-blonde lob that her hairstylist and colorist dubbed "Nirvana Blonde." Just a few short weeks later she was back to brown, right around the time she started dating her ex Justin Bieber again.
"One of the most important things for me is my hair. I've always been about my hair, and I love that my mom and my nana taught me how to take care of it myself," she told Vogue last year. "It goes through a lot every day, but I try to keep it healthy. I have to admit, it can get a little dead on the ends. I like to leave conditioner on overnight sometimes—I'll wrap it up and let it sit. I'm going to be able to do that on the road a lot, on the bus. I'm addicted to the Pantene Air Spray. There's no alcohol in it, so I literally just coat my hair in it before I go on stage. I do my dramatic hair flip, and I just coat it. It doesn't feel like it's damaging my hair, I can tell."
Source: Read Full Article