Whiskey lovers everywhere will tell you that Japanese Whiskey is the cream-of-the-crop. Those who know their whiskey know that Japan produces among the finest, smoothest, most precisely-curated whiskey their taste buds have savored. It's common knowledge that some Scotch Whiskey companies are known to frequently trade barrels with each other, in order to swamp flavors to balance their blends. This is one of the ways that the Japanese differ greatly. The Japanese are incredibly competitive when it comes to their whiskey blends. The rivalry between whiskey-makers in Japan is such a prevalent one that there is no market for bulk whiskey trades. This often means that the craftsmen have to make many types of whiskey on their own. The end result is a wide array of incredibly bold whiskey that is sure to even please those with the most discerning tastes. Let's take a look at The 10 Most Expensive Japanese Whiskey, Rated…
Click the button below to start this article in quick view
10

Suntory Yamazaki 50 Year Old (2005 Release) – $343,000
This bottle is so expensive that the sale of the bottle shattered records all over the world. Complex reports that this bottle sold at auction at Bonham's . Most could never imagine being able to own a bottle such as this one. Flavier reports that the exclusive nature of this bottle makes it a once-of-a lifetime sip that everyone wishes they could have. Only 150 of these bottles are released each year, leaving collectors in frenzy for a hit of its flavor.
9

Karuizawa Vintage Fight Club Set – $220,000.00
Japan has a reputation for producing outstanding whiskies, and many of them have even received international acclaim. The Karuizawawhiskes have attained world-wide attention and definitely have people all over the world talking about their fine-flavors! This particular bottle is a 1980 Vintage car and there were actually only 212 of them made. With a price tag of $220,000.00, we don't think many people can afford to purchase this bottle, but the most elite and refined who have the budget for this will surely indulge.
RELATED: The 10 Most Expensive Bourbon Whiskies, Ranked
8

Karuizawa Ghost Series 7 Bottles- $111,500.00
Imagine ordering 7 supremely expensive bottles of Japanese Whiskey, getting them without a box, and then being charged $111,500.00 for them. Well, if you'd like to order this Karuizawa 7-bottle series, you will need to shell out precisely that amount of money, then wait up to 10 days for the delivery of your prized possession. You won't get a fancy box, either. The Karuizawa Distillery was established in 1955 in Mount Asama. This is an active volcano and the distillery here is the highest that you can find in Japan, sitting at 850m above sea level, according to Flaviar. Even the air where this whiskey is produced is rare! This is a refined tasking Japanese Whiskey is considered to be a rare collector's item. This is something that you'll definitely want to try, if you can get your hands on it!
7

Karuizawa 1963 50 Year Old and 1964 48 Year Old- Priced By Request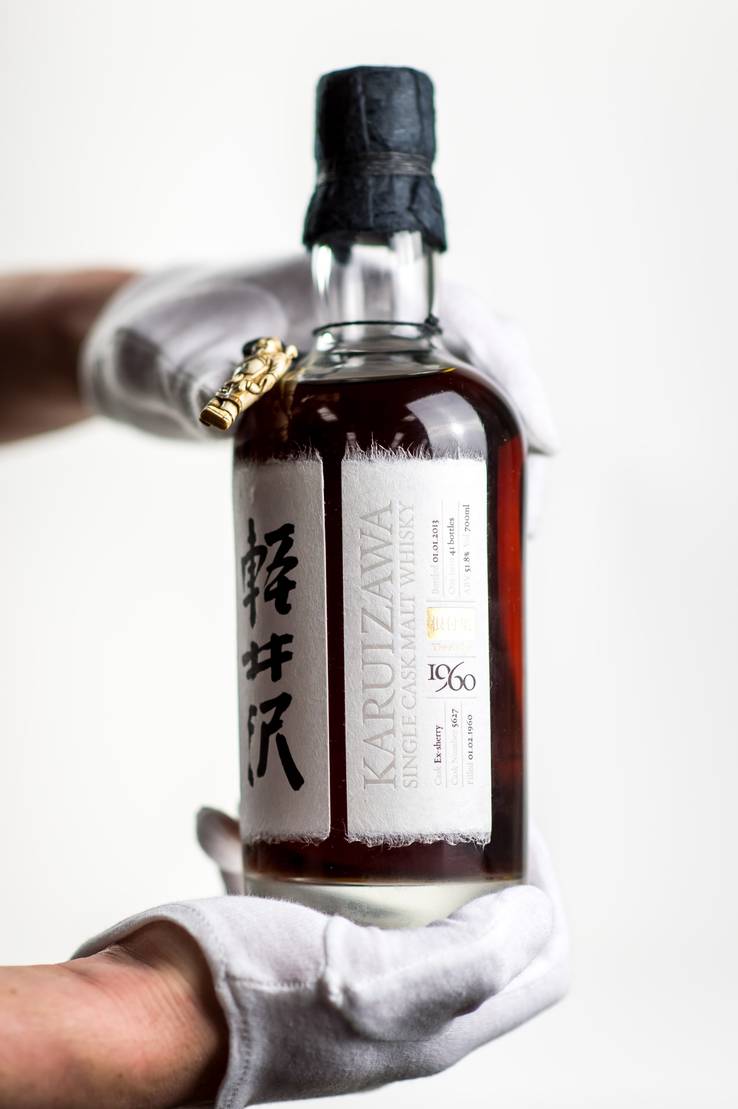 Another example of what a volcanic-based mountainous distillery can create, this whiskey will blow your mind with its strong and smooth flavors. The bottle is not priced and is only available upon request. Once requested, the buyer can expect to pay the asking price, and know they are about to hand over a significant amount of money. This whiskey is considered to be rare, desired, and highly sought after by collectors and whiskey lovers alike.
6

Karuizawa Samurai 1-10  – $96,499.99
This is an expensive singular visit, but buyers can take comfort in knowing that by purchasing the Karuizawa Samurai 1-1o, they are actually buying something of historical value. For the whopping cost of $96,4999, whiskey lovers can relish in the fact that they are able to indulge in some of Japan's most sought-after whiskey. Rarely have whiskey lovers been as excited about a product as they are about this one. Buy buying this, you'll be getting not one, but the entire collection of Karuizawa Samurai bottles in a single set. This purchase comes with an elegant, specially designed collection rack. Of course it does – you'll need to put this on proud display immediately, and refrain from indulging too much, too fast! This set belongs in a museum.
RELATED: 10 Most Expensive Restaurant Meals In Japan
5

Karuizawa Geisha Set – $48,199.00
What's better than a bottle of whiskey from Karuizawa. Not much – well – aside from having a set of their multiple flavored whiskeys to select from, of course! As tempting as it may be to purchase this and dive right in to the irresistible flavors of this whiskey, you may be wise to just hold tight. Collectors will advise you to keep this intact as the value will continue to grow over time. It may be difficult to resist consuming it, but this seems to hold true as a strong, desirable investment if left untouched. The bottles included in this set are from: 1970, 1071, 1076, 1981, 1993, and 1984. All of the finest, most desirable blends!
4

 Suntory Hibiki 35 Year Old (Tokuda Yasokichi III) – $44,999.99
The bottle is as incredible as the masterful art it holds inside. This Hibiki is a 35 year old stunner. There were only 150 of these bottles produced, and they're not easy to find. Collector's scour for them, and anyone hoping to purchase one of these bottles had better pack their patience. The ordering process is an extensive one. In a few weeks, when the order is in, the bottles are delivered in a customized wooden case. There is nothing ordinary about this experience. World-class whiskey is contained within, and the contents do not disappoint.
3

Hibiki 35 Years Old Limited Edition Sakaida Kakiemon XIV Decanter – $44,999.99
This whiskey is manufactured by Suntory, which is the oldest whiskey-making company that's remains today. This particular bottle is a limited release, and is one of the most desired bottles they have ever produced. Whiskey lovers and those who appreciate the fine art of owning refined, rare- bottles will flock to find one of these bottles and feature it as part of their collection. The struggle will then become – to drink it, or to save it…
RELATED: The 10 Most Expensive Scotch Whiskey Of 2019
2

 Ichiro's Malt Card Series Set (Kings & Clubs) – $31,199.99
Very few bottles from the Hanyu Distillery are still preserved. The Ichiro's Malt playing card series is no exception. The idea is to collect the set of cards, and if you do so, well – that launches you to a whole other level of wealth and admiration. The lucky person that collects all the cards in the series will become roughly $500,000 wealthier. That's right – the unopened and properly preserved set is worth a half million dollars in today's market. The aces are of course, the most sought after. These are all rare, vintage bottles that contain strong ,boldly flavored whiskey that's sure to please every palette.
1

Karuizawa 1981 Sakura Cask #158 – $23,999.99
According to Bloomberg, this bottle is another collector's item, and it holds its value primarily due to the flavors that are sealed within the bottle, but also as a result of the sheer intrigue that surrounds it. There were only 45 of these bottles ever released. Complex refers to this bottle as "The Holy Grail" of all the Japanese Whiskies. It just goes without saying that this is a bottle you will want to have and to hold, despite the urge to open it up and serve it on a special occasion.
NEXT: Drinking Alcohol & Coffee Every day Can Increase Your Life Expectancy
Tags:Japanese cuisine
Source: Read Full Article