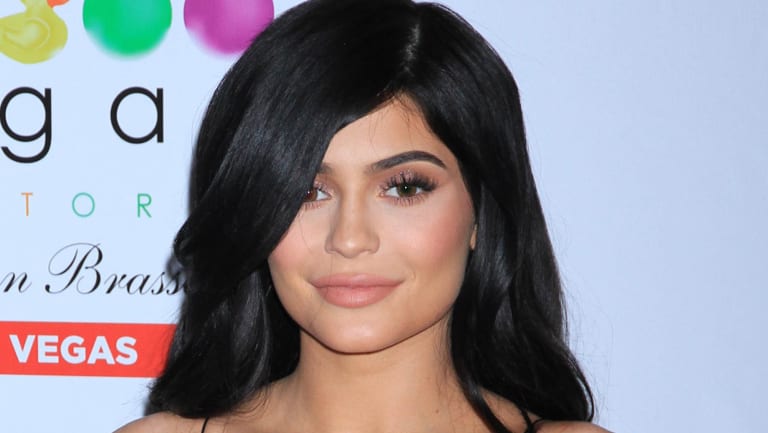 Kylie Jenner
For those upset that Kylie Jenner is not yet a billionaire, take heart – the meme guy from social media has got you.
Comedian Josh Ostrovsky – also known as The Fat Jewish on Instagram –  has started a GoFundMe page to raise the remaining $US 100 million that will catapult the youngest of the Jenner/Kardashian siblings into the billionaire stratosphere.
Jenner appears on the current issue of Forbes, which named the 20-year-old as the youngest person ever to appear on its annual rankings of America's "self-made" women. The publication estimated the lip kit mogul's worth at about $900 million.
Ostrovsky, who is known beyond his meme curation as a man more than fond of a stunt, quickly sprung into action to right this wrong.
"Kylie Jenner was on the cover of Forbes Magazine today for having a net worth of 900 million dollars, which is heartbreaking," he wrote on the Let's Get Kylie to a Billion GoFundMe page.
"I don't want to live in a world where Kylie Jenner doesn't have a billion dollars," he continued. "WE MUST RAISE 100 MILLION DOLLARS TO HELP HER GET TO A BILLION, PLEASE SPREAD THE WORD, THIS IS EXTREMELY IMPORTANT."
His intentions might be good, or at least funny but already there had been backlash about Jenner being "self-made," with detractors pointing out that she was born into a wealthy clan that accumulated even more riches over the last decade as reality TV's first family.
As of Tuesday, the GoFundMe page has raised nearly US $2000 for the makeup mogul.
Jenner, according to People, has surpassed older half-sister Kim Kardashian West as the most profitable member of the Jenner/Kardashian kids. If her Kylie Cosmetics line continues to grow at its current pace, she will likely take over as the youngest ever self-made billionaire from Facebook CEO Mark Zuckerberg.
—
 The Mercury News
Source: Read Full Article