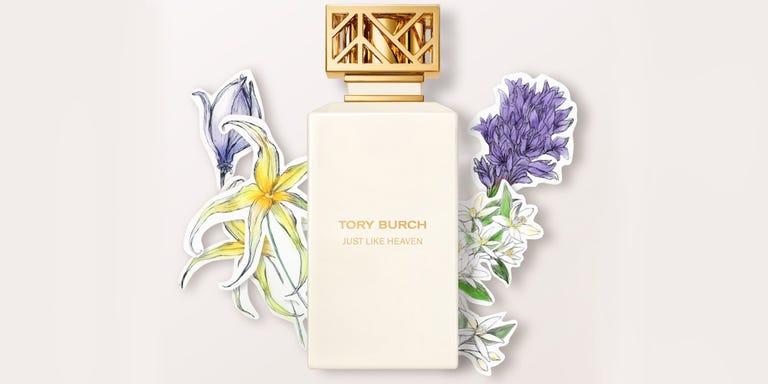 Tory Burch's latest perfume is a masterclass in mixing unexpected notes–like clashing patterns that somehow work perfectly. The zippy floral opens with mandarin orange before quickly evolving into the greener hyacinth and rhubarb, of all things. Where most fresh and floral scents eventually warm up, Just Like Heaven stays fresh and light (the base is tonka bean). To celebrate her tenth perfume launch, we sat down with the designer to chat about her inspirations, wellness routine, and running a major brand in 2018.
HB: What was the inspiration for Just Like Heaven?
TB: "Our garden, essentially, but sort of the mix of high and low. It's sort of things that don't necessarily go together as well. And obviously working with the scientists at Estée Lauder is pretty amazing. So it was mandarin orange, which is something I love. And then rhubarb which is is something they came up with—I love that. And hyacinth which I also love. It was a bit of gardens but also about nostalgia and wanting to create something that was different. We started with mandarin because I've always loved that as a note. Growing up in Valley Forge with my mother, she was, is, an organic gardener still. I mean, she was one long before anyone was talking about gardens and organic gardening. And so I was her helper and was always put to work. I'm also always interested in the high and low bit of floral."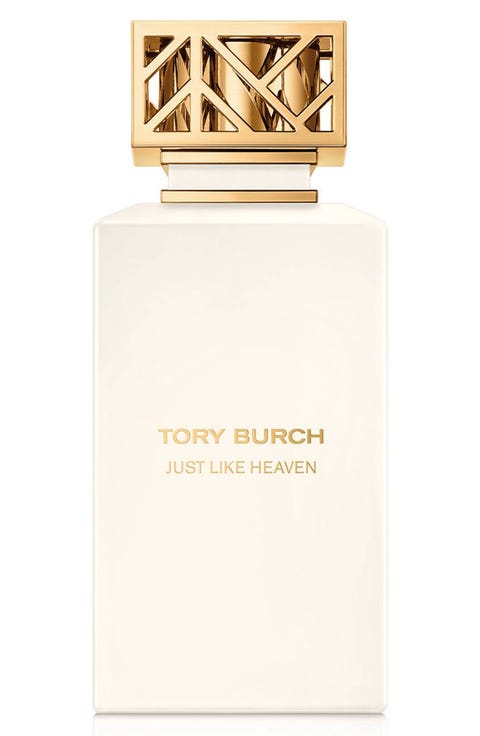 HB: This is now your tenth perfume. How do you approach each one differently? What have you learned since launching the first?
TB: "I love our original, and that was rooted in vetiver because it reminded me of my dad. So for this one I wanted to think of my mom. And for some reason mandarins were always around our house and I love the smell of mandarin. I like orange blossom too, but it was really about mandarin. Then there's hyacinth, which is such a beautiful flower. The rhubarb note was a bit of surprise. But there's also like a bit of woods too, like some woodsy notes, so it's always about a bit of tomboy."
HB: Let's talk business. What was the toughest moment in your career and how did you overcome that?
TB: "Daily [laughs]. First of all, it's all been a journey I never imagined being on. I think with that comes responsibility as well. So there's been so many tough situations and times, but I always think of grace under pressure. Because for me, when things get tough, I do get more focused. I always try to be positive regardless of how tough it gets. But there are so many moments. How long do you have? [laughs] When you have a start-up, imagine that every day, you know, whether it's we're making sure that the culture is great as a team, or implementing systems and they don't connect, and you have no idea what you shipped or what you received. We pretty much built our company on social media and PR and marketing, and it was all about that direct conversation with our customer. So how do you be honest with your customer about things that you're going through? And I think that's something I've learned: be authentic with them. It's also really important when you're on Instagram or Twitter, we were early adopters, and when something isn't being shipped—you sort of have to be honest. One time, the systems weren't connecting properly. I was literally out shipping boxes in New Jersey with my team. This was five years after we launched. It was a pretty big issue, but it was great to have our customers be very patient and support the brand and they definitely helped build our brand."
HB: You mentioned in our latest issue that you work with Embrace Ambition. What are some of the gender stereotypes that you think have held you back in the past?
TB: "Ambition was one of them. In the first article written on me and the company, a friend of mine read it and she said it was 'fine article, but you shied away from the word ambition.' This was probably 13 or 14 years ago, and it just struck me. I grew up with three brothers, and I didn't realize that women faced a lot more challenges than men—which they do. Back then, it was actually almost insulting being called ambitious. It really struck me as something that needed to change. It's been on my mind since that day. So last year we launched the Embrace Ambition campaign and it ended up reaching 192 countries, so it's definitely something that hit a chord with women—and we need to bring men in on the conversation as well. Also, you know, it's half the population. It shouldn't be a threat."
HB: What was the best piece of advice you've ever received from another woman?
TB: "It has to be from my mother, who has offered many, many words of wisdom all the time: negativity is noise."
HB: What about the best piece of advice from a male in the workplace?
TB: "Well my brother always references someone, another man on our board: repetition doesn't spoil the charm."
HB: Work-life balance is something all women struggle with. What is your secret sauce for making sure you try and strike that balance?
TB: "That is the challenge, and I think you know what? It's never going to be perfect. And I find it interesting when people say, how do you do at all? Like, I don't think you can do it all all the time. I think when I found out I was pregnant with my third son, I had to really make a tough decision and leave a career I loved to be a stay-at-home mom. That was what I did for four years and I was lucky to be able to do that. But when you can't do that, which many of our entrepreneurs cannot do that, it's very, it's very challenging—but you have to put your family first. You have to figure it out. And it's always a juggling act. There's no sure bet."
HB: Wellness is becoming more important than ever. What is your wellness routine like? Other than tennis, what other workouts do you do? Do you meditate?
TB: "Yeah, I mean, I love yoga. I've learned to meditate. I don't do it. I need to be more disciplined, but I'm pretty calm by nature. But I love sports. So anything with my boys."
HB: How are you calm by nature? Can we borrow some of that?
TB: "You know, my father was the most calm person and my mom was the opposite. She was more of the emotional one. I think I got my dad's gene."
HB: Do you take any supplements or get any treatments besides just like massages and facials?
TB: "I do like massages. Facials, sometimes, but not enough. I go to Tracie Martyn—she's great. As for supplements, I've been trying to take vitamins. My mom's been going after me for years, so I just started."
HB: With social media, everyone feels like they have to curate their own brand. You've quite literally done that. How? How did you hone in on your specific aesthetic and unique POV?
TB: "It's just my instinct and gut of what I like or don't, but it's also learning on the job a lot. We were early adapters of Twitter. We launched the e-commerce 14 years ago and people told me no one would ever buy online. It's all about individual style and I think it's great to be inspired by everything, but it's really important to have your own identity. I just think it comes naturally. It's definitely something I picked up from my parents and they are big inspiration."
HB: Travel is a huge part of your job. Do you stay connected to work when you're globetrotting, or do you try and carve out time to disconnect?
TB: "Well, it's funny because I do stay connected, particularly on work trips. There's no question. I mean the one time you are not connected is on a plane and I'm not a great flyer. So it would be great to be connected on the plane. When I go on vacation, like to Antigua, I'd definitely check out."
HB: You mentioned you're a bad flier—so how do you stay calm?
TB: "You know, it's funny. I listen to music and read. I'm an avid reader. I'm going to start audio tapes, too."
HB: Is there one place you haven't found time to visit yet?
TB: "I'm taking my boys to Africa un the summer. I've been to Morocco, but I've never been on a safari. I am so excited."
Tory Burch Just Like Heaven, $138, sephora.com.
SHOP
Source: Read Full Article