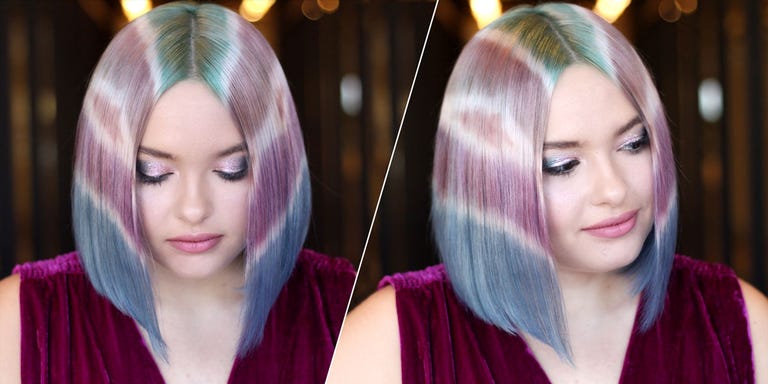 A change in the weather (we see you, summer!) is the perfect excuse to switch up your hair. Turns out, stylist Kelsey Pebler, based in St. Paul, Minnesota, is serving up a dye job that'll start off summer on a colorful note. Remember the tie-dye shirts you DIY-ed at summer camp? Pebler created hair that looks exactly like it:
Here's how: She used Lime Crime's Unicorn Dyes in green, pink, and blue shades to transform her client's hair into a tie-dye pattern — but it wasn't intentional. "I started looking at different linear designs and was really inspired by Southwestern prints," she said in an interview with Allure. But after placing the color, it was a tie-dye-like pattern that formed as she was drying the hair. "So, I started with a different idea, but it transformed into something else… as art does sometimes," Pebler said.
In an Instagram video, she demonstrated how she used tape to create the white stripes, and then applied each color over it to make the fun pattern.
After the success of this pastel-colored tie-dye hair, she made another similar style using the same technique, but with bright pinks, purples, and yellow ends. SO gorgeous. Just look at it blowing in the wind!
To style the hair after she dyed it, Pebler used R+Co's styling products including a detangling spray, mousse, hairspray, and blow out balm to smooth the hair for each look for the full effect.
Whether it reminds you of making your own tie-dye shirts in middle school, watercolor paints, ripples, or light reflecting off of water, I think we can all agree that it's the perfect summery hairstyle for 2018.
Follow Lauren on Instagram.
Source: Read Full Article