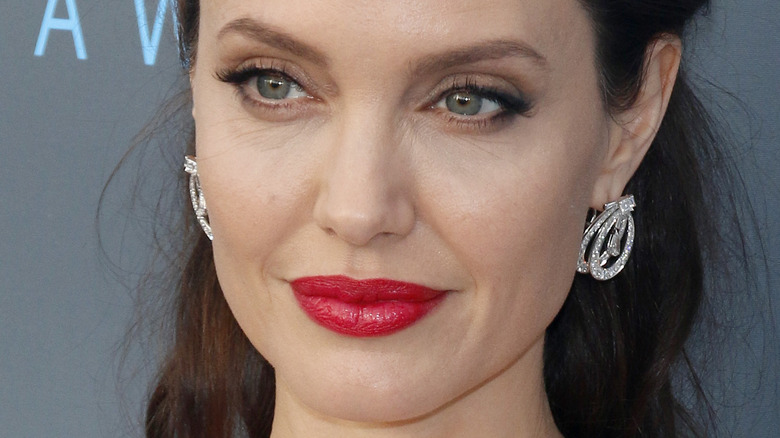 We're pretty sure no one would doubt that Angelina Jolie is gorgeous without makeup. But how often do we really see the A-list movie star sans mascara or lip gloss or more? After all, the mom of six has appeared on screen in many memorable films — after spending a fair amount of time in a makeup artist's chair, to be sure.
In "Maleficent," Jolie's appearance was transformed, using prosthetic cheekbones, among other enhancements (via PopSugar and IMDb). And of course, in her "Mr. & Mrs. Smith" days, the star was known for her smokey eye makeup (via Cosmopolitan). From the red carpet, to her work on behalf of refugees, Jolie is rarely spotted without at least a little eyeliner (via Vogue).
That said, those luscious lips and Jolie's other famous features clearly don't need much to stun. So, it won't surprise many fans that the 46-year-old still looks like a movie star without makeup. In fact, Styles at Life published a collection of images of the "Lara Croft" star wearing little to no products, and suffice it to say, she doesn't really need makeup to make our jaws drop.
Angelina Jolie was taught early that natural is best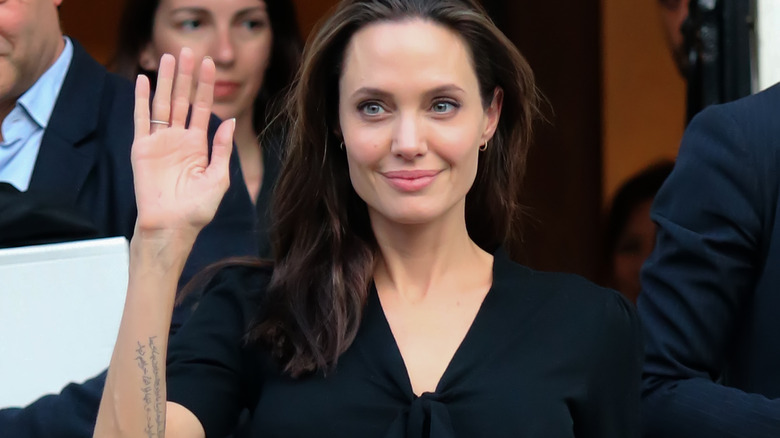 As the Styles at Life photos show, a no-makeup look is easy for Angelina Jolie to pull off. Her skin looks luminous, her smile is still contagious, her lips are to die for, and um, does she even age?
How does the actress look so lovely well into her forties? As she told In Style in 2018 about her early approach to beauty, "I was a bit of a tomboy." The star noted her mother, Marcheline Bertrand, was a big influence on her use of makeup, noting she didn't wear a lot when the actress was growing up.
The humanitarian added, "I've had the same dermatologist since I was 11; her name is Rhonda Rand. It's who my mother brought me to when I was little with my first scar. To have somebody who is very encouraging of being as natural as possible has really helped me, I think."
As an adult, Jolie admitted she prefers a minimalist look, explaining, "I don't want to have to depend on a makeup artist. I'm much more comfortable with just a little concealer for my dark circles. That's my main thing." 
So, it seems being comfortable in your own skin is the secret!
Source: Read Full Article