Hoda Kotb felt a love and joy like never before when she and her now ex-fiancé, Joel Schiffman, welcomed their first daughter together, Haley Joy, now 5, in 2017, via adoption. She named her Haley after the famous comet, for its once-in-a-lifetime nature.
The host's joy doubled when she adopted Haley's little sister, Hope Catherine, now 3, two years later, and the inspiration for the name came from her sister; the tot was all Hoda had been hoping for.
And she hasn't shied away from sharing her hopes of maybe expanding that joy with a third baby.
WATCH: Hoda Kotb's surprise motherhood revelation left the Today show reeling
MORE: All we know about Hoda Kotb's Today Show replacement, Tom Llamas
Though she and Joel split up at the beginning of 2022, it doesn't seem like the breakup closed the door on the possibility of a little sibling for Haley and Hope.
Later in 2022, Hoda, 58, opened up to People about still being in the process of potentially adopting a third baby, though those plans had been momentarily delayed due to the coronavirus pandemic.
MORE: Exclusive: Hoda Kotb reveals lifestyle change she never saw coming
Still, she maintained: "It's definitely in the universe for me," adding: "I feel like whatever is meant to be is meant to be. But I know a few things. I have love and time, and we have an open space."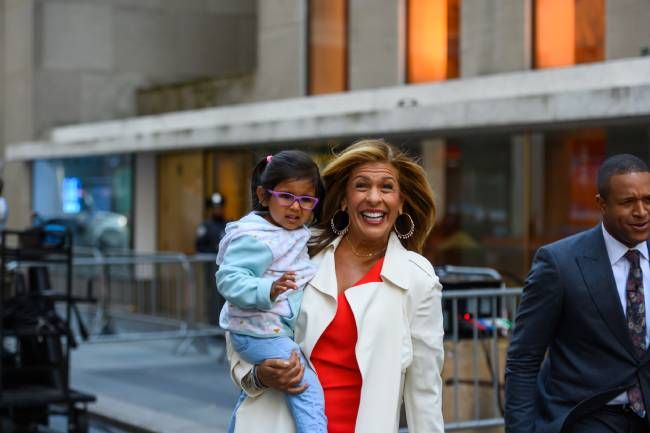 The star adopted her first baby, Haley, in 2017
The TV news veteran hasn't given a more definite update since, but amid an ongoing absence from the Today Show and a slew of cryptic – yet hopeful – messages on Instagram, fans wonder if she has good news to announce.
DISCOVER: T.J. Holmes can't contain himself as Amy Robach rocks tiny bikini in Mexico
DISCOVER: Hoda Kotb's Today absence continues – where is the Today with Jenna and Hoda star?
On Sunday, she shared a photo with the message: "Sometimes miracles are just good people with kind hearts," prompting fans to comment how much they missed her, writing: "I hope you're doing well and will be back to work," and: "Missing you bunches… think positive!" as well as: "The show isn't the same without you."
https://www.instagram.com/p/CpIAOtCOskM/
A post shared by Hoda Kotb (@hodakotb)
Fans are eager to learn what Hoda has been up to during her time off
Then on Monday, after she posted a message that read "choose hope," and fans realized they were going into yet another week without Hoda on air – she hasn't been on Today since February 21st, and her last appearance on February 20th was pre-recorded – fans dared to wonder if another adoption was the reason.
"Having another baby?" one fan speculated, as another added: "Did you get another baby, Hoda? This is usually what happens when you go missing for 2 wks. Sure hope it's something good," to which more replied with: "Exactly my thought," and: "That's what I think too. She's said several times that she wants a third child."
Read more HELLO! US stories here
Like this story? Sign up to our newsletter to get other stories like this delivered straight to your inbox.
Source: Read Full Article