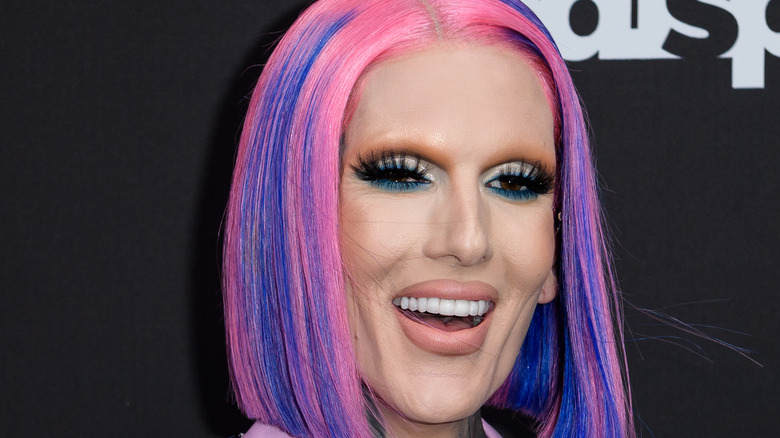 Jason Koerner/Getty Images
By Mike Nied/Sept. 3, 2021 2:19 pm EDT
For years, Jeffree Star's brand has revolved around luxury. The beauty guru gave his 16 million YouTube subscribers a tour of his bullet-proof, designer-filled closet in 2019 (via YouTube). The Daily Mail reported that one of the Birkin bags in his collection was worth nearly $400,000. Star leveled up by moving out of the mansion that housed his Pink Vault and purchasing a $20 million mansion later that year (via Architectural Digest). His love of glamour frequently inspired the makeup collections he dropped via Jeffree Star Cosmetics. Collections such as 2020's Cremated or 2021's Pink Religion were preceded by glossy ad campaigns and featured top-of-the-line packaging.
The general public is unlikely to ever achieve Star's estimated net worth. However, products from his makeup line sold the fantasy that buyers were every bit as upwardly mobile. Things are a little different as the mogul moves into his latest release. While still the epitome of style, his newest collection — the Star Ranch line — is likely more inspired by "Home On The Range" than his own single "Lollipop Luxury." The collection drops September 3, according to his Instagram, and is smaller than what fans are used to. For example, Pink Religion's launch included an 18-pan eyeshadow palette, a highlighter palette, several new bullet lipsticks, lip balms, a beauty mist, and associated accessories. 
In comparison, Star Ranch features the nine-pan namesake eyeshadow palette, two new hand-held mirrors shaped like animal skulls, and hot-pink stuffed yaks.
Jeffree Star's collection is inspired by his new lifestyle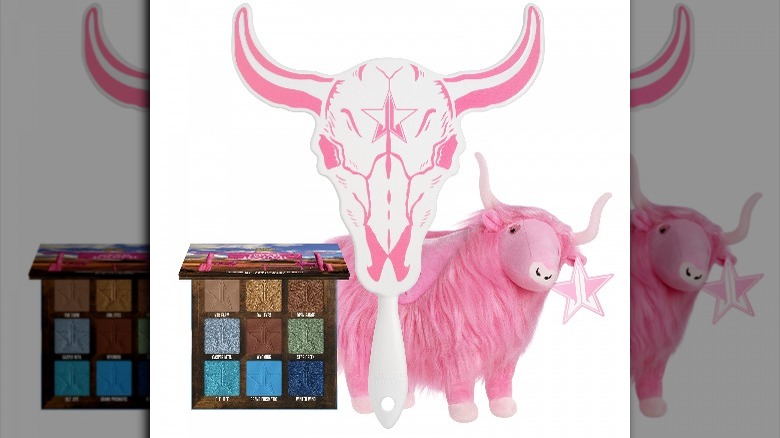 Things are different for Jeffree Star in 2021. Insider reported that the YouTuber sold his $20 million home in California and moved to Wyoming, where he now owns a comparably affordable $1.1 million home on a yak farm. He traded out the 20,000 square-foot mansion in one of the world's most luxurious locales for more than 500 acres of land and 40 yaks. Star opened up about the move and related lifestyle changes in a video on YouTube and has since launched an Instagram account dedicated to Star Yak Ranch. These moves inspired Star's latest makeup release.
"Inspired by my love of Wyoming and new ranch in the beautiful outskirts of Casper, this palette is my version of western and the gorgeous nature that surrounds me every day," Star wrote in the caption alongside the collection's reveal video on Instagram. The nine-pan palette may feature pink-hued yaks on the cover. However, the inside is decidedly more naturally inspired. The color story features a variety of warm- and cool-toned neutrals with pops of blue and one sage-green shimmer. Shade names, such as Open Range, Star Creek and Ole' Jeff, paint a more rural picture. Coupled with the western-inspired ad campaign you can see on Instagram, it's truly enough to make you want to dust off your cowboy boots, put on a pair of chaps and shout yeehaw while riding off into the sunset.
Fans are already familiar with the Star Ranch eyeshadow palette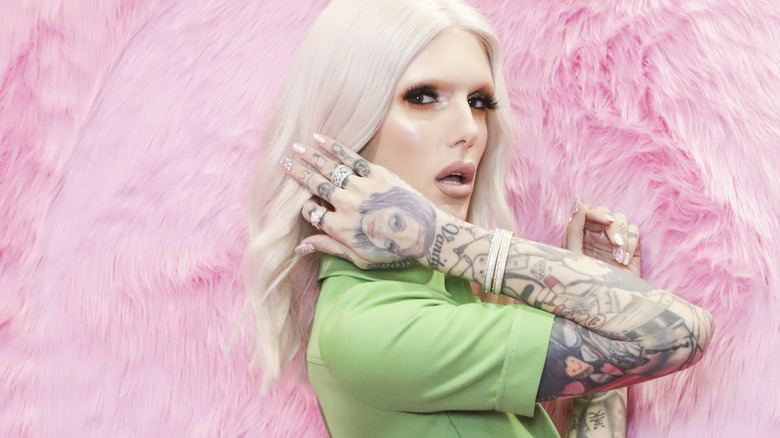 Although Jeffree Star just recently officially released his newest collection on his website, some fans have likely already created dozens of looks using it. That's because the Star Ranch palette was included in the Jeffree Star Cosmetics summer mystery boxes. Announced via Instagram, the latest round of the brand's popular mystery boxes dropped in July. While previous ones contained already released palettes, the three biggest boxes available this time included the previously unseen palette.
Since some fans and gurus already own it, fans have an idea of what to expect going into release day. YouTuber Sara Loves Makeup reviewed the palette and ranked the quality of the shadows on par with the rest of Star's collection. She commended the quality but added that the colors didn't feel exclusive to the palette and could likely be duped out from some of Star's other releases (via YouTube). YouTuber Porcelain called out the "misleading" packaging, which implied fans should be ready for at least one shade of pink. Her final review was that the collection created a "cute" look though it wasn't revolutionary and could have been improved upon (via YouTube).
Since some fans already own the collection, it seems safe to assume the Star Ranch palette, like several of Star's latest releases (via Insider), will not sell out. Despite that, it is an exciting hint at things to come from the evolving beauty maven and his brand.
Source: Read Full Article