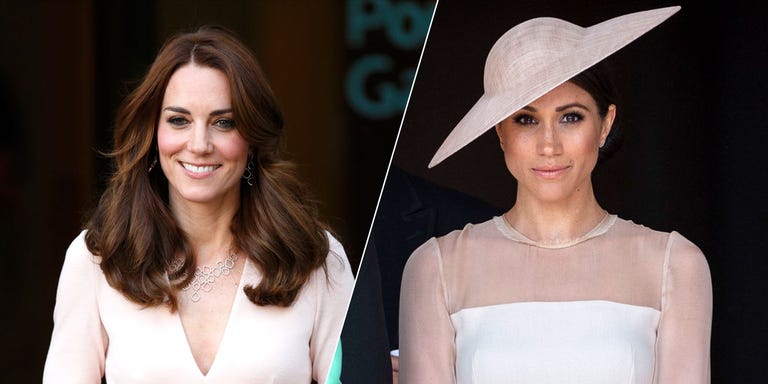 Ever since the news of Meghan Markle and Prince Harry's engagement broke in November, the Internet (and the world) has been busy dissecting Meghan's personal style — from figuring out where she buys her coats to who makes her handbags, and, importantly, who designed her incredible wedding dress.
And when you become royalty, it's natural to be compared to the women who came before you, which is why people have been drawing parallels between Meghan's aesthetic and Kate Middleton's look. Below, all the times they dressed *exactly* the same.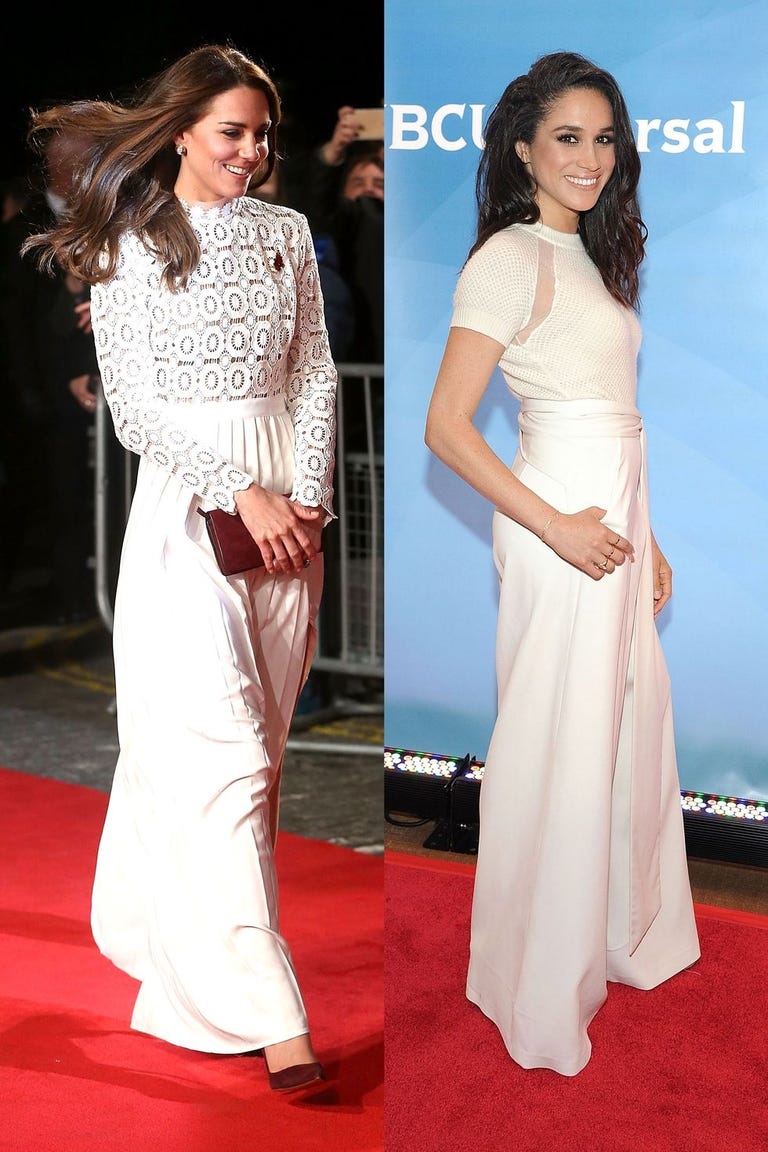 Kate and Meghan both wear white on a regular basis, but Meghan's look here actually is two pieces — a pair of pants and a top. Kate was attending the premiere of A Street Cat Named Bob in London when she wore this outfit, and Meghan was at NBC's summer press day while she was still an actress on Suits.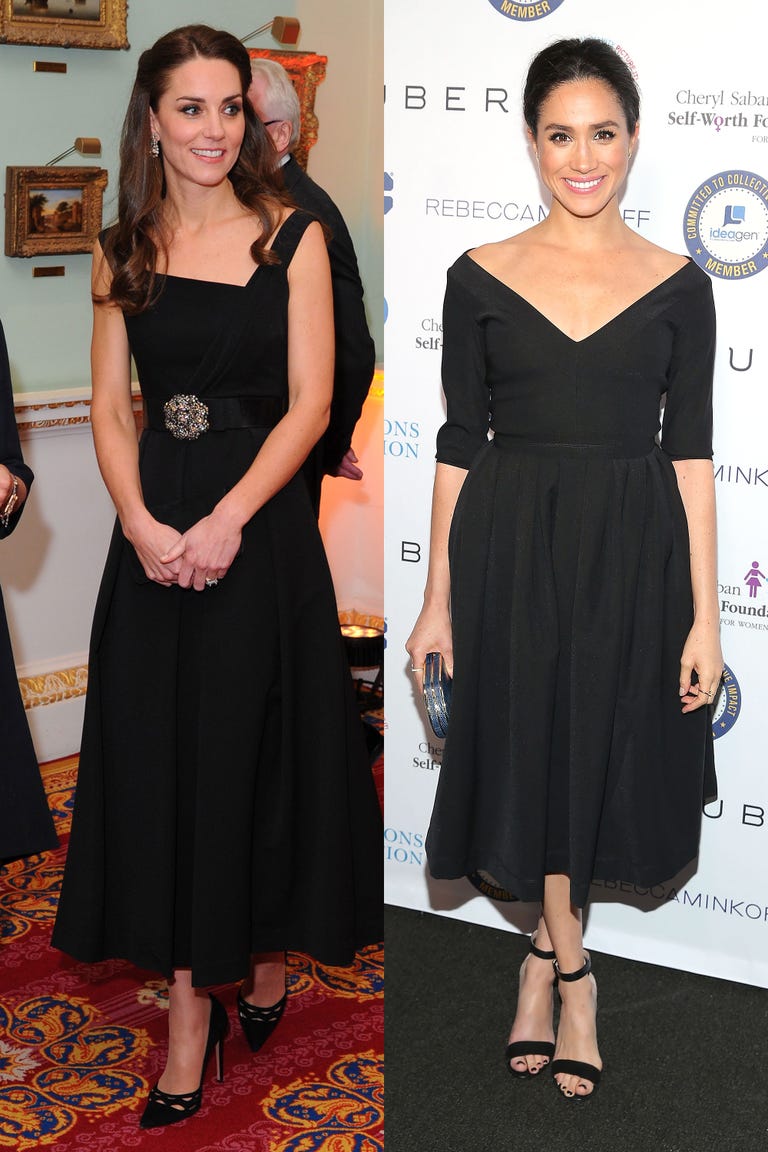 Kate and Meghan both know you can never go wrong with an LBD, especially one with belted details. Meghan opted for a more open neckline while Kate went with bare arms and closed-toe shoes.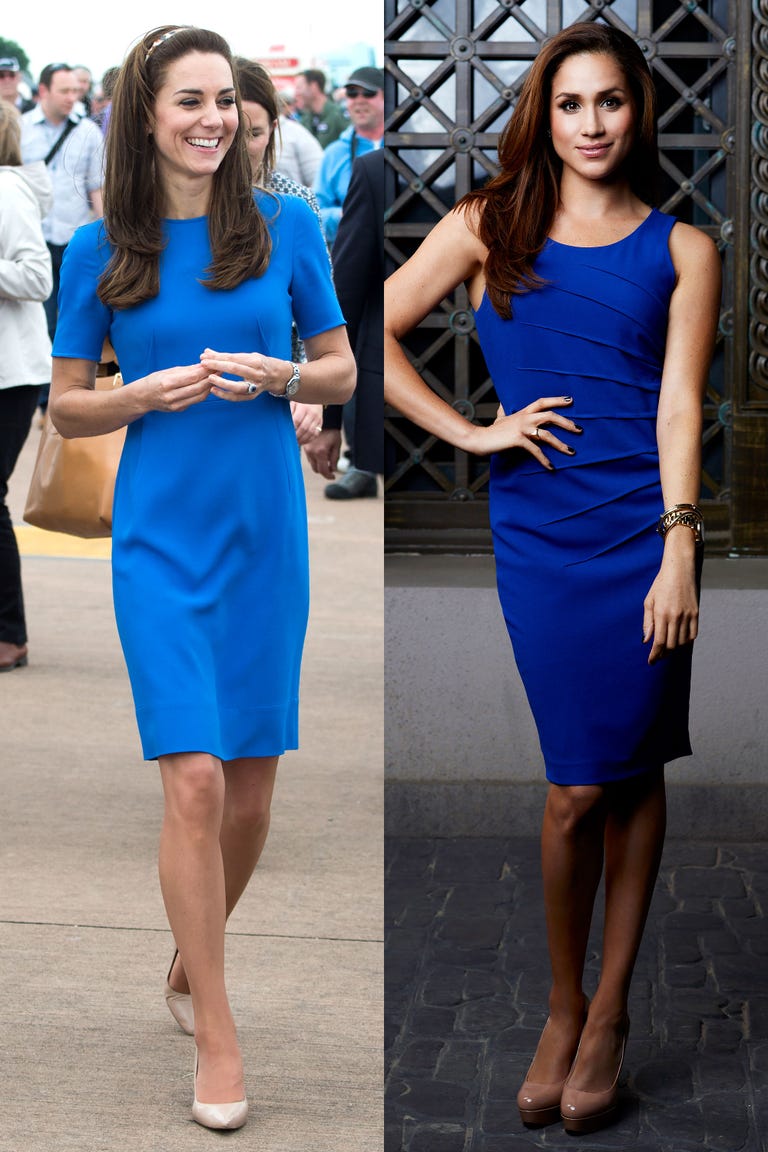 A neutral pair of heels goes with absolutely everything, which Meghan and Kate prove here by wearing them with two different shades of blue dresses. (And is that a Burberry headband I see, Kate?!)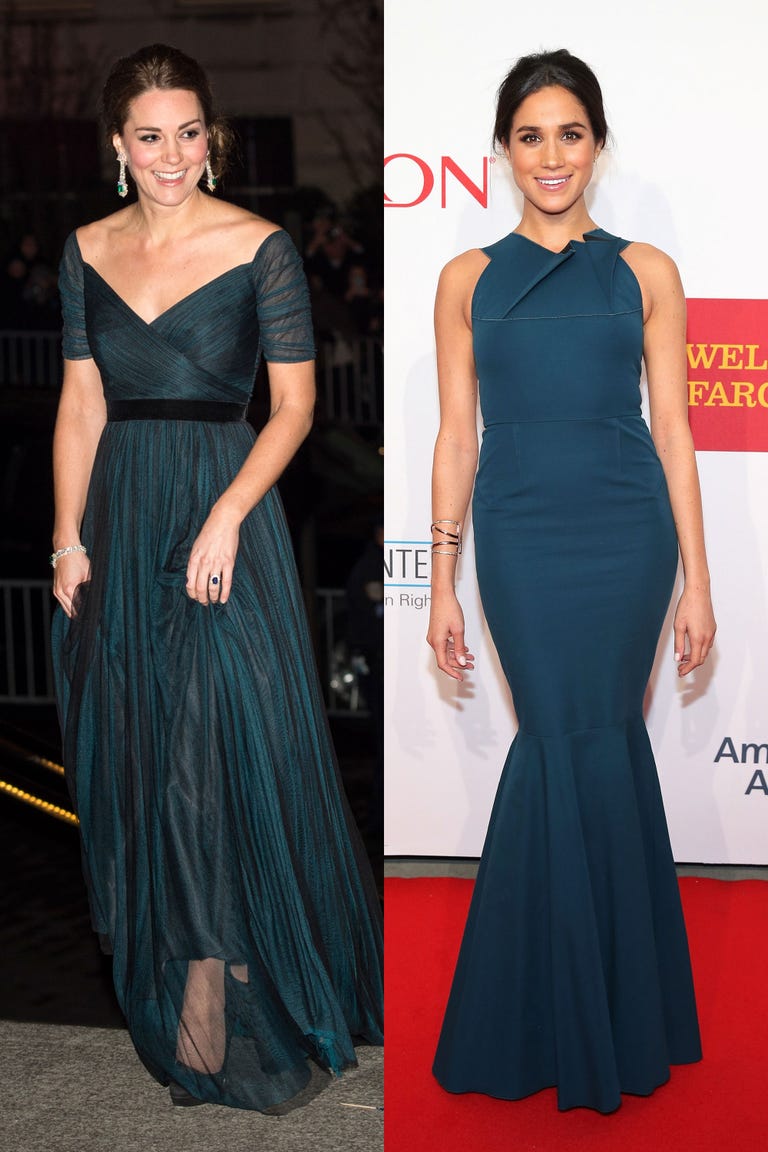 The royals love to get glammed up, proven by this photo of Kate at the St. Andrews 600th Anniversary Dinner and Meghan at the Elton John AIDS Foundation's 13th Annual Benefit.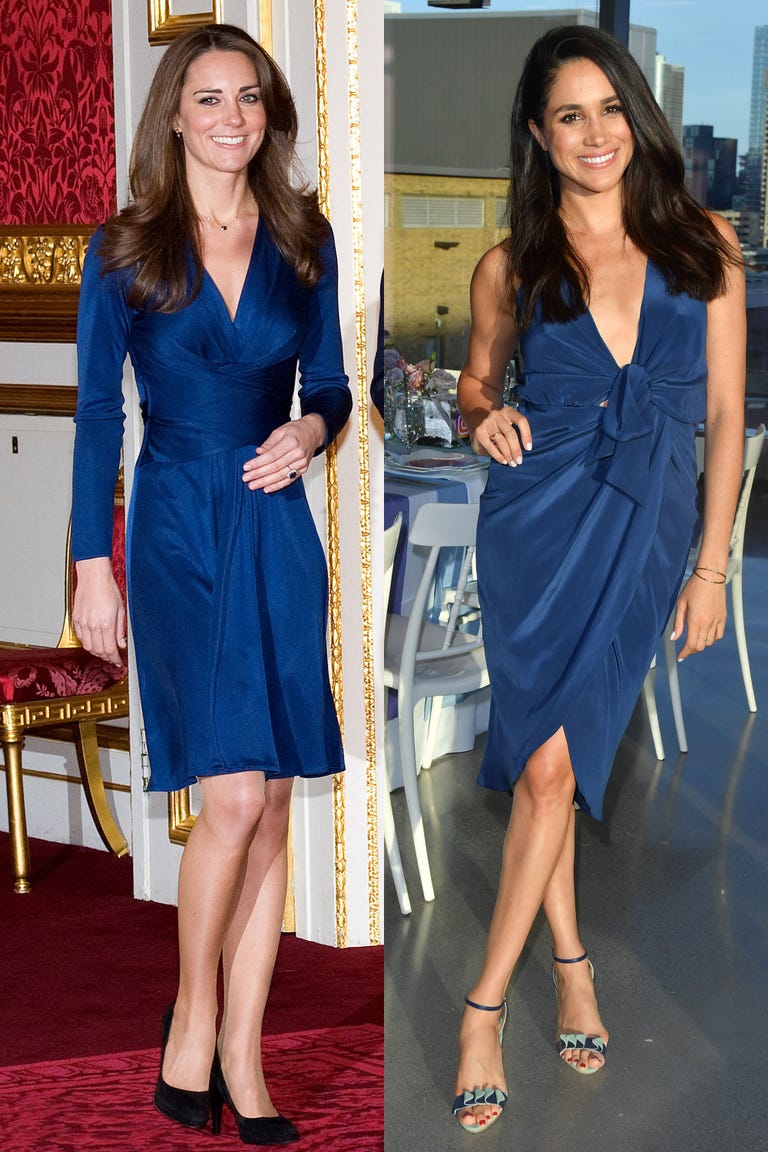 You've definitely seen Kate's look before — it's the one she wore to announce her engagement back in 2010. Meghan took a cue from her future sister-in-law by wearing a dress of the same color, also with detailing around the waist.
Kate and Meghan rocked florals in moody, almost autumn-inspired palettes. Meghan was at the Tracy Reese show during New York Fashion Week, while Kate was attending a briefing to announce plans for the Heads Together charity.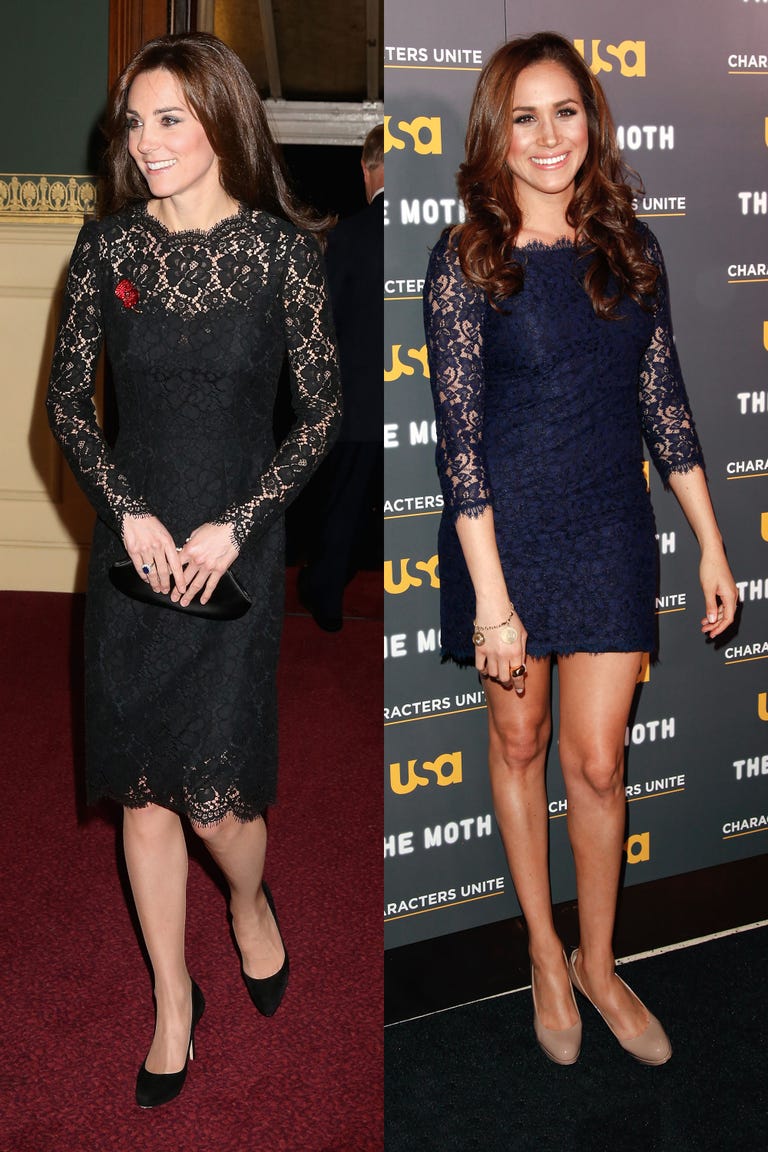 Dresses with lace overlay and lace sleeves stand the test of time, as proven by this 2012 picture of Meghan and this 2015 image of Kate. Kate rocked it in black while Meghan wore it in blue with a much shorter hemline.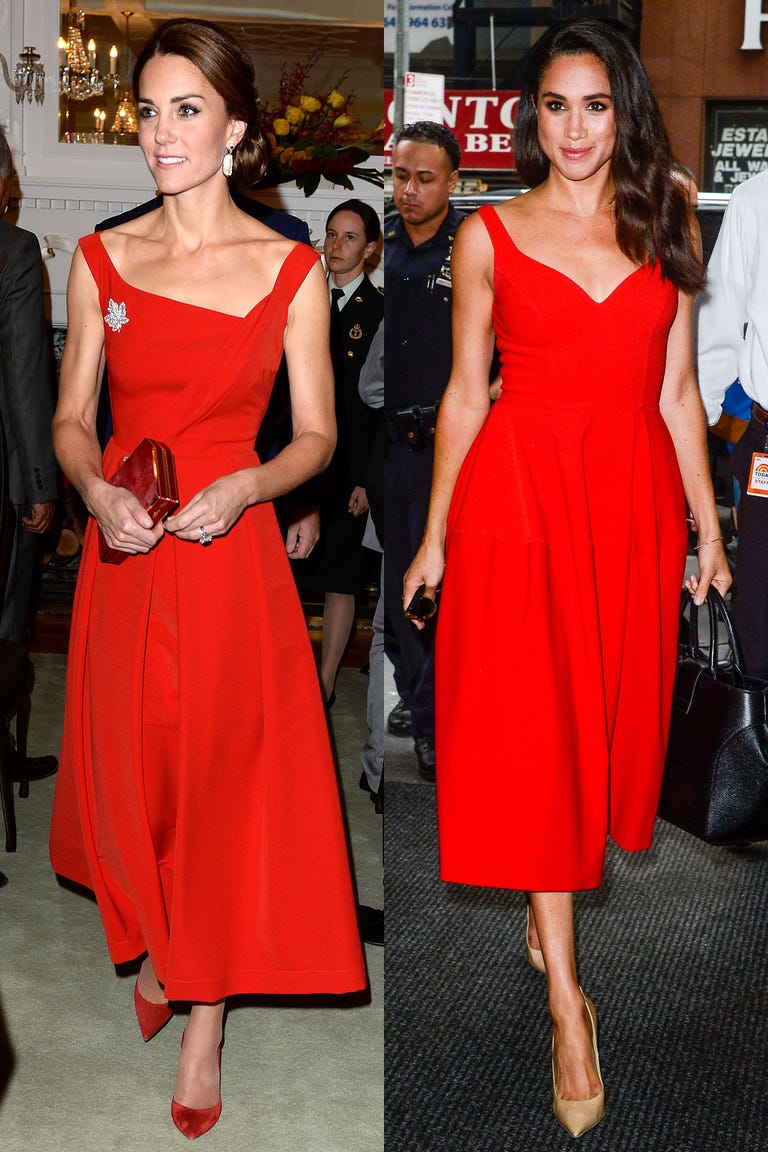 Kate and Meghan aren't afraid to rock bold hues. Kate wore red while in Canada on an official visit; Meghan sported the color to a Today show taping in New York City.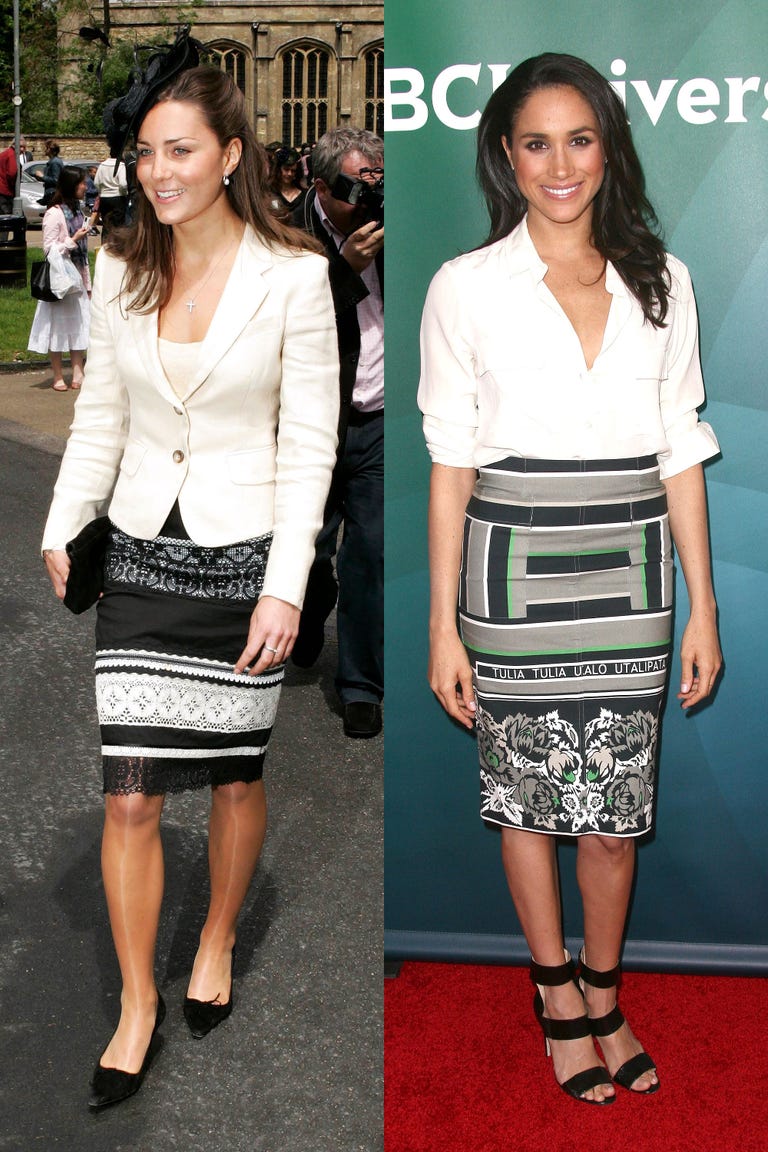 There's a lot going on here between these two skirts — Meghan's even has words on it — but both royals paired them with white tops and black shoes. Kate wore hers to a wedding while Meghan wore hers on a press tour.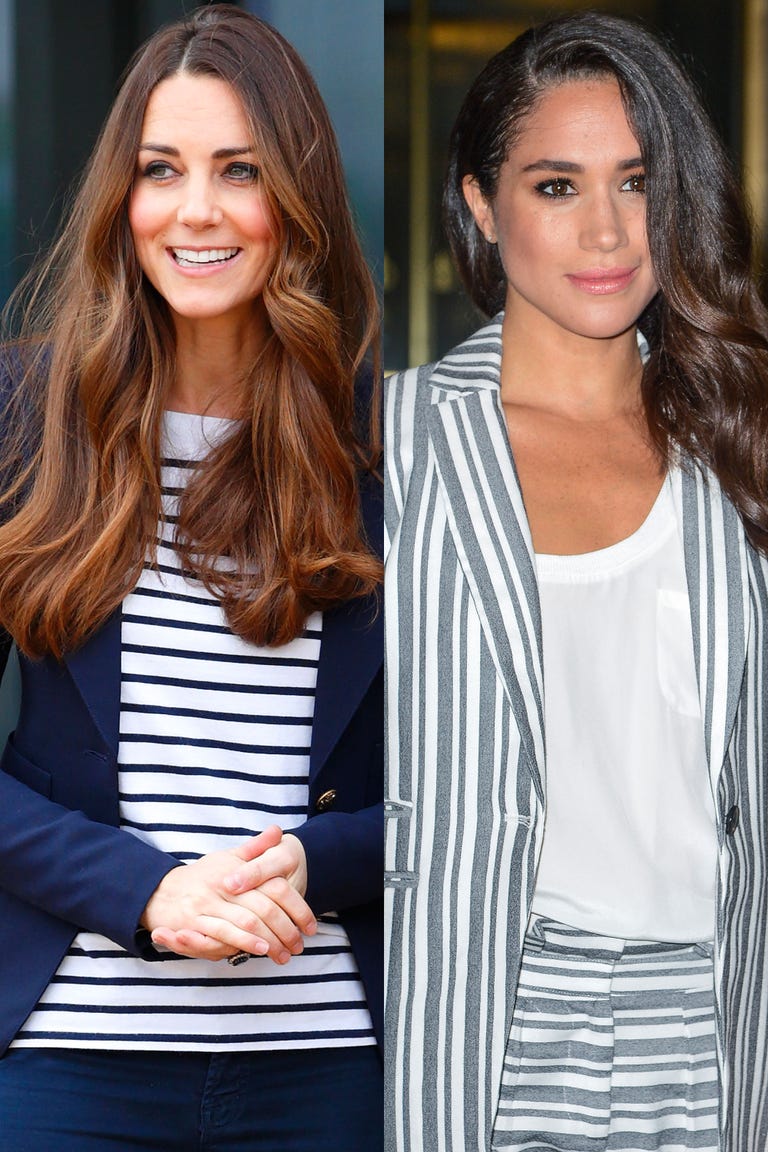 Meghan went all out with this striped suit/shorts combo, while Kate kept her look more simple, opting to wear a striped shirt beneath a navy blazer.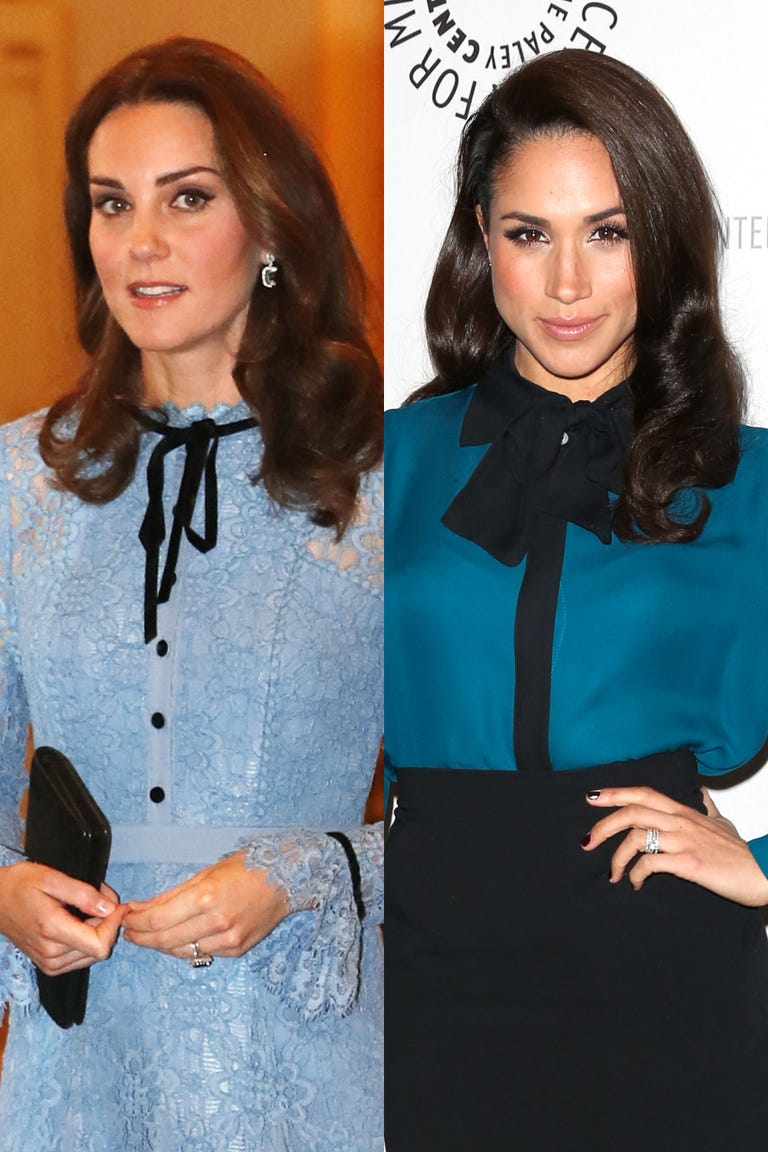 No shirt or dress is truly complete without a bow, à la Blair Waldorf. Meghan wore this skirt/top combo to a Suits screening, and Kate wore this dress to Buckingham Palace to celebrate World Mental Health Day.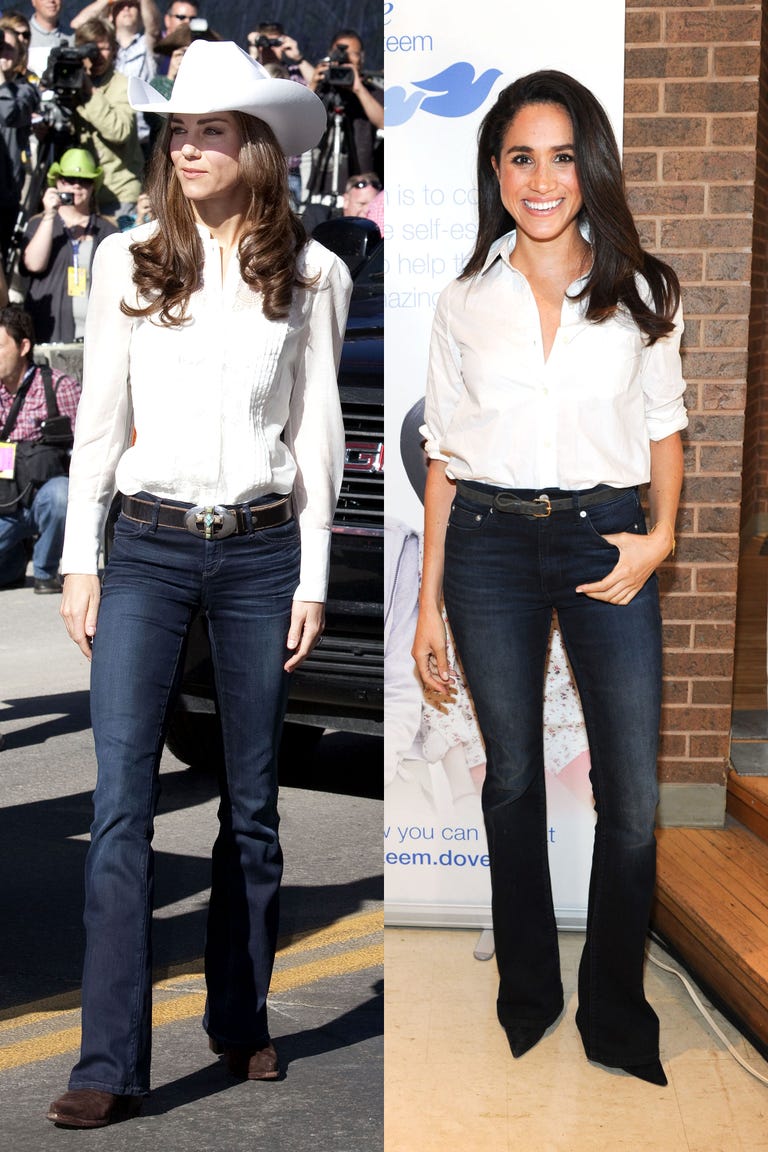 OK, yes, the cowboy look is totally unexpected but also totally perfect in every way. The dark blue flare jeans! The white Oxford shirts! The boots!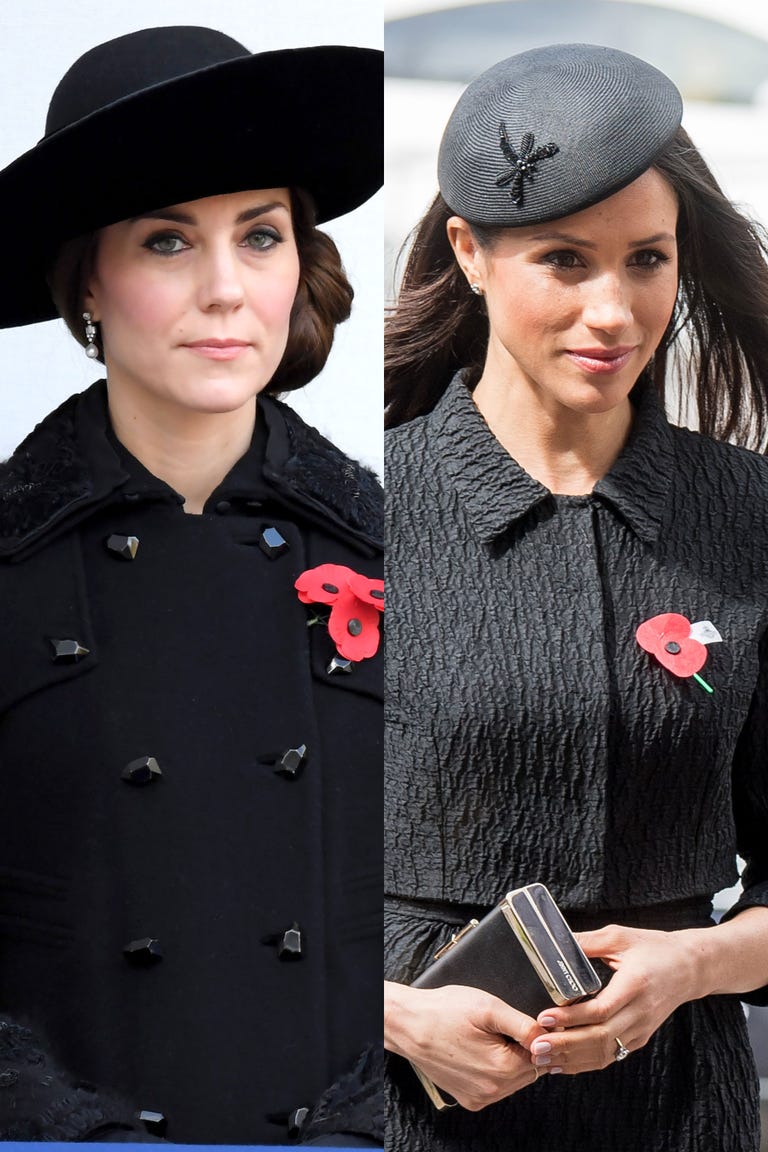 In England, the poppy is a sign of remembrance, and it's used to honor military personnel who have died in war. Meghan wore the red poppy while attending an Anzac Day service, and Kate wore it to a Remembrance Sunday Service.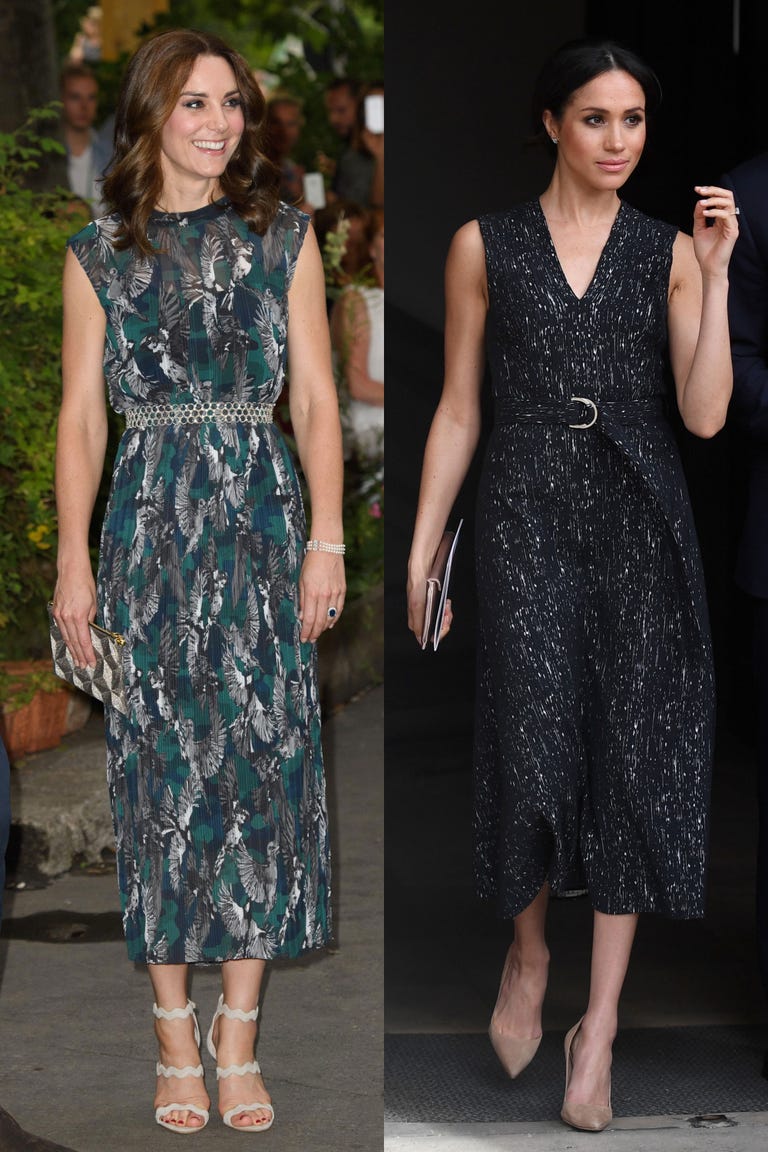 Although these dresses have different patterns, they feature a similar length, cut, and belt detail. Kate's is Markus Lupfer, while Meghan's is Hugo Boss.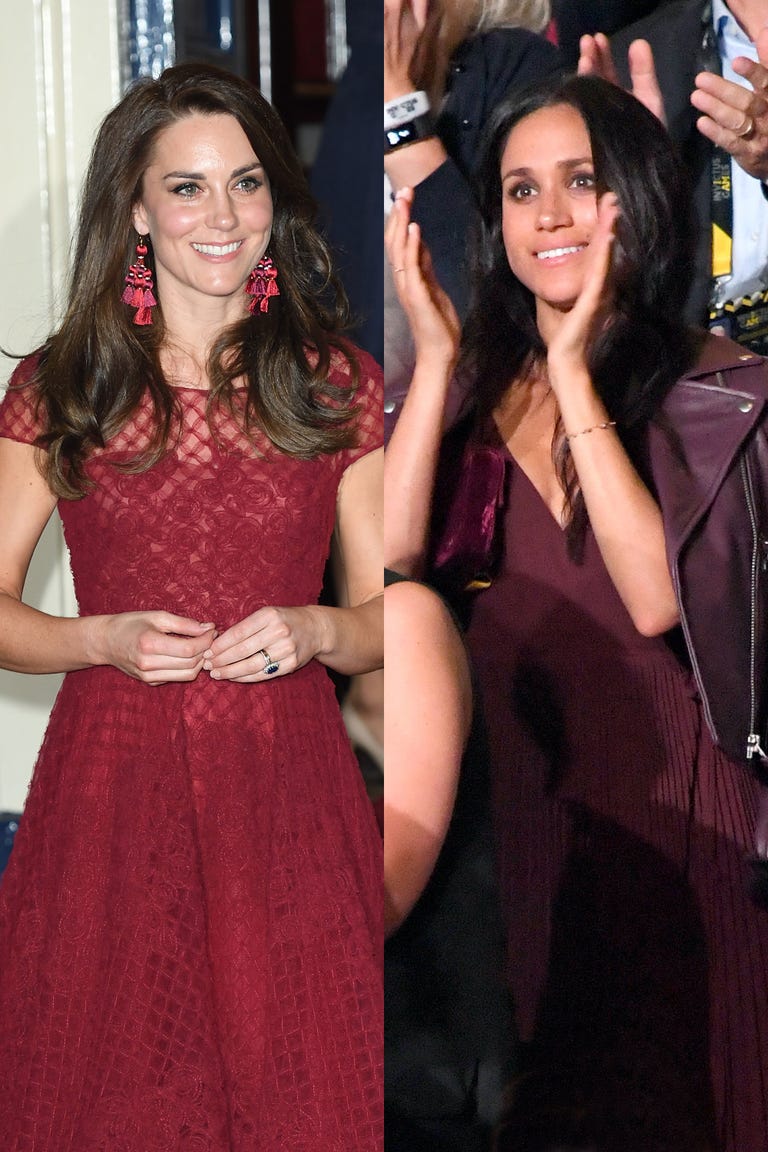 Meghan wore this outfit to the Invictus Games in Toronto right before she and Harry got engaged, and Kate wore hers to a theater premiere. Meghan wore a dress and jacket of the same color, while Kate matched her dress to her heels.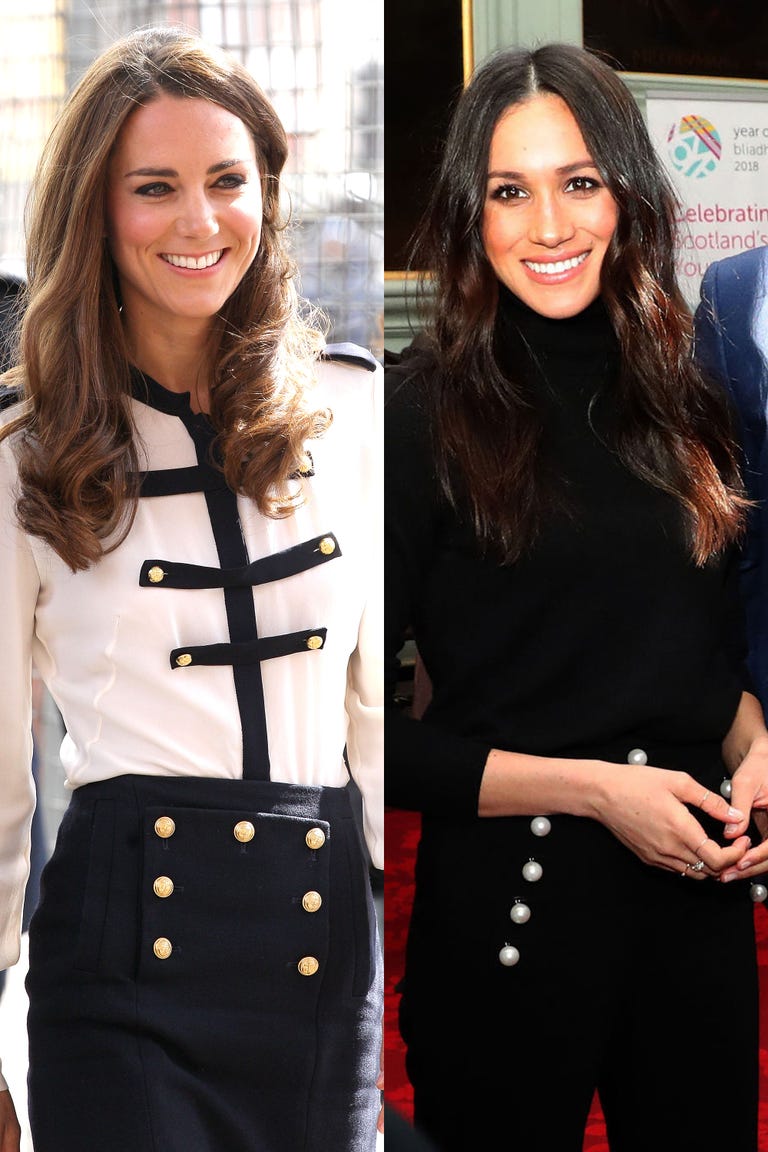 With these nautical-inspired button details, Meghan and Kate are ready for any sailing expedition they might embark on. Kate wore them on a skirt during her trip to Birmingham, England, while Meghan went for pants in Edinburgh, Scotland.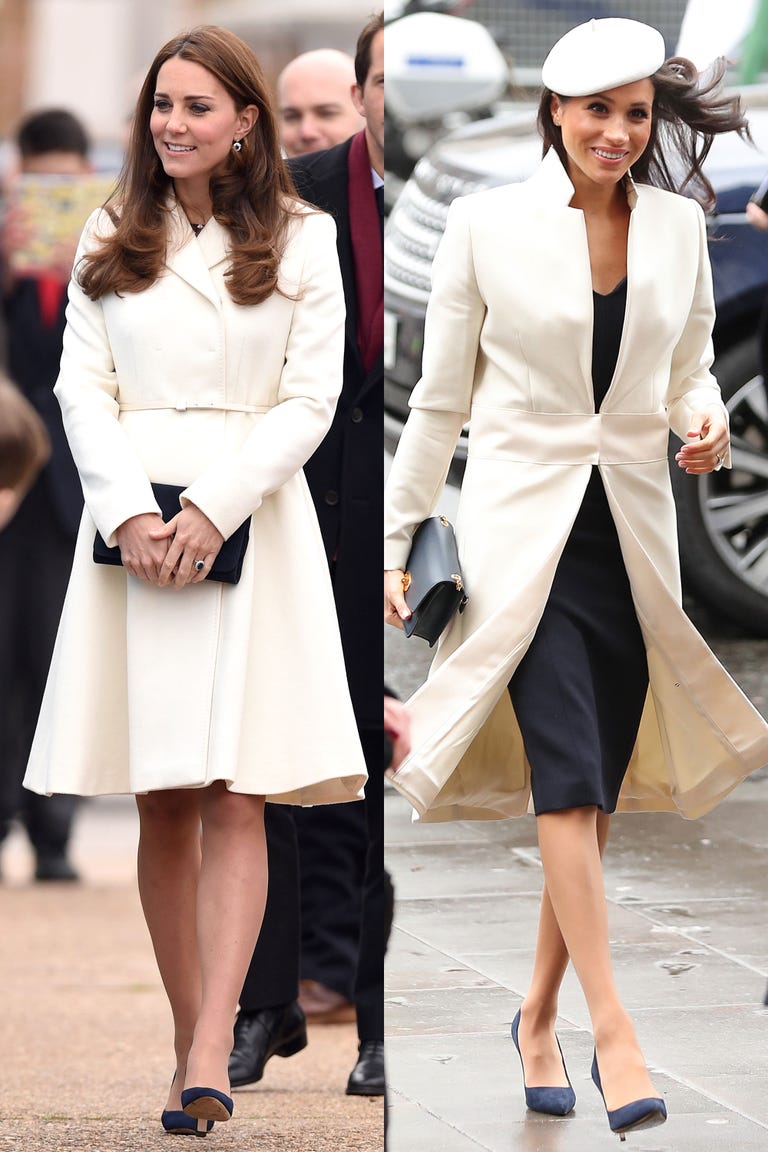 Winter whites are *a thing* for a reason, and Kate and Meghan both know how to rock a white coat. Kate's is Max Mara while Meghan's is Amanda Wakeley, and although these pictures were taken three years apart, it looks like they have very similar taste in shoes, too.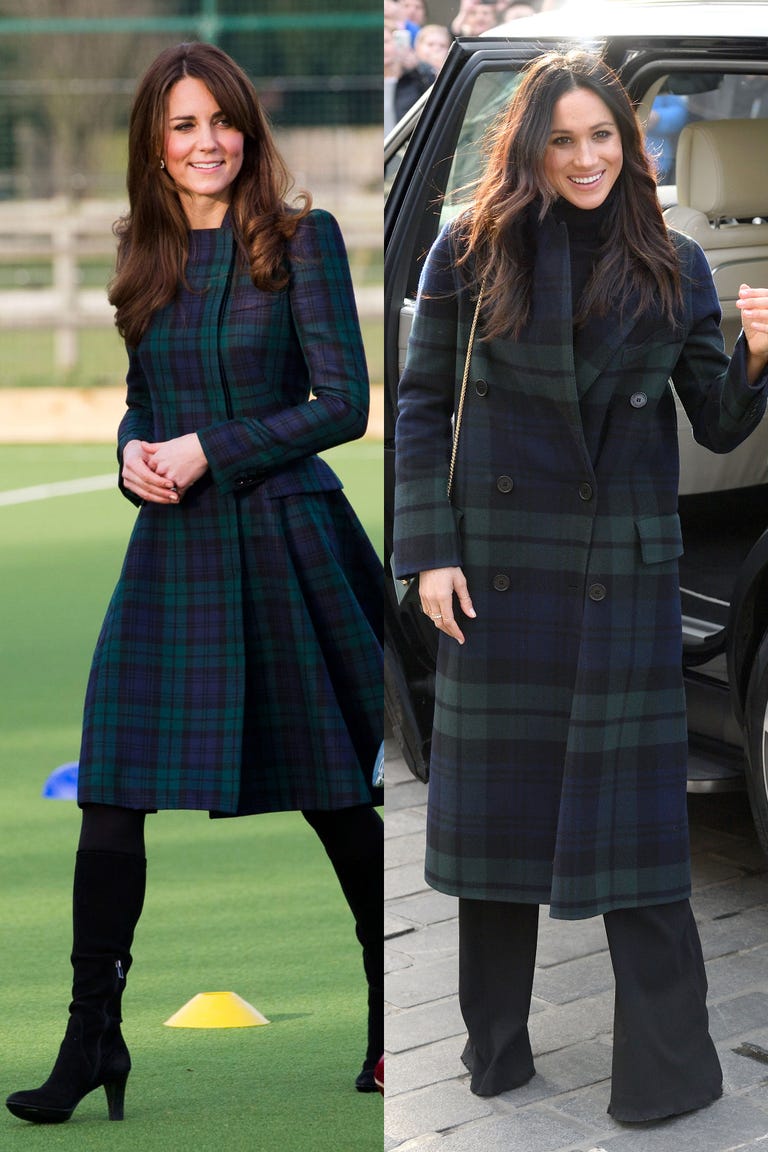 There is literally nothing more British than a tartan jacket, and it's obviously versatile considering Kate wore hers to play field hockey at her alma mater, and Meghan wore hers during her first official visit to Scotland.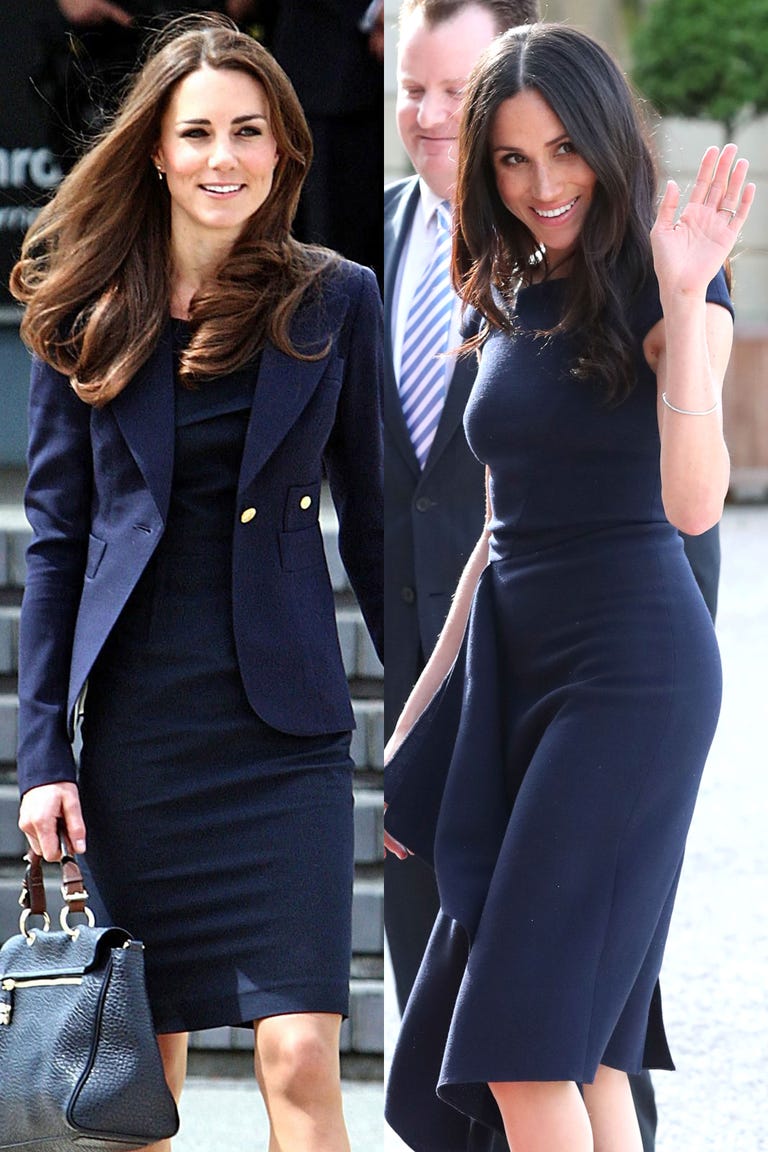 The night before her wedding, Meghan opted for a simple, classic, navy dress for the walk to her hotel. Meanwhile, Kate chose the color for her first royal tour in Canada shortly after she got married, pairing the look with a blazer in the same hue.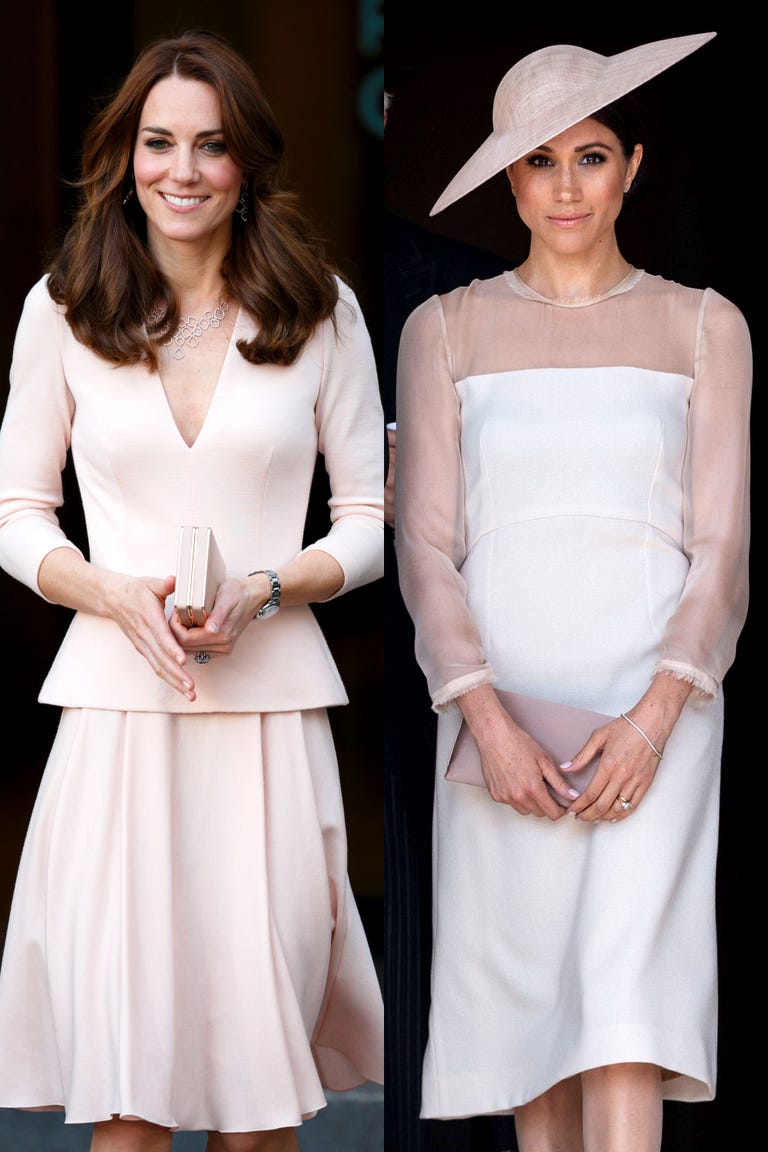 At Meghan's first official event after her wedding, she went for a pale pink dress with a matching fascinator. Kate's worn similar colors before, like this dress she wore to the Vogue 100: A Century of Style exhibition, which featured two photos of her from her first Vogue spread.
Source: Read Full Article