Aaron Carter has been on a roller coaster ride with Melanie Martin, that's for sure. They've broken up and gotten back together, and they may be on again. A few hours ago, Carter posted a YouTube video on Twitter sitting side by side with his ex, Melanie Martin. He says they are back together. Read on for the latest details.
Aaron Carter and Melanie Martin have broken up more than once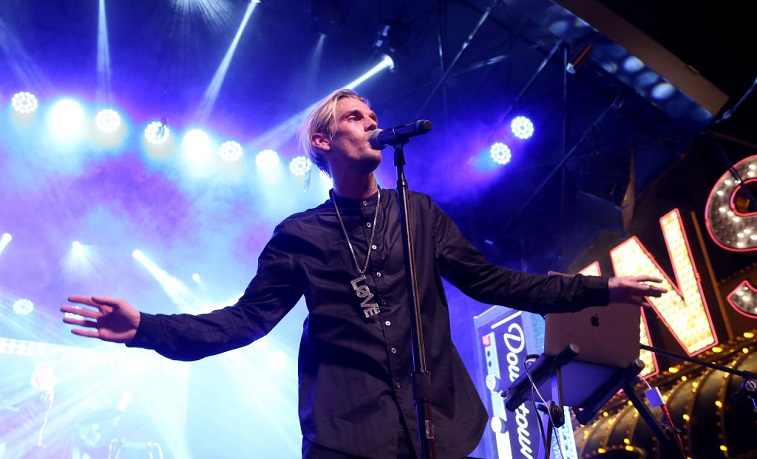 Carter and Martin have had a rocky relationship. On March29, Martin was arrested at Carter's Los Angeles home on a felony domesticviolence charge. TMZreports that the L.A. County Sheriff's Department was called out whenthings got physical. Martin was being held on a $50,000 bond before postingbail.
Carter announced they are expecting a child together
After that, they did manage to repair things, at least for atime. Carter announced on Instagram Live in April that they are expecting achild together. E!News reports thatCarter showed off a positive pregnancy test.
"Obviously I have a baby on the way," Aaron said. "I'm goingto be a busy father for sure."
They broke up again and Carter found a new girlfriend
RELATED: How Did Aaron Carter and Complicated Ex-Girlfriend Melanie Martin Meet?
By mid-May, things had fizzled out again between Carter and Martin. Carter started appearing on his Instagram with another woman. He was dating Viktoria Alexeeva, and they each appeared on the other's social media. It seemed like Carter was really moving on, but apparently that didn't seem to last.
Aaron Carter announces that he's back with Melanie Martin
A few hours ago, Carterannounced to everyone that he's back with Melanie Martin. They sat side by sidekissing and acting pretty happy together. "We are back together," Carter tellseveryone watching as the two share a few kisses.
"Thank you to all the fans being understanding. And reallyjust kind of not really judging too much," Carter said.
Melanie Martin speaks out about their problems
"I do think you did go a little overboard saying a couplethings but there was definitely some problems we had and it kept on happeningover and over again and I wasn't fixing it," Martin said. She also says she hasn'thooked up with anyone while they were together.
She said she was "communicating" with people that she saysshe should have just removed from her life. "I feel like everyone has problemsin a relationship," Martin also said. Martin says in the beginning, she workedat a bar and she says she spoke to people "behind Aaron's back."
'My heart never let go of her'
Carter then goes on to say some really sweet stuff. "Myheart never let go of her," Carter tells the camera. "There was nothing I coulddo about it and I became so miserable and just lonely, couldn't sleep I haven'tbeen able to eat," Carter said. He also goes on to say he forgives Martin.
It looks like Aaron Carter and Melanie Martin are officiallyback together. We'll keep you updated on all the latest information as it comesout.
Source: Read Full Article