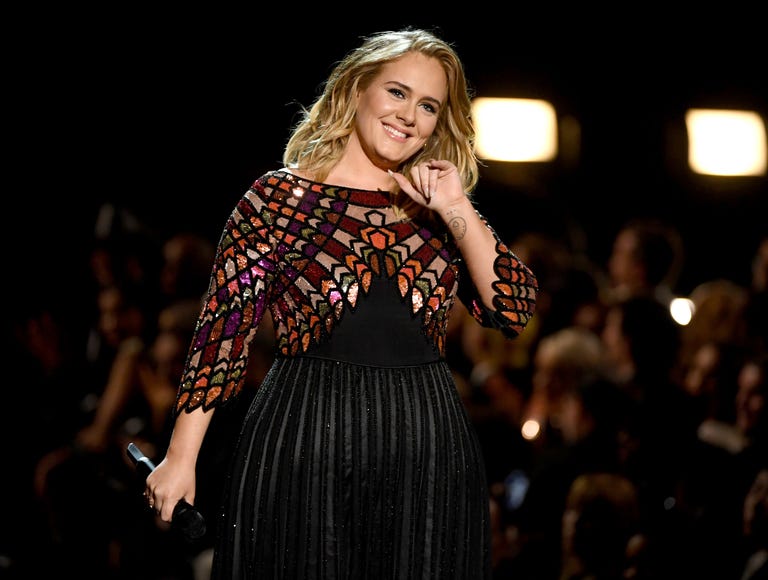 No one does a themed party like Adele does a themed party. The Brit singer rang in her 30th birthday this weekend with a fête inspired by James Cameron's 1997 classic, Titanic, and she went all out.
Naturally, the birthday girl transformed into Rose Dewitt Bukater for her soirée, in a black embellished dress and perfectly-curled ringlets. She even recreated that staircase scene for her grand entrance.
It was spot on:
Her guests also wore early 1900s attire to match the theme. Plus, they were equipped with old-fashioned life jackets on the dance floor.
She captioned the photos she shared on Instagram:
She also gave a shoutout to Childish Gambino (AKA Donald Glover) who hosted Saturday Night Live this weekend and debuted two songs: "Ps Childish Gambino how the hell do you have time to offer us so much greatness on so many platforms. I adore you x"
The singer has a great talent for dressing up. Three months ago, she dressed up as Dolly Parton and totally nailed it.
Of course, she looked stunning on Halloween, dressed in a sequined dress, teased curls and dramatic glittery eye makeup. Though her fans didn't exactly know what her costume was, they were obsessed nonetheless.
Just look at that detailing:
In an impressive display of versatility, Adele proved she can also channel the grandma look too—wrinkles, falling hair and all.
And let's not forget her flawless yet terrifying 2016 Halloween costume, a spot-on impression of The Mask.
We are here for all of Adele's costume endeavors. Perhaps we'll see some more looks on her next tour? If she ever has another one.
Source: Read Full Article