The '20/20′ co-anchor is all smiles when spotted arriving at JFK Airport to catch a flight amid new report that her boyfriend allegedly had an in-office romp with a second junior staffer.
AceShowbiz –Amy Robach is traveling alone amid reports of T.J. Holmes' alleged other office affairs. The ABC News reporter has been spotted flying out of New York City after reportedly getting blindsided by the extent of her boyfriend's past relationships.
The 49-year-old was seen arriving at JFK Airport on Tuesday, January 24 to catch a flight out of NYC. She appeared to be in good spirits despite T.J.'s alleged scandalous affairs, flashing a smile at paparazzi while entering the airport.
The "Good Morning America" co-anchor was carrying a teal suitcase and a large backpack. She dressed casually, but still looked stylish in a black top and leggings, topped with a gray coat which she teamed with a pair of black boots. She also accessorized with aviator sunglasses, while her blonde hair was pulled in a messy updo.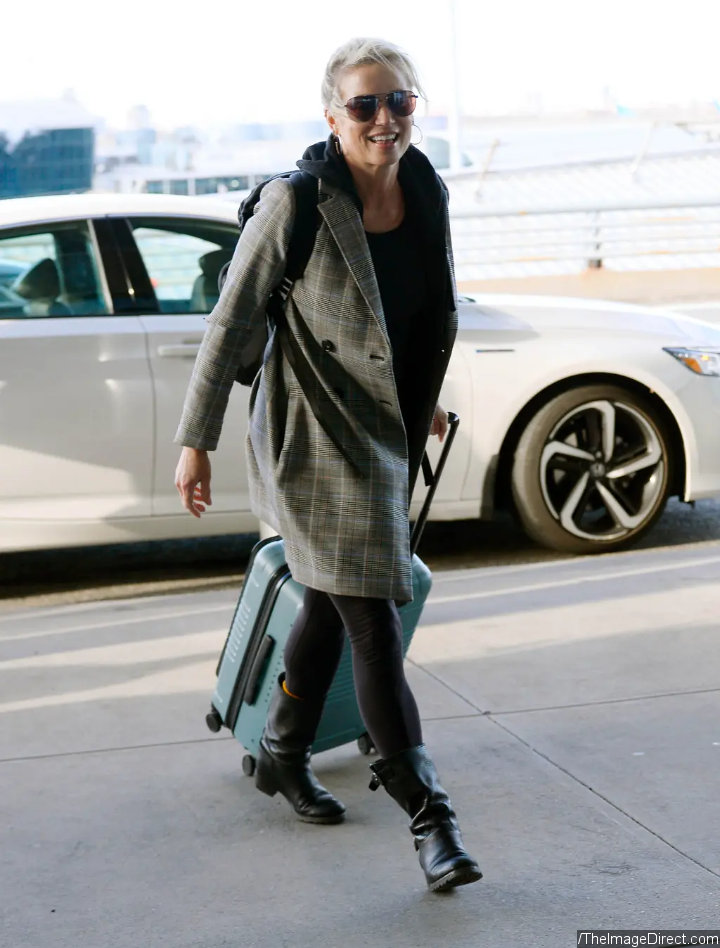 Amy Robach flew out of New York City amid report of T.J. Holmes' alleged affair with another junior staffer.
Amy's solo trip comes amid new report that T.J. might have had an in-office romp with another junior staffer. According to Page Six, the alleged encounter happened in 2015, the same year he allegedly had a months-long affair with subordinate Jasmin Pettaway.
The second woman, whose identity has yet to be disclosed, was reportedly in her mid-20s and worked as an overnight associate producer at ABC at the time of the alleged encounter. Sources say the two would be in his office sometime after 3 A.M. with the door closed.
The sources claim "a bunch of rustling" could be heard coming from inside the room and that the woman emerged looking "completely flush" and like "a deer in headlights." It's unclear if she reported the encounter to HR, but one source alleges that T.J. may have used his power to seduce the young woman.
"He was in a position of power over her," the source says. "I do think it was like a, 'Here's this good-looking younger girl, and she's here in my office, let me make a move,' sort of thing," the source adds, describing the situation as "similar" to Jasmin's.
T.J. was also accused of cheating on his wife Marilee Fiebig with married "GMA" producer Natasha Singh starting in 2016. According to The Sun, Amy was "blindsided" by her boyfriend's past relationships with other co-workers.
"She had no idea the scope of TJ's alleged past office romances," a source claimed. "She certainly did not foresee that their relationship was going to cause major upheaval – outside of her own marriage. She did not expect this to blow up into a scandal," the source dished, adding that the mother of two feels like she's "collateral damage" in the scandal.
Page Six, however, reported that Amy was not "blindsided," at least by T.J.'s relationship with producer Natasha. According to the informant, the former CNN anchor was "up front" with Amy about his former relationships.
You can share this post!
Source: Read Full Article