The Sports Illustrated model claps back at the 'gossip' speculating about the end of their romantic relationship by sharing their cute photo together on Instagram.
AceShowbiz –Andrew Garfield may have been keeping his lips sealed about his personal life, but Alyssa Miller isn't holding back from responding to reports about their relationship. Days after rumors swirled that the couple has called it quits, the model made use of her social media account to clap back at the "gossip."
On Monday, April 4, Alyssa took to her Instagram page to respond to the speculation by sharing "a cute photo" of the two together. In the blurry image, Andrew made a silly face while Alyssa pouted her lips to the camera. In the caption, she wrote, "If you must gossip at least use a cute photo," before showing her love to the actor, "Lol love you AG."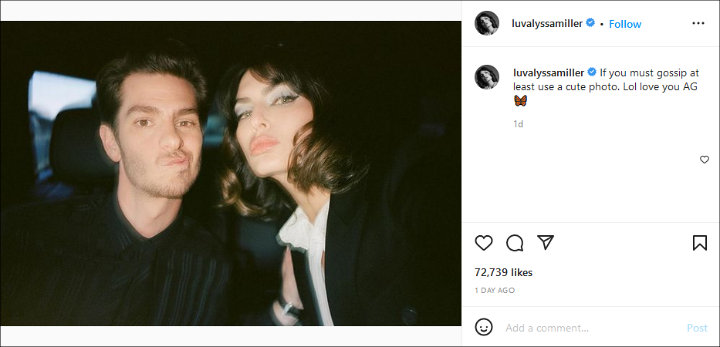 Alyssa Miller clapped back at 'gossip' about her split from Andrew Garfield.
It's unclear though if Alyssa's shout-out to Andrew means they are still very much an item or it just shows their amicable relationship despite their split. In the comment section, her fans and friends showed their support to the pair, with one writing, "the hell with the gossips we love you guys." Another added, "OH MY GOD I LOVE YOU TWO TOGETHER YOU'RE PERFECT."
On Friday, April 1, The Sun reported that Andrew and Alyssa have broken up, just a little over a month after they made their relationship red carpet official. The 38-year-old actor reportedly broke up with the Sports Illustrated model after "not seeing her for weeks."
A source told the site, "Andrew and Alyssa were a really beautiful couple and things were going great at first. They were together for quite some time before they went public, but work schedules mean it has been really hard to see each other."
"On top of that it became clear that there were some differences between them and it was decided they are better off apart, for now at least," the so-called insider went on claiming. The informant later noted that Andrew was left "disappointed" as "he'd have loved to have shared the excitement of the awards season with someone he loved, but it just wasn't supposed to be."
As to how the Oscar-nominated actor is handling his split, the source further noted that "he is keeping his chin up and taking some time for himself after a hectic few months."
On Tuesday, PEOPLE doubled down on the breakup speculation. The site claimed that the two stars pulled the plug on their relationship a month ago, but they remain friendly.
Source: Read Full Article