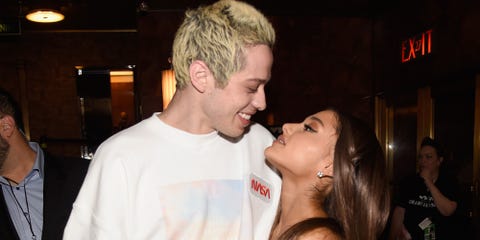 Lovebirds Ariana Grande and Pete Davidson have not been shy about their whirlwind romance. They've shown off major PDA on the red carpet, flaunted their relationship on social media, and Grande even named a track on her new album after her fiancé. But, although their engagement happened quickly, Grande says they're taking their time to plan the wedding, and it won't happen until at least next year.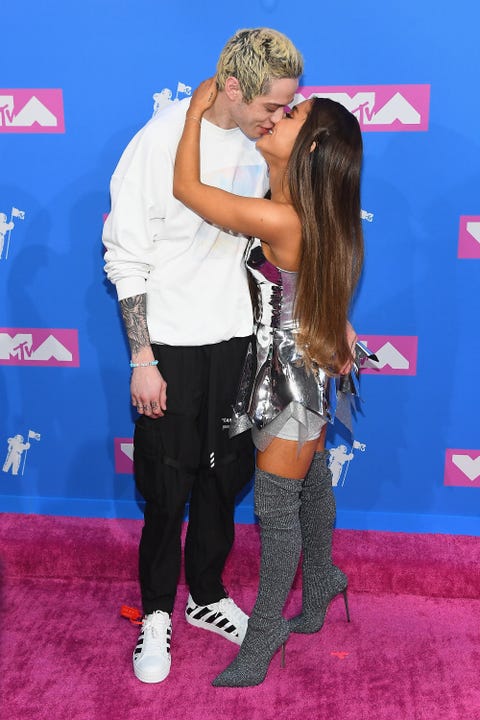 "We're gonna take our time to plan it. We've been planning like, my friends and I, my mom, everybody, have been brainstorming and sharing ideas and stuff. It's really fun like, I work so much I never spent this much time or energy planning something personal that feeds my soul so much, and my heart. I'm gonna cry I'm so excited," she told Michael Strahan on Good Morning America.
"It's not soon soon, it's gonna be, like, next year."
Talking to Beats 1, Grande said that the wedding will happen in more than five months, but less than five years. As for how many kids she wants, she says, "eventually, down the line, probably like 3."
Grande also revealed that she will change her name to Ariana Grande-Davidson after she marries Davidson, but will eventually just go by "Ariana" as her stage name.
"I feel like I'd like to eventually just be 'Ariana.' Isn't that sick? I feel like it's got a ring to it," she said.
The couple just made their red carpet debut at the MTV Video Music Awards in New York City, where she won for Best Pop Video for "No Tears Left To Cry." During her acceptance speech she thanked her beau by simply saying "Pete Davidson, thanks for existing."
subtle jus like our love
A post shared by Ariana Grande (@arianagrande) on
Source: Read Full Article