Beyoncé is notoriously private about the love and life she shares with husband JAY-Z and their three young children. But every once in awhile, the superstar's legion of fans are gifted with a glimpse into her private life. Like this past Sunday, July 8, when Bey appeared to rub her belly suggestively at the end of her performance of "Bonnie & Clyde" on the On The Run Tour II with hubby JAY-Z. And that has fans wondering just one thing: Is Beyoncé pregnant again? Lots of fans seem to think so. But the rest of the world isn't so sure.
Over the last 48 hours, fans have been posting video after video of Bey at her concert. While she does appear to have a bit of a bump, that could very well be a food baby. It could even just be the costume she's wearing. Elite Daily reached out to Beyoncé's team for comment on the pregnancy rumors, but has not heard back at the time of this publication.
If Bey is pregnant then this would be baby number four for her and her husband. Bey and JAY are already parents to Blue Ivy, 6, and twins Rumi and Sir, who are just over a year old.
Welcoming a fourth baby into the Carter family would actually make a lot of sense, since both Bey and JAY are obsessed with the number four. Both Bey and JAY were born on the fourth day of their birth months (September and December, respectively) and their daughter Blue Ivy's middle name is derived from the Roman numeral IV. Not to mention, they've both released albums with the number four in the titles. So, it's a special number for them, for sure.
You can watch the video in question where Bey rubs her belly and smiles sweetly at the audience on Twitter by clicking here.
As with all things Beyoncé, the videos of said performance gained traction really, really fast. And now there are loads of fans speculating about the future of Bey's family.
Lots of fans were expressing shock and excitement at the rumored pregnancy:
Nice to see that they support Queen Bey, pregnant or not!
Some other fans were not exactly thrilled by the news, though. But only because it puts their future chances of seeing her live in concert at risk.
Sheesh! Tough crowd. But not all the fans' social media comments were negative …or even congratulatory. Some fans actually believe Bey was just bloated, which is, like, a normal thing human bodies do when you ingest food to sustain you throughout a grueling concert schedule.
It's up to Bey and JAY to either confirm or deny the pregnancy rumors. But one can't deny that that little belly rub and sweet smile to the crowd at the end of "Bonnie & Clyde" sure did feel a lot like Beyoncé's momentous performance at the 2011 MTV Video Music Awards in which she announced she was pregnant with Blue Ivy in much the same way.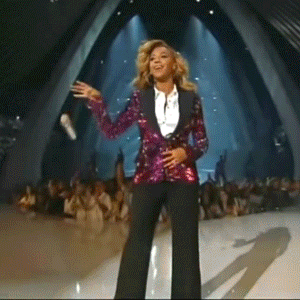 Whatever the case, I'm sure fans will be ecstatic if the couple does confirm Bey is pregnant. One hitch in the whole thing, though, is that the superstar couple just confirmed a headlining appearance at the Global Citizen Festival in South Africa in December. So, many South African fans are looking forward to seeing Bey there and if she truly is pregnant, then that could put their dreams of seeing her perform in jeopardy.
While fans are understandably upset about that possibility, Bey has to do what she has to do to stay healthy. If the rumors are true, she'd likely be in the last trimester of her pregnancy when the Global Citizen Festival goes down, so if there is actually a baby on the way, then it's probably best to just stay home.
I guess the world will just have to stay tuned to see how this story develops.
Source: Read Full Article