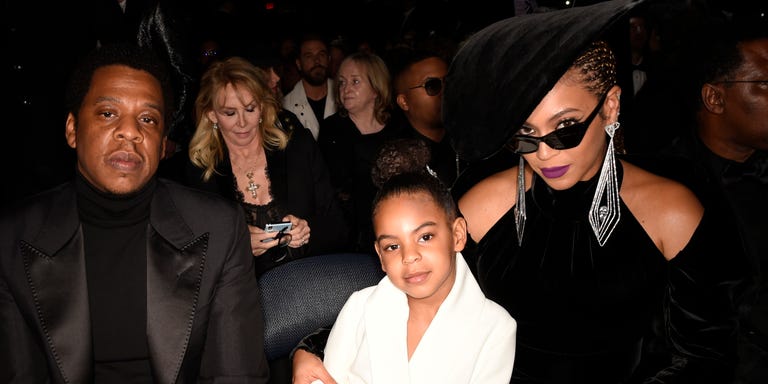 Turns out everyone gets embarrassed by their parents—even if your parents are Beyoncé and Jay-Z.
Music's power couple kicked off their On The Run II Tour this month, and in addition to serving epic joint performances, the duo also offers an intimate glimpse at their lives through video interludes in between sets. The footage includes both choreographed artistic clips and home videos of the Carters with their kids.
While fans across the world are obviously ecstatic to see the never-before-seen footage, one audience member was not having it—their daughter, Blue Ivy Carter.
Videos of Blue watching her parents onstage are going viral after audience members captured the six-year-old ducking, covering her eyes, and making hilarious faces during one of their concert interludes. It's unclear which clip Blue was watching, but some fans suggested the Carters were nude or in bed during the footage.
If the scenes were anything like Beyoncé and JAY-Z's intimate tour book photos, they were definitely NSFW.
Luckily, Blue didn't spend the whole show hiding from embarrassment. She was also seen singing along and copying her mom's dance moves throughout the rest of the concert.
Blue has been spotted at many of her parents' performances, including Beyoncé's set at Coachella, where she wore a matching outfit with her superstar mom. Recently, during another OTR II show, a fan captured Blue holding up her dad's signature diamond hand sign.
She even taught her friends how it's done.
Beyonce and Jay-Z just dropped a surprise 9-track album this weekend titled Everything Is Love and are touring the globe until this fall.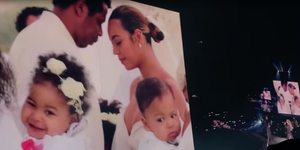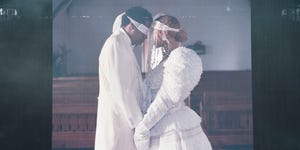 Source: Read Full Article