The 'Baby One More Time' songstress and her fiance reportedly will exchange their vows in front of a very exclusive and small guest list of about 100 people.
AceShowbiz –Britney Spears seemingly only has a few hours to walk down the aisle with Sam Asghari. The "Baby One More Time" hitmaker reportedly will tie the knot with her fiance in an intimate ceremony on Thursday, June 9.
Sources close to the smitten couple told TMZ in an article published on Wednesday, June 8 that the 40-year-old pop star and her partner will exchange their vows in front of a very exclusive and small guest list of about 100 people.
The insiders went on to share that Britney's brother Bryan Spears is expected to be in attendance but her mom Lynne Spears, dad Jamie Spears and sister Jamie Lynn Spears won't attend the ceremony. The sources said that it's not yet been decided who will give the singer away at the altar, as final details are still being worked out.
On Wednesday, Britney shared a clip of her sitting next to Sam while riding around town and sipping champagne in a Rolls-Royce. In the said video, the "Toxic" songstress' nails looked beautifully manicured, seemingly for her big day.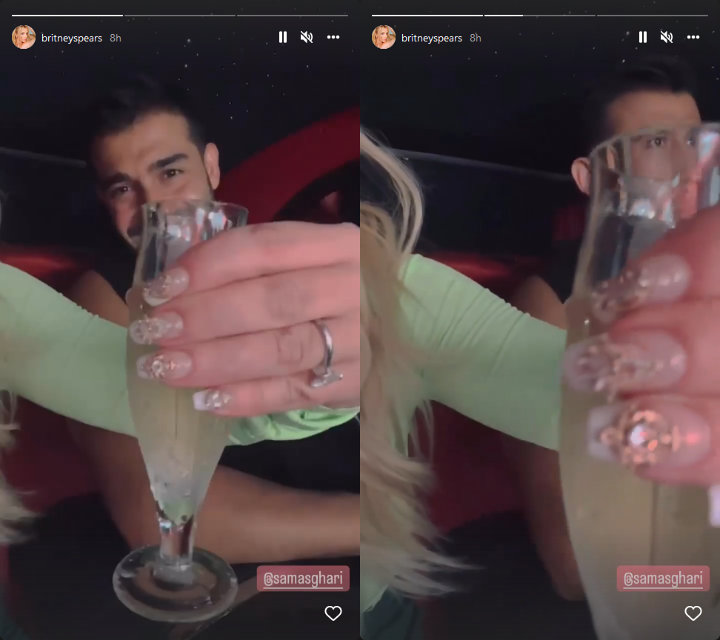 Britney Spears posted a clip of her riding around town with soon-to-be husband Sam Asghari.
Britney, who recently suffered a miscarriage, offered the very first look at her wedding veil last month. At the time, she posted a photo that saw her new cat, Wendy, sitting conveniently on top of her wedding veil.
That same day, Sam divulged that he and Britney won't tie the knot on July 11 after fans' speculations. Along with a screenshot of an Instagram DM from a fan who guessed that the wedding will be held on "7/11," the actor and fitness expert explained, "No! 7-11 [seven eleven] is a convenience store with a great candy selection [laughing with tears emoji]."
In November 2021, Britney unveiled that she had chosen her longtime friend and iconic designer Donatella Versace to make her wedding dress. She wrote via Instagram at the time, "Donatella Versace is making my dress as we speak." Since then, the 67-year-old fashion designer has been spotted making several visits to Britney's estate in California.
Britney and Sam have reportedly been dating since 2016 after meeting on the set of her music video for "Slumber Party". The couple then got engaged in September 2021.
Source: Read Full Article