Burgers and doughnuts are a match made in foodie heaven. That's why Burger King's latest creation — the Whopper Donut — is the perfect way to celebrate National Doughnut Day on Friday, June 1. "America's Favorite Burger," as it is known by Burger King and its fans, will forgo its traditional bun in favor of a doughnut-shaped sandwich roll. Innovation at its finest, right? I expect nothing less from the fast food burger restaurant. Burger King's Whopper Donut is here for National Doughnut Day, and it just may be all you need to eat in order to properly commemorate the occasion.
The acclaimed "first flame-grilled, not fried doughnut," according to Burger King, is only available on National Doughnut Day in five cities across the country including Boston, Miami, Los Angeles, New York City, and Salt Lake City. If you don't live in one of those locations, it might be time to saddle up for a road trip, because this is a special sandwich you don't want to miss out on.
The limited edition Whopper Donut is basically the same ol' Whopper you already know and love, but with a nod to National Doughnut Day. The flame-grilled quarter-pound burger is topped with "juicy tomatoes, fresh lettuce, creamy mayonnaise, ketchup, crunchy pickles, and sliced white onions on a soft sesame seed bun," according to Burger King. Except this time around, the bun is in the shape of a doughnut (for obvious reasons).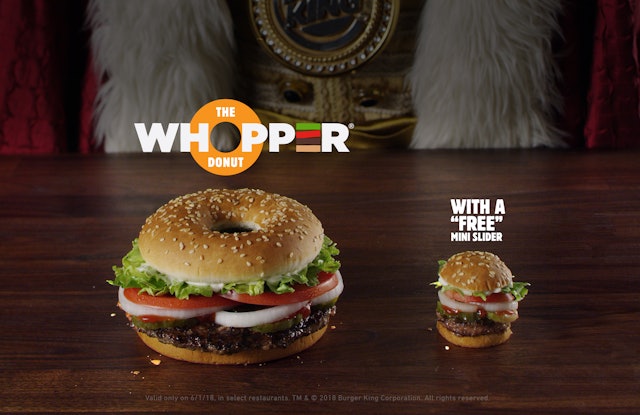 Maybe if all goes well, Burger King will roll out the Whopper Donut at all of its locations next National Doughnut Day. For now, if you don't live near one of the five locations mentioned above, you'll have to settle for reading this story and scrolling social media to check out the deliciousness.
Otherwise, while you're out there snacking on something sweet for National Doughnut Day, swing through a Burger King drive-thru to feast on this one-of-a-kind burger for me.
Source: Read Full Article