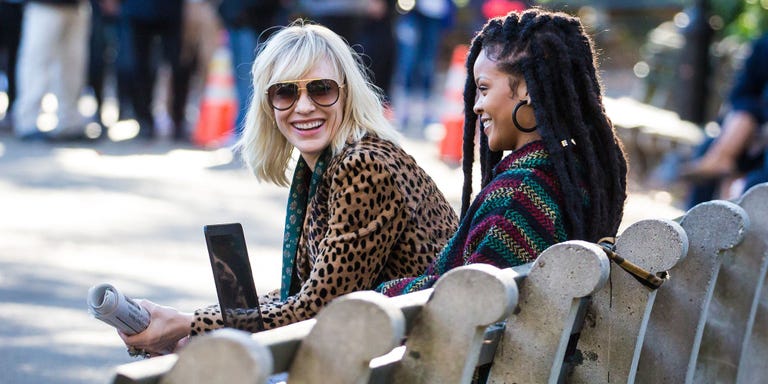 It doesn't matter who you are or where you're from—freaking out over Rihanna is something we all have in common.
At the NYC premiere of Ocean's 8, the entire cast of leading ladies—which includes Sandra Bullock, Cate Blanchett, Anne Hathaway, Mindy Kaling, Sarah Paulson, Awkwafina, Rihanna and Helena Bonham Carter—gathered in style to celebrate and view the film. And one hilarious (and relatable) video from the event, captured while the audience cheered for the cast, shows Cate Blanchett jumping and cheering her heart out for Rihanna.
Rihanna stars as a hacker named Eight Ball in the fourth installment of the Ocean's film, which centers around a Met Ball jewelry heist. Blanchett's freakout wasn't the first time the cast has gushed over their love of Rihanna.
Recently, some of the costars opened up about their obsession to Yahoo, admitting they would often break into Rihanna's songs whenever she was around. Sandra Bullock called her "a goddess."
Anne Hathaway raved about her presence on set, saying "she's just chill and humble. And the thing that I love about her: When I get nervous sometimes by silence, I might struggle and try to fill up the space. And she doesn't feel that. She's a real queen in that way. She occupies that space, and then when she has something to say, she says it."
During an interview on The Ellen Show, Sarah Paulson was asked if she became friends with Rihanna. "I think we did. It was like a daily struggle to not embarrass myself because every time I looked at her, I was like, 'Work work work work work.'"
Anne Hathaway also recalled a hilarious incident to ET Online from her first day on set, when she was wearing body-hugging jeans. "Rihanna looks up and goes, 'Damn girl, you got a a**!' And I of course freaked out and loved it so much. I was like, 'Really?!' And she goes, 'You got a a** like me!'"
It's safe to say the squad of actresses bonded during their time on set, and that the mutual obsession for Rihanna will not die any time soon.
Ocean's 8 is in theaters now. Watch the trailer below.
Source: Read Full Article