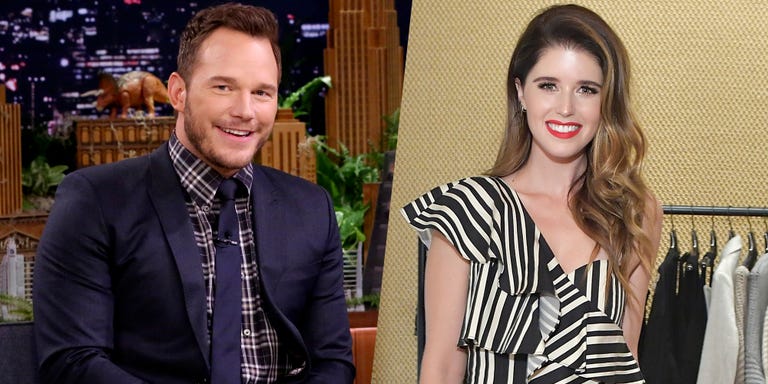 New couple alert? Jurassic World: Fallen Kingdom star Chris Pratt was spotted with Katherine Schwarzenegger, oldest child of Maria Shriver and Patrick Schwarzenegger, on what looked like a picnic date on Sunday. Pratt, 38, and Schwarzenegger, 28, were photographed laughing and sharing snacks on a park bench. The rendezvous inevitably sparked dating speculation, but the couple has yet to address the rumors.
The reported date took place on Father's Day. Days earlier, during an appearance on Live with Kelly and Ryan, Pratt said his plans for the holiday were "Low key. Church service because it's on a Sunday, and pool time. That's the plan." (He's a dad to 5-year-old son Jack, whom he shares with ex-wife Anna Faris.) Maybe he was able to squeeze a lunch date into the agenda?
It's unclear how Schwarzenegger and Pratt met. Katherine is a full-time blogger and children's book author.
This is the first time Pratt has been spotted out on a full-on date since splitting with Faris, according to TMZ. The couple announced their divorce in December after eight years of marriage.
However, rumors began swirling in January that Pratt was dating Olivia Munn, but she quickly (and epically) shut them down by posting her text conversation with Faris. Faris' dating life has been more public since the split; the actress is currently in a relationship with cinematographer Michael Barrett.
Last night during the MTV Movie and Television Awards, Pratt received the "Our Generation" award, and shared his advice in the form of "9 rules from Chris Pratt" to the younger generation.
"If you're strong, be a protector. And if you're smart, be a humble influence. Your strength and intelligence can be your weapons. Do not wield them against the weak, that makes you a bully. Be bigger than that."
Source: Read Full Article