'You got weird titty issues,' the 'Lip Sync Battle' co-host responds to a now-deleted tweet criticizing her for posting a photo of her breastfeeding her son Miles and Luna's doll.
AceShowbiz –
Never having problem with body issues and breastfeeding in public, Chrissy Teigen recently shared a funny breastfeeding picture. The 32-year-old model took to Instagram on Saturday, July 7 to post the photo showing her breastfeeding her 7-week-old son Miles and Luna's babydoll.
"Luna making me feed her babydoll so I guess I have twins now," she captioned the sweet image. The mother apparently tried to show what her life as a mom looks like, but some people are not having it. Some of them accused her of being narcissistic for sharing the intimate snap.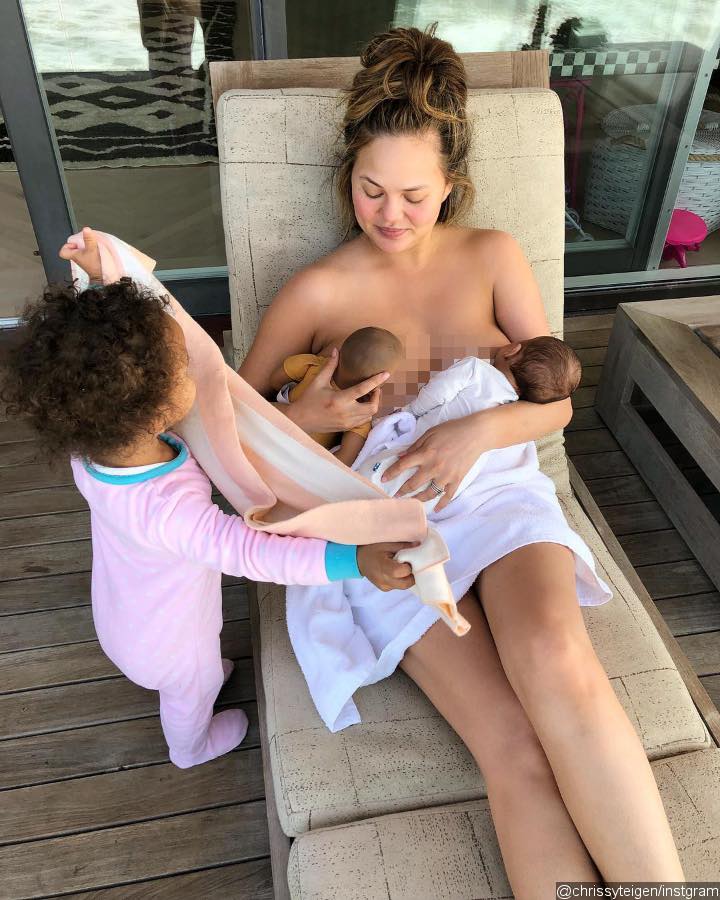 "Christ in a hand basket. Menstruating, childbirth and sex are natural, too, but that doesn't mean I want to see pics of it and/or celebrities like @chrissyteigen taking a bath or nursing. We get it," one hater commented on Twitter.
But Chrissy isn't one who is easily brought down with such nasty comment. She retweeted the message and responded, "I don't care to see grainy fireworks, coachella selfies or infinity pool pics but i let people live. calm your tits and scroll on by."
She also wrote in response to a now-deleted tweet, "Nah. Just chillin. Posting daily life like I do with anything else. Cooking, playing with dogs, etc. You make feeding a baby big deal because you got weird titty issues."
Chrissy is often the target of social media backlash for her revealing pictures or her parenting skills, but that doesn't stop her from documenting her private life with her family. Back in May, she was slammed for sharing a photo of her taking a bath together with 2-year-old daughter Luna. The then-pregnant model was naked while the tot was playing in the water. "a splash with toons," she captioned it.
A month later, she shared a video of her and Luna's bath time together. In the short clip, her daughter could be seen putting bubbles on Chrissy's face.

Source: Read Full Article