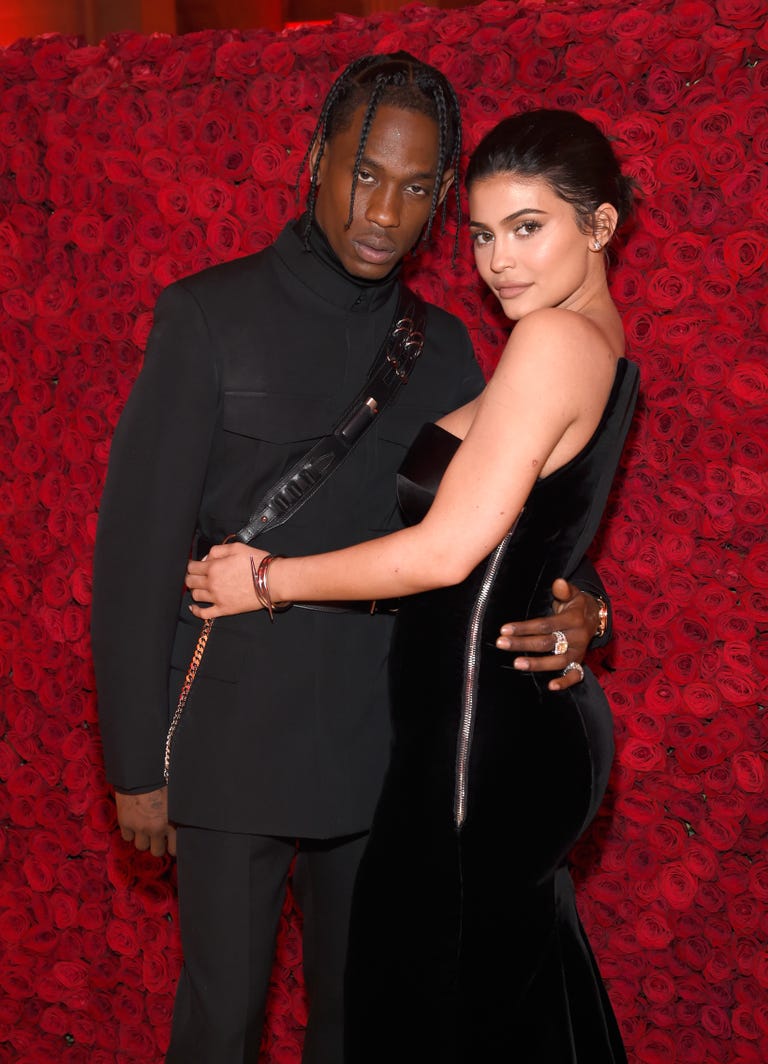 On Feb. 4, 2018, Kylie Jenner announced that she and boyfriend Travis Scott had welcomed their first child, a baby girl. It was the first time Kylie had actually confirmed her pregnancy, which was first reported by multiple outlets in September 2017. This is how we got here.
April 16, 2017: Kylie and Travis spark romance rumors after being spotted together at a Coachella party. One source tells People that the two have been friends "for a while," noting that things are not serious and that Kylie has been trying to make ex-boyfriend Tyga jealous "by hanging out with other guys."
April 25, 2017: Kylie and Travis are spotted together again, this time sitting courtside at an NBA playoff game in Houston. The pair "definitely looked like a couple cuddled up next to each other among her friends" and were "super hand-holdy," according to one People witness.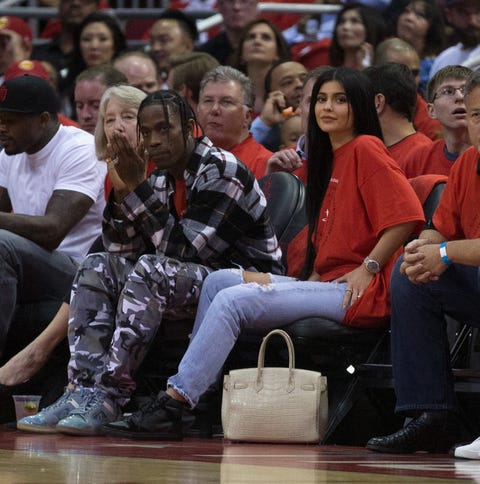 April 30, 2017: E! News reports that Kylie and Travis spent the weekend together in Boston, where he was scheduled to perform two shows. According to one source, "They looked really into each other" and were spotted dancing together and making out. Hours following E!'s report, Kylie is spotted at Cipriani in New York City for Travis's 25th birthday party. Other guests include Kylie's sister Kendall, Bella Hadid, and Bella's brother, Anwar. Best weekend ever!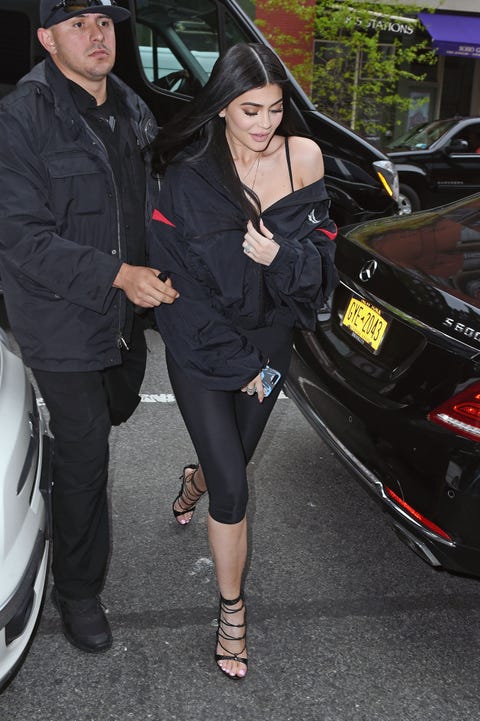 May 4, 2017: A blonde Kylie sort of makes things Instagram official with her rumored new boyfriend in this group photo taken during the 2017 Met Gala. Travis is the one hiding behind his own hands.
May 8, 2017: Kylie and Travis jet off to Miami together ahead of the rapper's appearance at the Rolling Loud Festival. As seen in photos obtained by E! News, Travis wrapped his arms around Kylie's shoulders while holding hands and stepping out in matching graphic T-shirts.
June 1, 2017: Kylie engages in a long embrace with Travis outside his house. According to E!, the maybe couple were saying goodbye as Travis prepared to leave for his trip.
June 12, 2017: Travis writes on Twitter, "Legit happiest day of my life."
Legit happiest day of my life.
(Fans would not associate this with Kylie's pregnancy for another three months.)
June 13, 2017: As seen on Snapchat, Kylie and Travis get matching butterfly tattoos, with hers on her right ankle and his on his left ankle.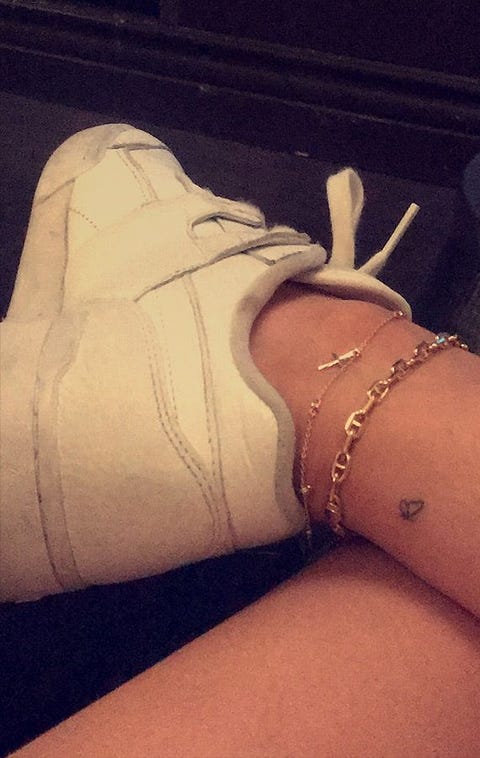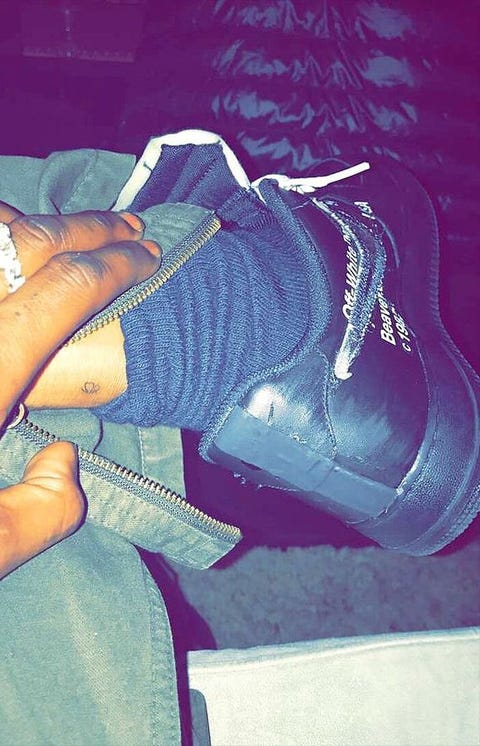 July 8, 2017: Kylie joins Kendall, Bella, and their friends to watch Travis perform at the Wireless Festival in London, England.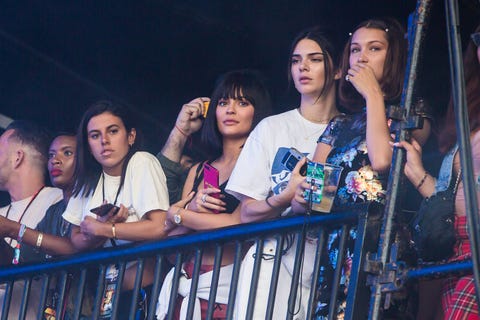 August 6, 2017: Amid rumors of a break up, Kylie is spotted leaving the Staples Center after watching her boyfriend open for Kendrick Lamar, according to photos obtained by TMZ.
August 10, 2017: Following another show with Kendrick Lamar, Travis pulls out all the stops to throw a surprise party for Kylie for her 20th birthday. There was a chocolate fountain, balloons, and an ice sculpture of Kylie's butt. No really.
According to E!, Travis also gave Kylie a diamond necklace and a full-string orchestra earlier that day.
September 22, 2017: Multiple outlets report that Kylie and Travis are expecting their first child together. TMZ says Kylie began to tell friends in early September while Page Six reports that the couple are expecting a girl. According to People, Kylie is due in February. "The family has known for quite some time. She is REALLY excited and so is Travis!" quipped a source.
Meanwhile, Kylie, who has yet to confirm the pregnancy, shares this photo of herself wearing an oversized shirt with her friends on Snapchat. If you squint, you might be able to make out a shape of some sort. Maybe.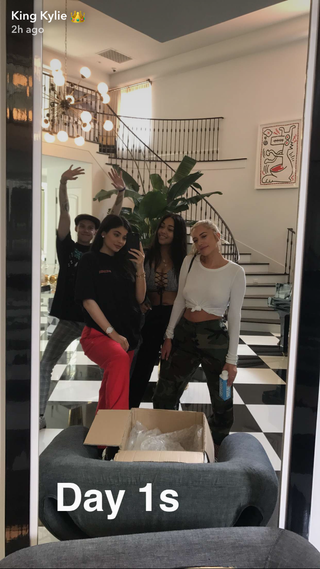 Also of note: One day before news of her pregnancy broke, Kylie reposted this fan art of her posing with a younger version of herself…
… while Kourtney shared a heartfelt post about her sisters on Instagram. The caption reads: "In life, you realize there is a role for everyone you meet. Some will test you, some will use you, some will love you, and some will teach you. But the ones who are truly important are the ones who bring out the best in you. They are the rare and amazing people who remind you why it's worth it. –Unknown."
October 10, 2017: No confirmation? No problem. Kylie fans continue to speculate on her pregnancy, this time focusing on a Snapchat of pink and blue phone cases. Kylie's caption, "Which one? I'm thinking blue," and her blue heart emoji is read by many as her announcement that she's having a boy.
So ur having a boy?? @KylieJenner pic.twitter.com/chtmCdvpUU
BREAKING : Kylie Jenner pretty much confirmed she is having a baby boy #KeepItKardashian pic.twitter.com/t1LsiagRO2
The next day, Kylie shares a selfie from the waist up and yes, she's wearing a giant coat. Nothing to see here!
October 14, 2017: Kylie shares a video of herself on Snapchat along with the words, "Nothing's gonna hurt you baby," lyrics from a Cigarettes After Sex song.
November 1, 2017: Kylie's latest Instagram – a close-up of pink butterfly rings on her left hand – causes another wave of excitement. Is she having a girl? FYI, her nails are also pink.
November 5, 2017: Kylie slams The Daily Mail for publishing photos that she claims were photoshopped and "clearly altered."
First of all if you're going to photoshop my photos blogs/paps!! Check for the crooked lines in the background.2nd photo is clearly altered pic.twitter.com/c9fi0EyhWB
The photos in question show Kylie boarding a private jet with Kendall and Kourtney while wearing a baggy sweatshirt. In response, The Daily Mail says "the pictures have not been digitally altered." The photographer's original outlet, X17Online, also added, "100& REAL! No Photoshop, #nofilter, no additives, no preservatives – all organic and all REAL!" (via PEOPLE).
November 14, 2017: Kylie reportedly throws a baby shower on the same weekend as sister Kim's, according to E! News. Sources say 30 people were invited to a pajama brunch held at her Hidden Hills house, where a waffle and omelet bar was at everyone's disposal. According to PEOPLE, the shower had been in the works for a long time and that it was Kim's that was organized at the last minute.
(Footage of the shower would end up on Kylie's official baby announcement video.)
December 25, 2017: After weeks of teasing, unveiling, and more teasing, the final version of the 2017 Kardashian-Jenner Christmas card is a disappointment to those hoping Kylie would be included. In the end, she was a no-show, but she did debut a new Love magazine cover shot by sister Kendall. That's something, right?
December 28, 2017: Kylie and Travis appear in sweet photobooth pictures at Kris Jenner's annual holiday party and – you guessed it – the photos are taken from the waist up.
January 5, 2018: In an interview with Billboard, Travis gives a non-answer to the Kylie pregnancy question. Here's the brief exchange:
January 22, 2018: Kylie and her sisters appear in a new Calvin Klein campaign, #MyCalvins, which features everyone in bras, underwear, and denim. A giant quilt also makes an appearance.
January 25, 2018: Kylie, Jordyn Woods, and Kris Jenner are spotted walking around a construction site in Hidden Hills. It's the first time Kylie's been spotted out in public since September, when she was visiting Will and Jada Pinkett-Smith's house in Calabasas. (Jordyn was there, too.)
February 1, 2018: Kylie and Travis welcome their daughter into the world, though they won't go public with the news for another three days.
February 4, 2018: Kylie announces the birth of their child via Instagram, writing:
She also releases an 11-minute long video documenting her pregnancy and the days leading up to the birth of her daughter:
Travis confirms the baby news on Twitter:
2.1.18
4 ever
New rager in town. !!!
Kylie's family and friends also share welcome messages for the baby on social media:
God is SO good!! I am so excited and thrilled to welcome another precious baby girl to our beautiful, ever growing family. We are blessed beyond belief! https://t.co/lFrymHVFTs @KylieJenner
❤️❤️❤️ https://t.co/gtVFS1mTb7
❤️??❤️ https://t.co/OPPTeOSVe1
February 6, 2018: Via Instagram, Kylie announces the name of her baby girl, Stormi, along with a new photo.
Kim's a fan.
⛈
February 18, 2018: Speaking to the paparazzi while leaving a nightclub in L.A., Travis is asked about his new baby girl. "She's beautiful," he responds, via TMZ. Aw.
Three days later, Kylie finally tweets about her daughter for the first time since her birth. Responding to an important fan question about how the baby is doing, Kylie reveals that Stormi "looks just like me when I was a baby."
she's good ? still staring at her all day. she looks just like me when i was a baby ? https://t.co/fEFsSeNO6Z
February 25, 2018: Kylie and Travis emerge in public for the first time since becoming parents and their ride isn't your usual four-wheel anything. As seen on Snapchat, Travis' push-present to Kylie is a $1.4 million Ferrari LaFerrari. "Can't believe she's mine," Kylie writes in one of her social media updates of her new ride. It's safe to say those words could also be applied to baby Stormi.
March 1, 2018: To celebrate Stormi turning one month old, Kylie shares two new mommy-and-me photos, including one that shows a little more of her daughter's face.
Travis honors his little girl with a Snapchat photo of her wearing a "Daddy" sweater, along with the caption, "My lil mama 1 month today… her favorite unit of course."
One day later, Travis reveals on Snap that he's been working a "new part time job": being a swatch model for Kylie Cosmetics.
March 3, 2018: Kylie continues to share new footage of her baby girl. Here's a close-up of Stormi enjoying a pacifier:
And here's Stormi taking a power nap while her mom gushes over her cheeks.
March 8, 2018: Kylie stirs the hearts of fans after sharing a photo of herself wearing a ring with Travis' initials (his birth name is Jacques Webster) on her RING finger. You know who also has "JW" for initials though? BFF Jordyn Woods.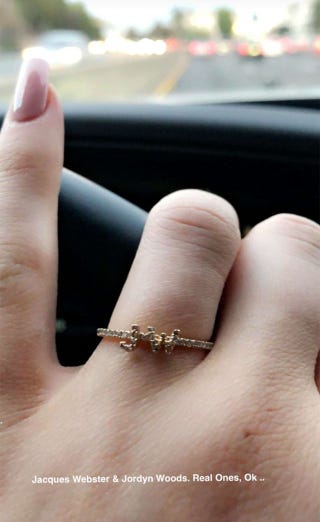 April 1, 2018: Kylie and Travis celebrate Stormi's first Easter by sharing the cutest videos of their baby girl ever. What a lil button!
April 9, 2018: Kylie, Travis, and Stormi jet off to Texas to introduce the 9-week-old baby to Travis' extended family. According to TMZ, Travis spent a cool $7,145 for the party, which included six floral sculptures that resembled storm clouds and raindrops made out of Swarovski crystals. Here's Travis' brother Joshua meeting his niece for the first time.
April 18, 2018: Kylie and Travis sit court side for a rare date night at an NBA playoff game: game two of the series between the Houston Rockets and Minnesota Timberwolves. The pics speak for themselves.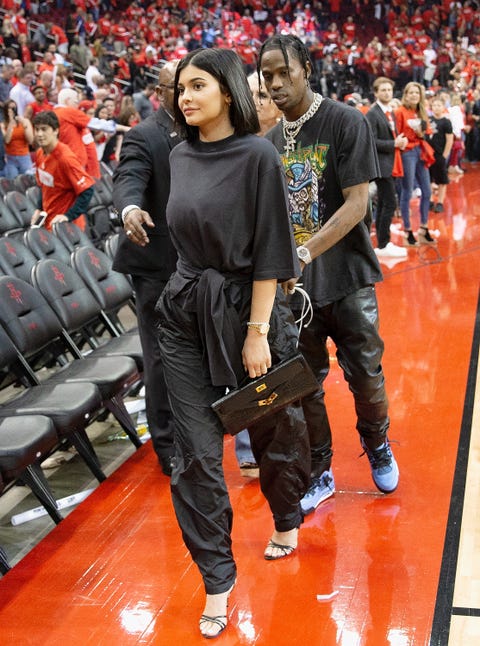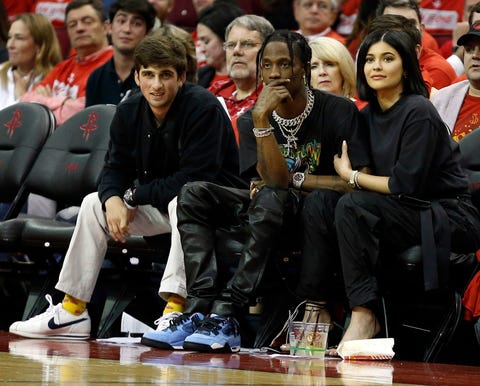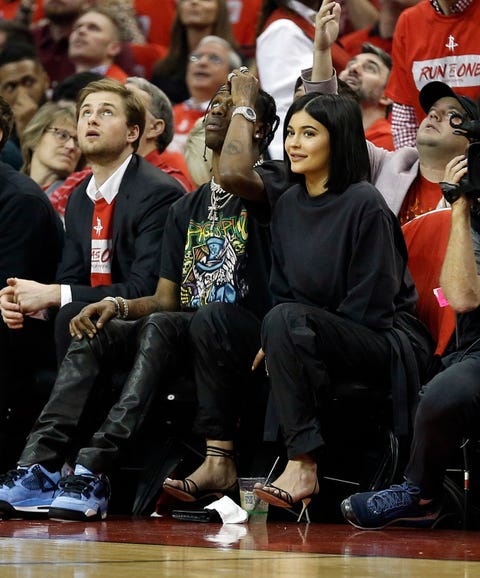 April 28, 2018: Kylie celebrates Travis' 26th birthday early by renting out Six Flags and providing guests with customized Travis Scott hoodies. The cake was the best part though: a custom creation shaped like a roller coaster with Travis, Kylie, and Stormi on top.
Happy birthday Trav pic.twitter.com/Jdo82LtW7a
May 3, 2018: Kylie and Travis take 3-month-old Stormi on vacation in Turks and Caicos. The vacation is well documented on Kylie's Instagram.
May 4, 2018: Kylie and Travis appear on Kanye's new song, "Watch," which also features Lil Uzi Vert. The song, which references Kanye's opioid addiction, follows the rapper's revelation to TMZ that he became addicted after getting liposuction. For her part, Kylie delivers these lines after Kanye's verse: "We got bust down Rollies, bust down Rollies / And I told him I wanted to have a bust down baby."
May 7, 2018: Kylie steps out in Alexander Wang to attend the 2018 Met Gala with Travis, who opted for a matching military-style suit. (The event is the couple's first red carpet appearance.) FYI: the theme for the Met Gala is "Heavenly Bodies: Fashion and the Catholic Imagination."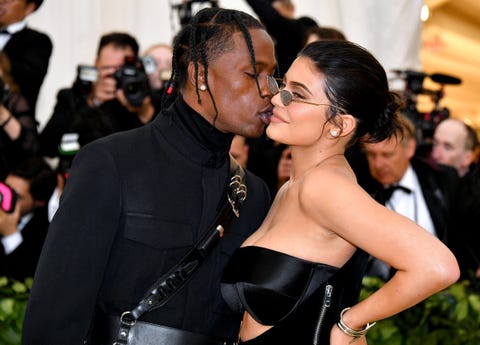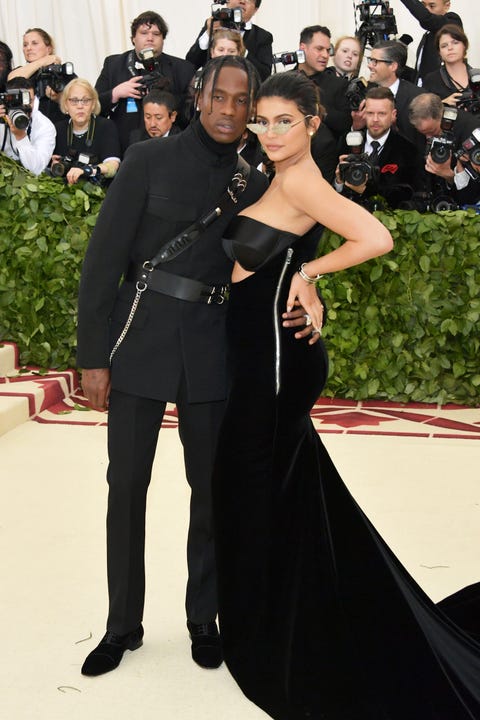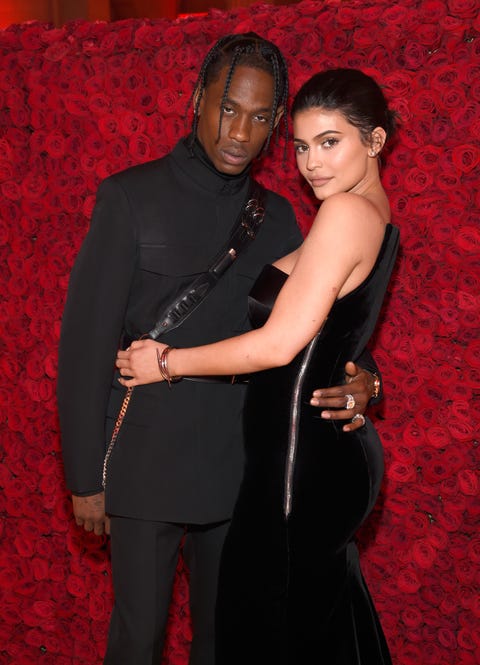 May 15, 2018: Kylie shuts down rumors that her bodyguard Tim Chung – and not Travis – is Stormi's biological father. Taking to Instagram, naturally, Kylie shared a photo of her and Travis at the Met Gala, along with the epic caption, "Stormi's Parents."
May 28, 2018: Kylie and Travis sit court side for an NBA Finals game between the Houston Rockets and the Golden State Warriors in Houston, Texas. All you need to know is that (1) Kylie wore a leather cat suit and knee-high boots, and (2) the home team lost by nine points. Sorry, Travis.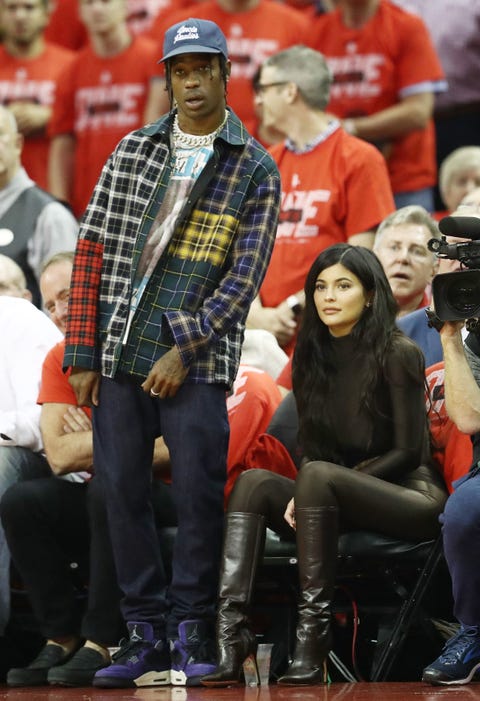 Source: Read Full Article