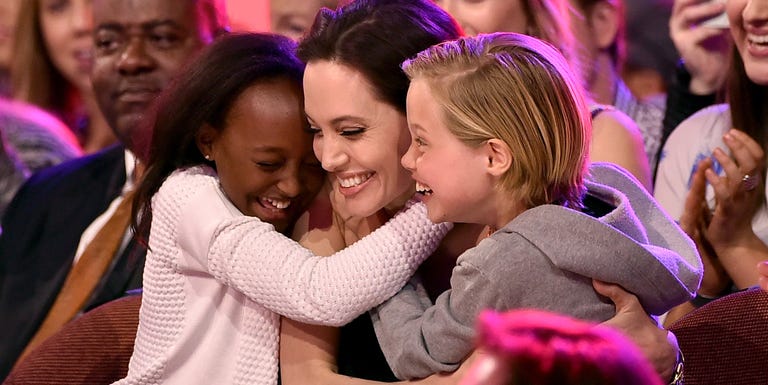 Before their split in 2017 (nope, still not over it), Brad Pitt and Angelina Jolie were better known as Brangelina and they wandered around the world with a fleet of children. In other words, they were the coolest parents ever. In fact:
The Jolie-Pitt kids range from 9-16, hail from all around the world (interesting fact: none of them were born in the USA!), and were raised in their parents' Château in France, a place in L.A., a home in New Orleans, a penthouse in NYC, and on-set. So basically, they are extremely cool. Time to get to know them better!
Maddox Jolie-Pitt
16-year-old Maddox is Angelina's first child, and was adopted from an orphanage in Cambodia in 2002 when he was seven months old. Angie was originally planning to adopt Maddox with her then-husband Billy Bob Thornton (man whose blood she used to wear in a vial around her neck), but ended up adopting him alone thanks to their split. Brad Pitt then adopted Maddox in 2006, after he and Angie met and fell in love on the set of Mr. and Mrs. Smith. Memories!
Angelina started Cambodia's Maddox Jolie-Pitt Foundation in 2003 (focusing on environmental conservation, education, health, and infrastructure), and the family even owns a home there. That same year (2003, to be exact!), Angelina told ET, "Maddox was the first baby I ever held. He's really made me a woman."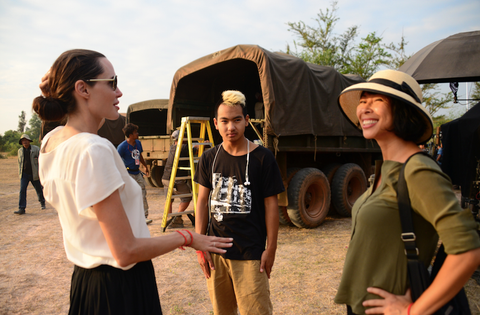 Maddox might be just a wee teen, but he already has a production assistant credit on his parents' joint film By the Sea, not to mention an executive producer credit for working on his mom's film First They Killed My Father—about the Khmer Rouge genocide in his home country of Cambodia. "I was trying to help wherever I could," Maddox told People. "[She's] fun, funny, and easy to work with. She's a wonder."
Maddox also had a cameo in Brad Pitt's World War Z, and his character died a gruesome death. "He gets shot in the head . . . multiple times. But he gets double tapped," Brad said. "I don't know what that says about me as a parent."
It's been reported that Brad Pitt's incident on an airplane in 2016 involved Maddox. Read more about that over here.
Zahara Jolie-Pitt
Angelia adopted 13-year-old Zahara from Ethiopia when she was six-months-old, and Brad Pitt was right by her side—eventually adopting her when he adopted Maddox. And lovely fact: Zahara's name is Arabic for "luminous," and her middle name is "Marley" after Bob Marley.
Zahara is regularly seen on red carpets with Angelina Jolie, and is known for her great taste in fashion. She's also inherited her mother's passion for helping others—in January 2018, she accompanied Angie (and her sister Shiloh) on a trip to visit a Syrian refugee camp in Jordan.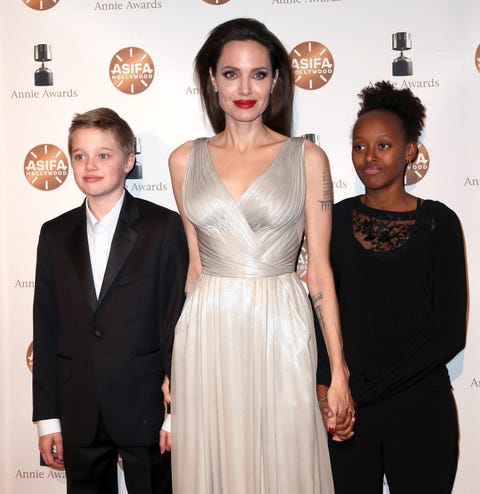 When it comes to acting, Zahara had a small voice part in Kung Fu Panda 3 and has an uncredited role in Maleficent.
FYI, Zahara's personal backstory is complicated, as Angelina initially believed that she'd been orphaned from parents who had AIDs. "There was a fear that she had HIV," the actress told CNN. "And the upsetting thing [is] that I was sat down and it was explained to me that don't worry, because in this country, it's not a death sentence. Which is also saying to me, because she's not in an area where she's poor, now she can live because she's not in an area where she can't access medicine. You know, it's such a—it's such a king of horrible thing to hear. Because what they're saying is—yes, this is something that because you're in a wealthier country, you have more of a chance. But at the end of day, I was terrified but prepared, because it is something I think we should all be prepared to take on. It's not a—it's a very real, very serious, very scary thing. But at the same time we should not be not adopting children that possibly could have AIDS, it's OK. But she does not."
Shiloh Jolie-Pitt
11-year-old Shiloh Jolie-Pitt (meaning "the peaceful one") was born on May 27, 2006—and Brangelina flew to Namibia for her birth, which ended up being by cesarean due to Shiloh being breech.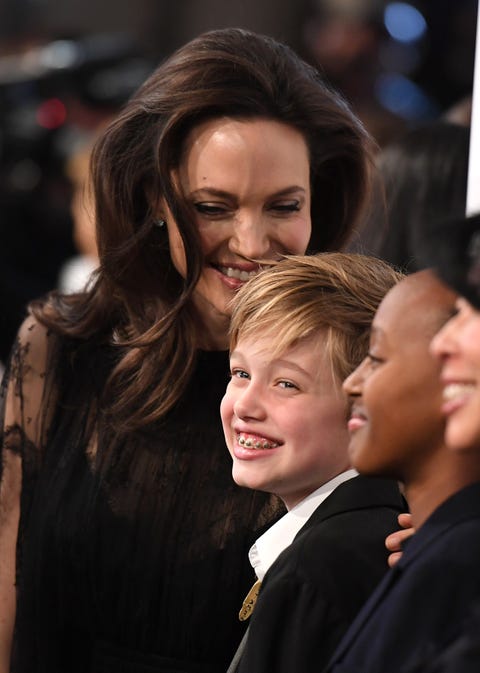 "[Brad] was in the operating room, yeah. Yeah," Angelina told CNN. "We had amazing doctors and everybody was so lovely. You're just—because you're there for the birth, which I wasn't for my first two kids, you're just suddenly terrified they're not going to take a first breath. That was my whole focus. I just wanted to hear her cry. And I was sure everything would go wrong. The last minute I became the mother that was sure everything was going to go wrong."
Brangelina famously sold the first photos of Shiloh in order to give money to charity (check out the gorgeous People cover below!), and over $7 million in proceeds ended up being donated to UNICEF.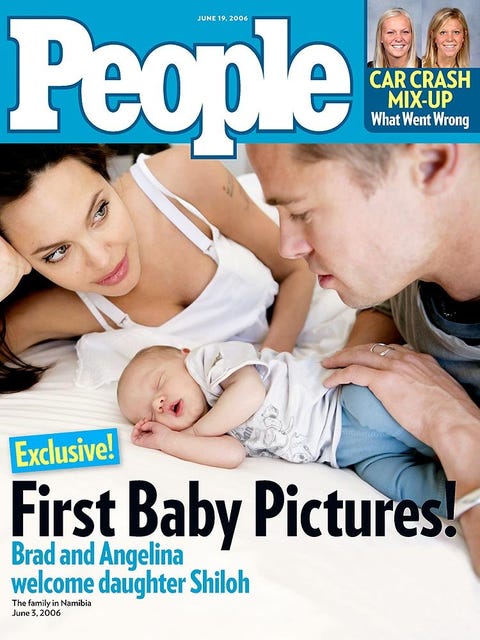 In a 2010 Vanity Fair interview, Angelina chatted candidly about her daughter, saying "Shiloh, we feel, has Montenegro style. It's how people dress there. She likes tracksuits, she likes [regular] suits. She likes to dress like a boy. She wants to be a boy. So we had to cut her hair. She likes to wear boys' everything. She thinks she's one of the brothers."
Shiloh was also featured in Kung Fu Panda 3 (we're sensing a trend), got "bored" and passed on Maleficent, and had a cameo in The Curious Case of Benjamin Button. She recently made headlines for breaking her arm during a family vacation. Oh! And in other news, Angie and Shiloh traveled back to Namibia in 2017 to open the Shiloh Wildlife Sanctuary. Do you have a sanctuary? Me neither!
Pax Jolie-Pitt
14-year-old Pax was adopted from Vietnam in 2007 when he was three. Despite the fact that Brad and Angie were very much together during the time of his adoption, Angie filed the paperwork herself due to laws that prevented unmarried couples to adopt in Vietnam. Brad adopted Pax in 2008.
Like his brother Maddox, Pax worked as part of the production on First They Killed My Father, and was even a set photographer. In adorable news, he was his mom's date to the 2018 Golden Globe Awards, and wore a #TimesUp pin on the red carpet.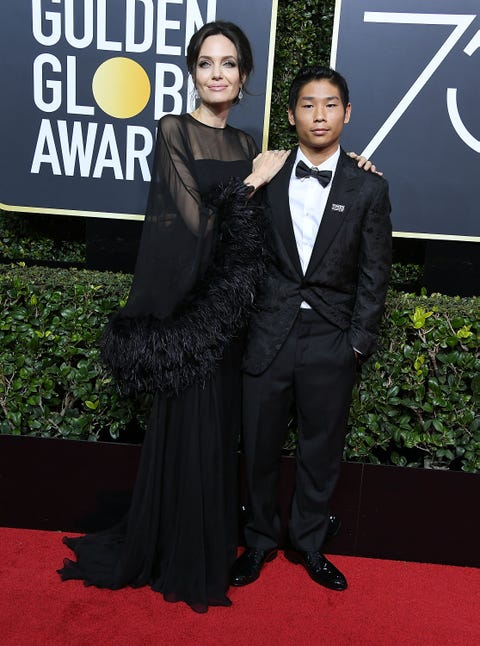 Tabloids claim Pax wants to be an actor like his parents (he was also in Maleficent and Kung Fu Panda 3), but Angelina told BBC, "None of my kids want to be actors. They are actually very interested in being musicians. I think they like the process of film from the outside. Mad is interested in editing. Pax loves music and deejaying."
Angelina took Pax back to Vietnam in 2011 to learn about his cultural background. "We owe Vietnam a visit, because Pax is due," Angie said before the trip. "They are all learning about each other's cultures as well as being proud of their own. They all have their flags over their beds and their individual pride."
Vivienne and Knox Jolie-Pitt
And finally, the twins! Vivienne and Knox are nine (they were born in France in July 2008), and if you thought Shiloh's photos were expensive you ain't seen nothing yet. Photos of these cuties were sold to People and Hello! for a reported $14 million, with proceeds going to the Jolie-Pitt Foundation.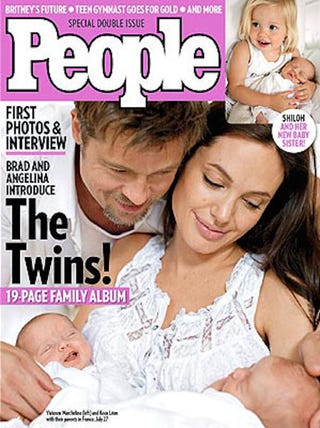 Knox's middle name Léon is the middle name of Brad's grandfather, while Vivienne's middle name Marcheline is the name of Angelina's mother. Angie described Vivienne as a "girly girl," saying "She is so elegant and delicate. Vivi will pick flowers from the garden and put them in her hair," while her brother is a burgeoning bro who "loves dinosaurs and swords."
FYI, Vivienne had a staring role in Maleficent, and you can watch a BTS clip below!
Source: Read Full Article