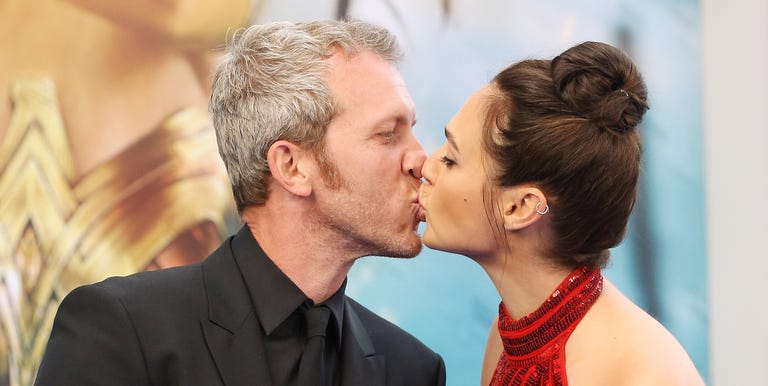 When she's not busy being Wonder Woman (both in real life and on screen, tbh!), 32-year-old Gal Gadot can be found spending time with her absolutely lovely-seeming family, and frankly we're experiencing FOMO just looking at them. I mean:
Obviously, the time has come to educate yourself about this sweet nuclear fam, so here's what you need to know.
Gal and her husband's meet-cute is honestly perfection.
Gal's husband is an Israeli real estate developer named Yaron Varsano, and he's completely obsessed with her. Note the Instagram caption below, please, which says: "10 years have gone by, yet it feels like yesterday we first met… My heart will forever beat to the sound of our love." UM, YES.
The pair met in the mid aughts, and their love story is the purest and sweetest thing in this world other than puppies and the Walmart Yodeling Boy. "We met nearly 10 years ago through mutual friends at this very strange party in the Israeli desert," Gal told Glamour. "It was all about yoga, chakras, and eating healthy—we didn't exactly find ourselves there, but we found each other. I think I [knew he was the one], but I was too young to get it. He did. He's 10 years older than me. He told me on our second date he was serious and wasn't going to wait more than two years to ask me to marry him. Fast-forward two years; he proposed. We were married in 2008."
Gal and Yaron have two beautiful daughters.
The couple welcomed their daughter Alma in 2001, and their daughter Maya in March 2017. Crazy impressive fact: Gal was pregnant with Maya while playing Wonder Woman, and hid it from everyone. "I found out I was pregnant while shooting Justice League," she said. "I had terrible migraines. I would show up in dark glasses and they all thought I was going Hollywood, but I was only pregnant."
And then we were four…She is here, Maya. I feel so complete blessed and thankful for all the Wonders in my life #family #newborn #grateful pic.twitter.com/d7DiesvUxn
In other cute news, Gal's oldest daughter used to think princesses weren't as brave as princes, and Wonder Woman completely changed her mind. Watch Gal tell the cute story to Ellen below:
Gal used to feel guilty about how her job impacted her daughter.
"The Jewish guilt I feel about being a working mom is the hardest thing," she told Glamour. "I've gotten better. When Alma was around two, I was really anxious about how to travel with a child, moving her from one country to the other, all the different languages. It was my husband who told me: 'Gal, think about what kind of a role model you want to be. If you want to show Alma that she can follow her dreams, that's what you should do, and we will figure out the logistics.'"
Gal and Yaron used to own a luxury hotel, NBD.
Yup, this duo owned a swanky hotel in Tel Aviv, wich they sold in 2015 for a super causal $26 million. "After I shot Fast Four, my husband Yaron and I started traveling back and forth from Israel and the US, which was hard," she said in 2011. "We found ourselves staying in hotels all the time. We wanted to feel at home, which is when we discovered these apartments within a hotel in Los Angeles. It became the inspiration for Yaron's hotel, The Varsano. I think that Yaron and I make a really good team. I understand his career and he understands mine. We help each other progress in all areas of life. We're both very career driven."
Also, please note that Yaron is a feminist.
He even dedicated an Instagram post to Gal Gadot about equality and their loving marriage, and threw in a #feminism hashtag while he was at it:
And now, please prepare your eyeballs for their cutest Instagrams.
Source: Read Full Article