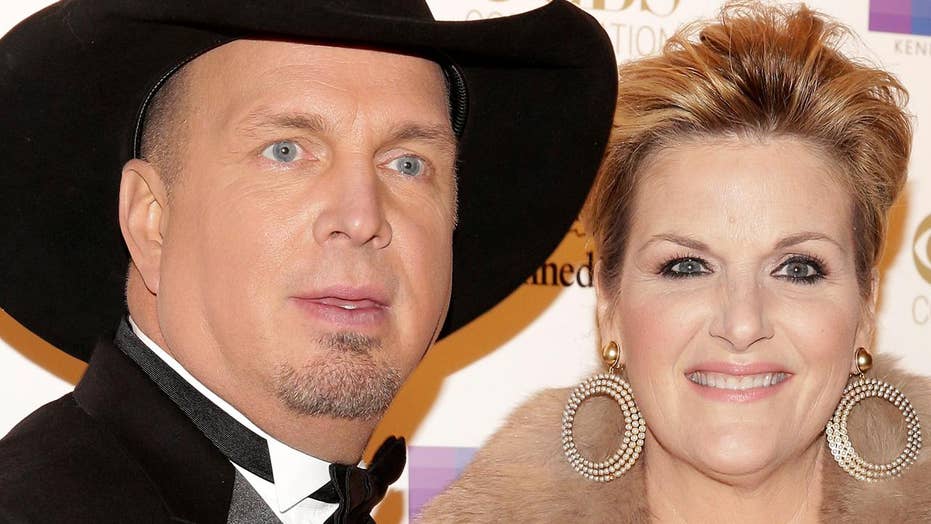 Garth Brooks, Trisha Yearwood share keys to happy marriage
Country superstars have been married for 12 years
Trisha Yearwood is one lucky lady!
The country singer's superstar husband, Garth Brooks, debuted his new love song to his wife of 13 years at Wednesday night's CMA Awards.
Brooks teared up while he sang "Stronger Than Me" in front of Yearwood, who like the rest of the audience, had never heard the song before. Yearwood was also seen tearing up in the audience as Brooks sang.
Before the show, Brooks revealed to Popculture.com that the CMAs did not initially want him to sing the song before later allowing him to perform it.
"What I offered to the CMAs was: let me sing this to her. She hadn't heard it, she won't hear it until that moment. Nobody will. They've been very sweet. They kind of came back and just said, 'Hey, look, something new, that's a ballad, probably doesn't work for us.' So, cool. I'll find some other way for her to hear it," he said.
Brooks regularly gushes about his wife, most recently explaining to Fox News in September how the pair makes their marriage a priority despite their busy careers.
"We do it together. The truth is, this isn't just a statement or [me] being mushy, but I find that anything in my life, I don't get as great results than when I do it with her."
Source: Read Full Article