Take boxed brownie mix to another level with one of Food Network chef Giada De Laurentiis' irresistible brownie recipes. Try one swirled with luscious almond butter or another with an espresso jolt.
There's no reason to settle for a plain brownie with the celebrity chef's delicious variety to choose from. For these recipes, you can use whatever brownie mix you prefer. And as De Laurentiis says, "No one needs to know that they're boxed."
Giada De Laurentiis' Espresso Brownies are packed with flavor
Gooey and intense, De Laurentiis' Espresso Brownies (full recipe can be found on the Food Network site) star espresso powder to give these treats the kick they'll give anyone enjoying them. Boxed mix is revved up by the coffee powder, as well as chocolate chips and powdered sugar.
Espresso powder, the chef notes in the FN video for this recipe, "is just coffee beans that are ground and then dried. It's actually ground, brewed, then dried, to be exact."
The espresso powder appears in both the batter for the brownies and in the silky, creamy glaze spread on the cooled baked treats. A tablespoon of room-temperature butter is added to the glaze so that it sets "faster, kind of gives it a thicker consistency." Finally, powdered sugar gives the icing its body and, of course, sweetness. The dessert is refrigerated so the glaze can set firmly.
With over 200 four- and five-star reviews on the FN site, these brownies are a hit. As one reviewer stated: "I've made this recipe dozens of times with a variety of brownie mixes and it never fails me. These will keep you up at night, partly due to the caffeine and partly because you can't stop thinking about them."
De Laurentiis' Lemon Cheesecake Brownies are just 6 ingredients of tang and richness
While the words "lemon" and "brownie" aren't usually used together, this incredibly easy-to-make dessert (find the full recipe on the Food Network site) features the smoothness of a cheesecake dessert with dark, delicious chocolate flavor. Think chocolate cheesecake. The addition of lemon brightens these brownies, making them a perfect afternoon pick-me-up.
You'll need your favorite box of brownie mix, vegetable oil, an egg, mascarpone cheese, sugar, and lemon zest to put these brownies together. That's it!
An across-the-board winner on FN's site, De Laurentiis' recipe was summed up by one home cook who wrote: "These were very good.  The addition of the mascarpone cheese and lemon zest gives a tangy and creamy twist.  I was skeptical at first but loved it.  Brownies from a box mix are never quite as good as scratch but these were quick, easy, and yummy.  Absolutely, would make again!"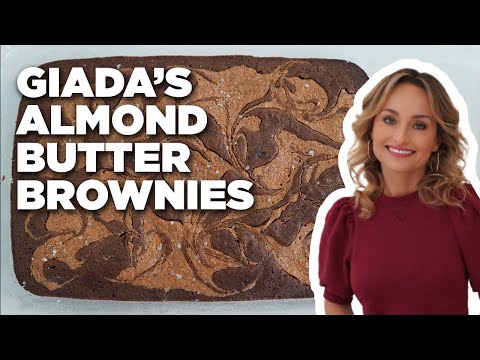 The chef's Almond Butter Brownies are 'extra sophisticated and gourmet'
Another minimal-ingredient recipe, De Laurentiis' Almond Butter Brownies (find the recipe on FN's site) combine chocolate's richness with the satisfying goodness of nut butter. As she notes on her lifestyle and food blog Giadzy, "Boxed brownie mix is a perfect vehicle to get creative and mix in some of your favorite goodies. We opted for an almond butter swirl for this batch of brownies – it's super fun to do, it turned out really pretty, and tasted great!"
After baking, the Giada at Home star added, "a little flaky sea salt on top made it feel extra sophisticated and gourmet."
De Laurentiis suggests making these your own using whatever kind of nut butter you prefer or happen to have on hand, and enjoy!
Source: Read Full Article