The 2018 Met Gala is finally here and I am increasingly giddy with enthusiasm over what my favorite celebrities have decided to wear. One person that I'm unashamedly infatuated with this year is Gigi Hadid. Not that that's surprising or anything. After all, the supermodel is a bonafide fashionista, from her curve-hugging dresses and stunning cut-out, thigh-high gowns to her envy-worthy, midriff-baring two pieces. But wait until you get a peep of the photos of Gigi Hadid at the 2018 Met Gala — she's gonna blow your mind more than you ever thought she could.
On May 7, Hadid hit the steps of the Metropolitan Museum of Art in New York City donning a multicolored, one-shoulder Versace gown, which mimicked a stained glass window. For accessories, she went with gold bobby pins, crystal earrings and a simple clutch. In short, she looked absolutely angelic, and with the theme being "Heavenly Bodies: Fashion and the Catholic Imagination," it's safe to say she nailed it.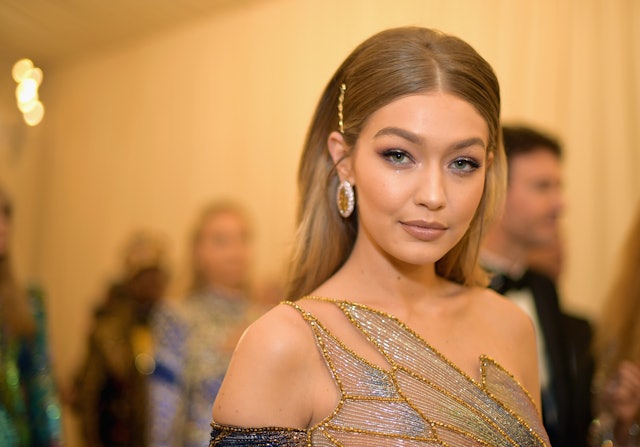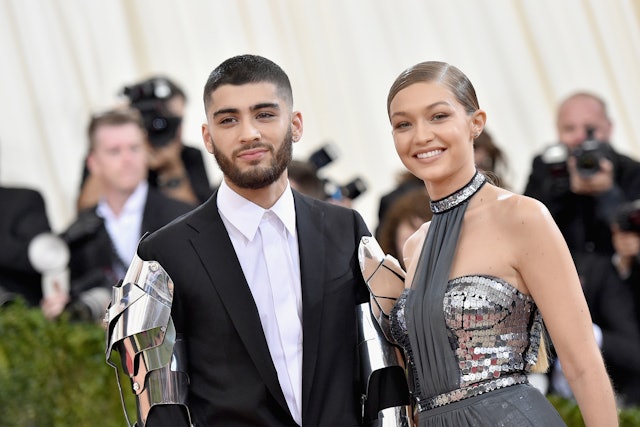 It's also incredibly moving to see her looking so amazing and happy because back in February, she had to clap back at critics who shamed her over her "frail" appearance. In a series of tweets posted to her Twitter page on Feb. 11, Hadid explained that she suffered from Hashimoto's disease — an autoimmune disorder that can result in fatigue or weight gain — and said she would "not further explain the way my body looks."
"Although stress & excessive travel can also affect the body, I have always eaten the same, my body just handles it differently now that my health is better," she continued. "I may be 'too skinny' for u, honestly this skinny isn't what I want to be, but I feel healthier internally and am still learning and growing with my body everyday, as everyone is."
She topped off the thread by saying she would no longer explain the way her body looks to suit "beauty expectation," and yasss, queen.
That's really great and all, Gigi, but I do need you to explain how you slayed this look so much. I'm available for chat via email or social media. Thanks, girl.
Source: Read Full Article