Singer Halsey has gotten candid about body image during and after pregnancy. The pop star, who gave birth to their first child in July, recently flaunted their post-baby body in a backless crop top at a BTS concert. 
Here are all the details and what Halsey has said about body image and pregnancy in the past.
Halsey has worked with BTS before
Halsey is not only a fan of the South Korean boy band BTS; she has also worked with them before. BTS featured the "Nightmare" singer in their 2019 song "Boy With Luv."
The pop star, who uses the pronouns she/they, described working with the group as a "dream." Halsey posted a photo of herself posing with BTS on her Instagram page the day the song was released on Apr. 12, 2019.
"I went all the way to Korea to make this dream a reality!" Halsey wrote in the caption. "For years these guys have impressed me. They have always been so creative and so concise. But this time they impressed me by how welcomed and at home I felt working on this collab. They are truly great artists and even better friends. @bts.bighitofficial + me: Boy With Luv 🌸🍿"
Halsey also has a song called "SUGA's Interlude" on her 2020 album Manic. SUGA is a member of BTS and collaborated with Halsey on the track.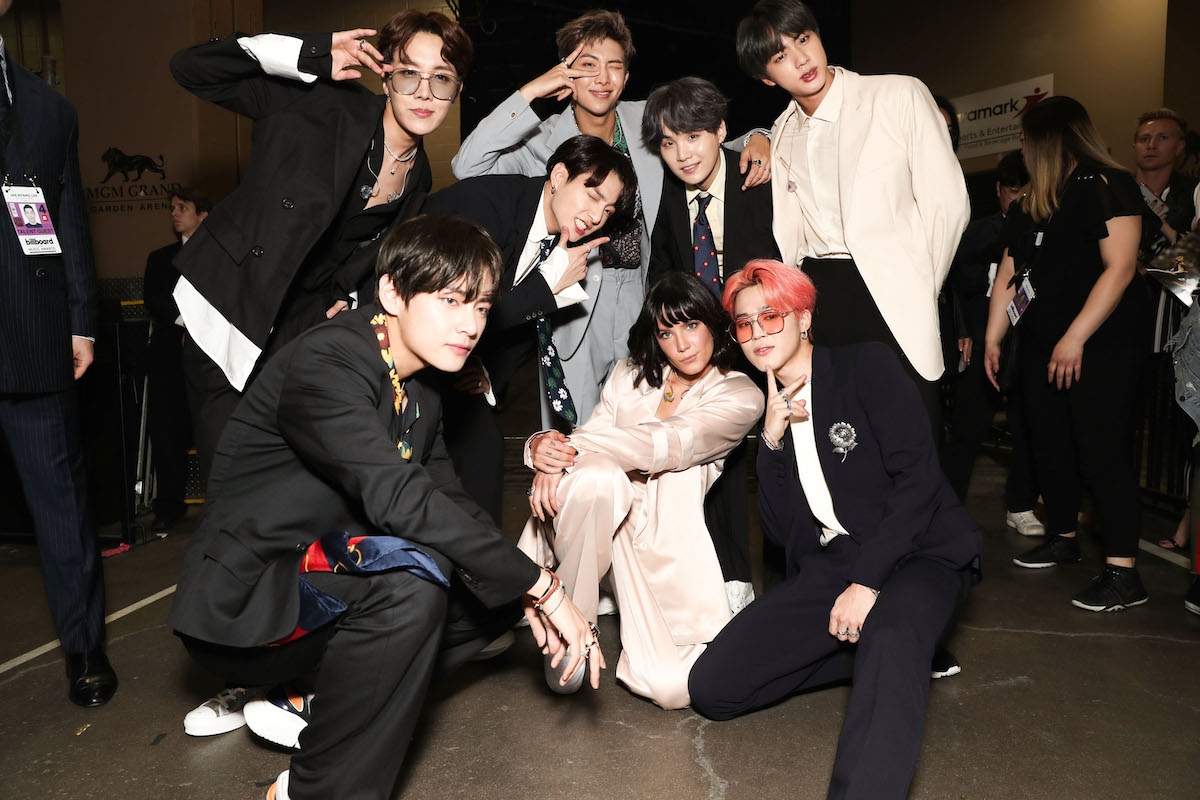 Halsey flaunted her post-baby body at a BTS concert
The "You Should Be Sad" singer showed what a big fan of BTS she is by attending their concert on Wednesday, Dec. 1, at the YouTube Theater in Inglewood, California. They also flaunted their post-baby body in a revealing backless, long-sleeved crop top. 
Halsey posted a series of photos to her Instagram page showing off the outfit. She appeared to have a backstage pass and was with BTS in some of the images. The singer also holds her baby in one picture. She captioned the post, "uncle gang 🤘🏽 beyond words 🔮"
In her Instagram Stories, the "Bad At Love" singer dances along to the music in the crowd, waving a flashing light in one hand. They also tweeted their support for the band, writing, "BTS are the coolest band in the world."
https://www.instagram.com/p/CU5PvBtp6sa/
The singer has opened up about body image during and after pregnancy before
Halsey spoke up about body image and pregnancy long before attending the BTS concert. On Sept. 9, they tweeted, "My pregnancy has changed my body so much. Learning how to have a personal sense of style when you're not used to your new shapes has become a real struggle. To all the mommas (or really just anyone going thru something similar) I feeeel you."
The tattooed singer followed up with another tweet about gender identity and body image. "The pressure to look 'androgynous' as a means of gender non-confirming expression (as a big titty breastfeeding mom) coupled with expectation to have a perfect body right after birth is a cocktail of confusion," Halsey wrote. "I'm patiently reminding myself to do me in any way that feels good."
On Oct. 11, the singer and songwriter shared photos on Instagram showing her body days after giving birth. She accompanied the images with a lengthy caption about postpartum body image. 
"I do not want to feed the Illusion that you're meant to feel and look 'great' immediately postpartum," Halsey wrote. "That is not my narrative currently."
They continued later in the caption, "I will never have my 'pre baby body back' no matter how it changes physically because I have now had a baby! And that has altered me forever; emotionally, spiritually, and physically. That change is permanent. And I don't want to go back!"
Source: Read Full Article