It's easier than ever to snap photos right from the smartphone you have on you at all times, but do you ever wish that you could enhance your pics a bit? There are plenty of apps out there to help whiten your teeth and boost the colors in your image, but sometimes there's a bigger issue with your pic than a little bit of dull coloring. That's when the Adobe Lightroom app will become your best friend, and there's one feature that will really make your photos look better than ever. So, what is "Healing" in Lightroom 2018?
The good news about using the Healing Brush in Adobe Lightroom is that it can remove pretty much anything that's getting in the way of your picture looking exactly the way you want it. According to the Adobe website, the Healing Brush is a premium feature that is included in the $4.99 per month premium fee and the tools in the feature will "remove unnecessary spots, power lines, people, objects, or other such distractions from a photo." So, that sunset pic you snapped on your tropical vacation can be postcard-perfect once you remove the bird that photobombed it at the last minute.
As evidenced by the photo example in the Lightroom app, the Healing feature is exactly what you need for photos of famous landmarks — like the Louvre — that are constantly swarming with tourists.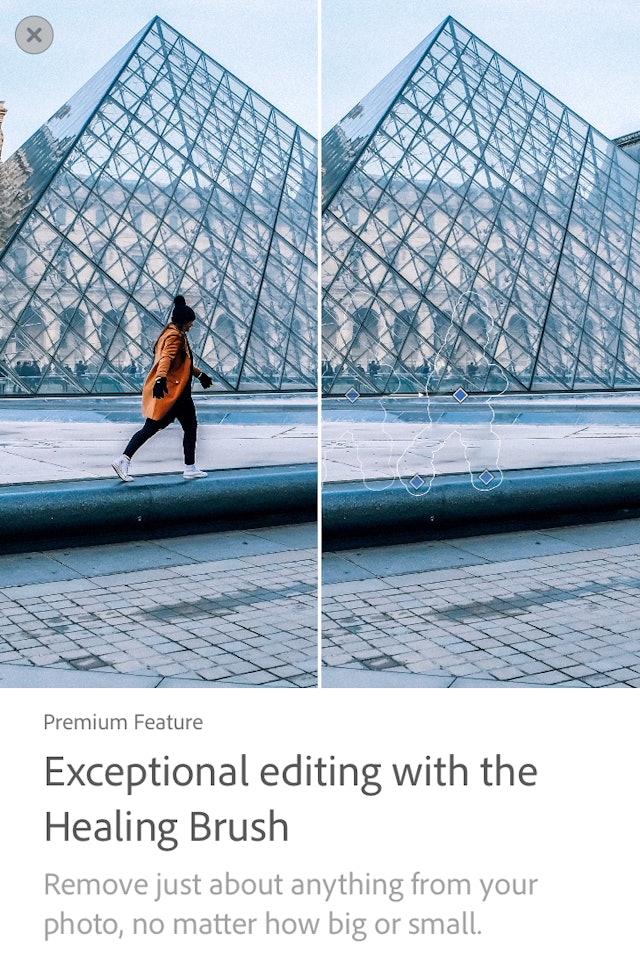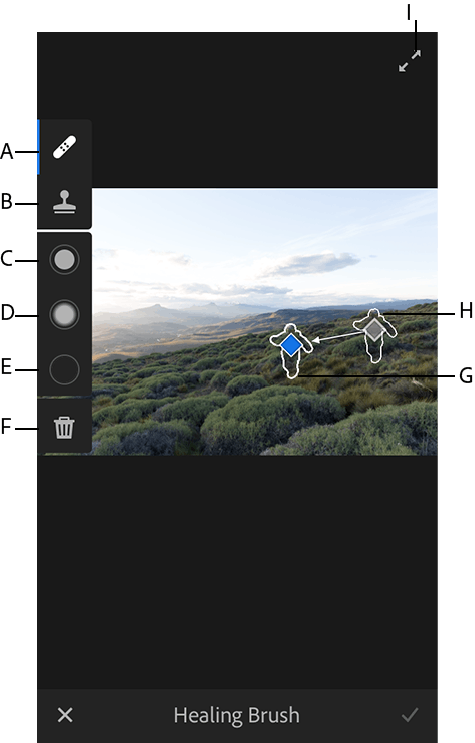 With the Clone tool, you'll do exactly what it sounds like when you replicate the pixels from the source area directly to the target area. You'll also use the Size, Feather, and Opacity tools, which control the diameter of the brush, the "soft-edged transition" of the pixels, and the "opacity of the adjustment applied to the target area," respectively.
Again, this might sound a little tricky to work with at first, but all you really need to know is how to trace the object or person you want removed from your photo, and then you can play around to figure out the rest of it.
The Healing feature was a new upgrade in the June 2018 update of Adobe Lightroom, but it's not the only way you can take your photos from "meh" to racking up all the likes on Instagram. You can play around with free features like Crop, Light, and Color to tinker with your summer vaca pics until they look as great as the time you had on the beach.
Really, there's no end to what you can do to up the quality of your photos with Lightroom 2018. And with the Healing tool, you can take all of the touristy pics you want without your fellow photographers totally messing up your final product. I think it's time to book your next vaca to snap all the pics!
Source: Read Full Article