Fans of "The Big Bang Theory" star Kaley Cuoco were in for a big shock when she and her husband of three years, billionaire heir Karl Cook, announced that they were divorcing ahead of Labor Day weekend. In a joint statement shared by People, the former couple said that their "current paths have taken us in opposite directions."
However, Cuoco and Cook's prior actions indicated that they were in it for the long haul. Last February, they spent $11.75 million on a mansion in Hidden Hills, California (per Variety). The couple moved into the home a month later, and thus began their first experiment in residing under the same roof for an extended period of time (per the Daily Mail). In 2019, Cuoco opened up about their previous unconventional marital living arrangements. "We've been together for almost four years. We've not lived together," she said on her good friend Brad Goreski's "Brad Behavior" podcast (via Entertainment Tonight). Cuoco insisted that the separation worked for them and shared a theory about skeptics of their situation. "You know they're just jealous and like, if you could do it, you'd do it too!" she opined.
Cuoco and Cook are both competitive show jumpers whose relationship began with a classic "Meet Cute" at a horse show, where they actually ran into each other (per the New York Post). They share a passion for animals and have adopted multiple rescue dogs together, including Dumpy the chihuahua and Larry the mastiff. So, how could their friends have possibly seen their split coming?
The advice Kaley Cuoco gives friends about relationships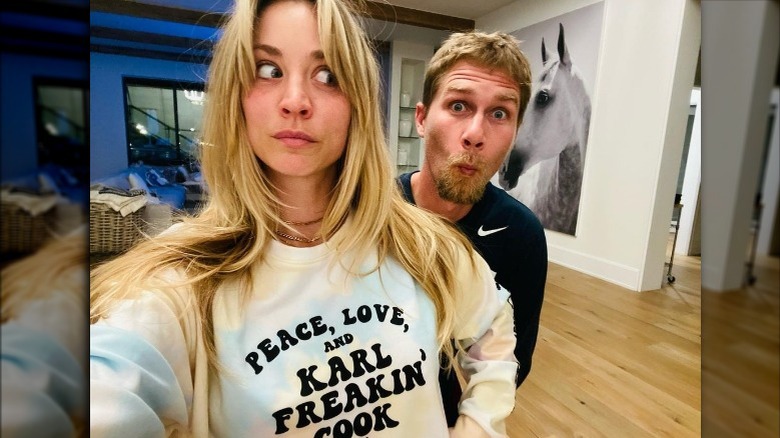 Even though Kaley Cuoco divorced her first husband Ryan Sweeting before they celebrated their second wedding anniversary, the actor's friends were reportedly blindsided by the demise of her second marriage. "The split seems very sudden. It's pretty shocking," an insider told People. When the source last saw Cuoco and Karl Cook earlier this summer, they exhibited no signs of marital trouble.
On June 30, Cuoco marked the couple's third wedding anniversary with an Instagram tribute to Cook. "Why have you stayed married to me for so long?! I'm sincerely impressed," she wrote. But, while "The Flight Attendant" star suggested that Cook was a flight risk, the couple's divorce announcement described their split as a mutual decision that resulted in "no anger or animosity."
We have a feeling we're going to miss Cook's embarrassing Instagram photos of Cuoco more than she will, and we're fairly certain that the actor isn't going to fret over her financial situation after cutting ties with her wealthy ex. An insider told Us Weekly that Cuoco signed an "ironclad prenup" to protect her wealth, and now that she has need for that protection, she might remind her friends of some advice she's shared with them before, per Women's Health: "Always make sure you have your life going, and that you're number one, so that anyone who comes into it — husband, or boyfriend, or girlfriend, however you roll — that's just an added bonus to something you're already creating."
Source: Read Full Article