Watch out! This post contains spoilers.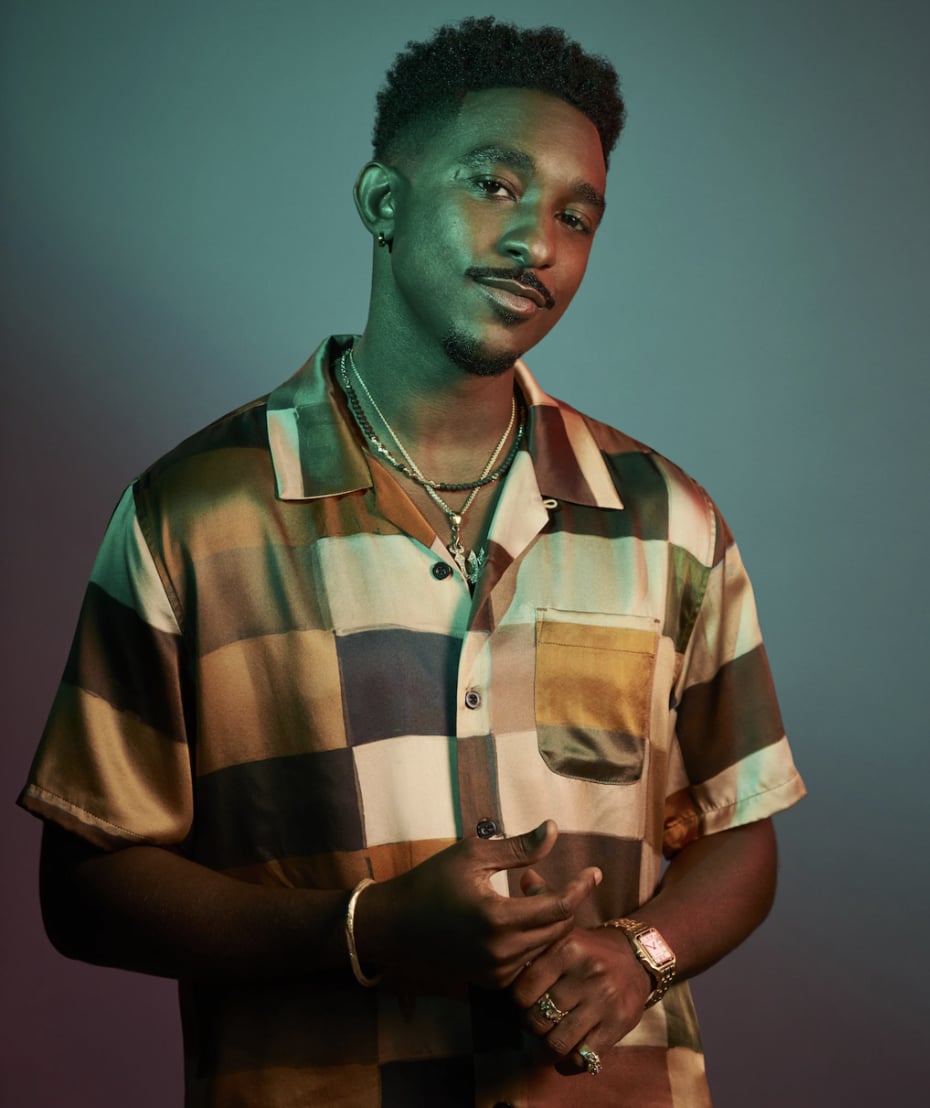 In our Q&A series POPSUGAR Crush, we get to know some of our favorite celebs' more intimate details — from their perfect date night to their best love advice. This month, we're crushing on "Bel-Air" star Jordan L. Jones.
It's pretty rare for actors to have the opportunity to work with their parents on screen. But in "Bel-Air"'s episode four of season two, star Jordan L. Jones got to do exactly that. "I think the greatest part is that my mom actually auditioned for this," Jones tells POPSUGAR of having his mother, Ptosha Storey, as a scene partner. In fact, she didn't even tell him about it until after the fact. "I was like, 'What the f*ck?' You got to tell a brother."
With two seasons on the books, "Bel-Air" is a successful entity, thriving with refreshing storylines that stand apart from the original '90s series. One of those is the exploration of Jazz's backstory in season two with a glimpse at his Muslim parents, Mrs. Ahmad (Storey) and Bilal (Reggie Gaskins) — who his girlfriend, Hilary (Coco Jones), desperately (and hilariously) tries to impress at an awkward family dinner.
Jones credits a higher power for the opportunity to have his real mom tapped to play his TV mom in his biggest role to date. And no, he didn't have to bug creator Morgan Cooper or showrunner Carla Banks Waddles to make it happen. "What I didn't want to do is be like, 'Yeah, so my mom is getting this audition. I would love for her to play my mom. You guys don't have to look at anybody else,'" the 30-year-old actor says.
"Now, of course, once she auditioned, I put in a word with one of the showrunners, like, 'Look, my mom has auditioned. She would be a great mom. She actually is my mom in life so it won't be that hard,'" he continues. "But I didn't double back and check like, 'Did you guys watch her video?' Or anything like that."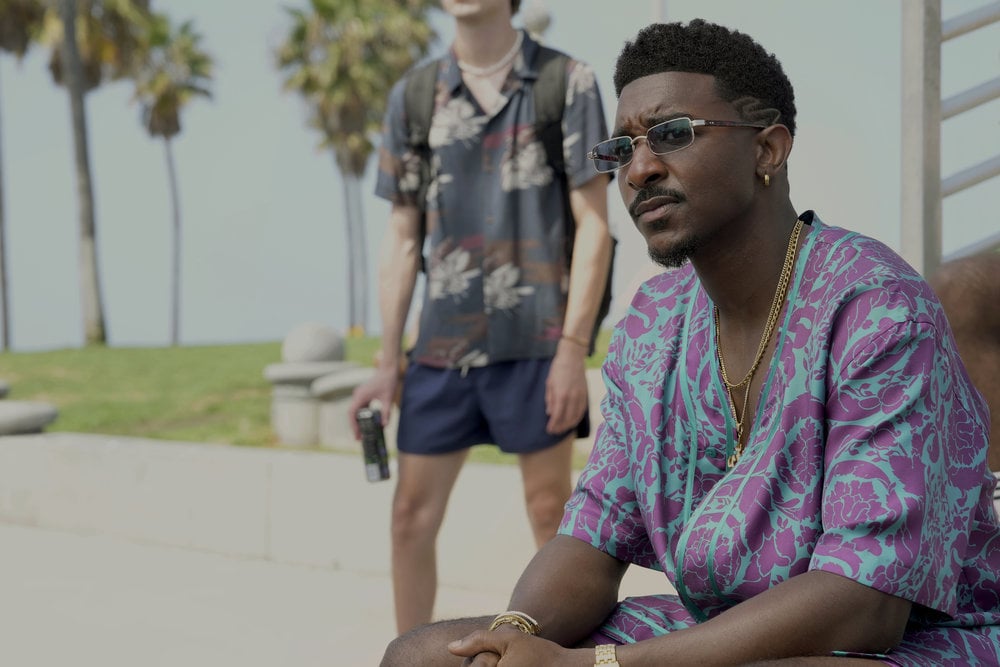 Surprisingly, Jones says his mother was initially against him pursuing acting as a career. "My mom did not want me to act, because my mom is an actress and she knows how hard it is," he explains, adding that Storey is now very supportive. "To have a son go through what she went through, she was like, 'Lord, if you like anything else, please pick something else . . . Because I know what this career entails.'"
With that insight in mind, Jones notes that his mom's firsthand experience in the entertainment business actually has its perks, too. She made it a point to teach him the value of hard work and earning his stripes as an up-and-comer. "The coolest part was that everything my mom has ever taught me about not getting handouts and putting the work in is coming to fruition on the same show that we're working on together," Jones shares. "That was really cool."
While it remains to be seen if Jones's mom will return for another guest appearance on "Bel-Air," the actor is excited for viewers to learn even more about his character throughout the rest of season two and the show's recently confirmed third season. Compared to how calm, cool, and collected Jones's Jazz was in season one, "Bel-Air" fans are starting to see him sweat this season, especially when it comes to his relationship with Hilary.
"In the first season, Jazz was a fan favorite because Jazz is the voice of reason. He helps everybody out, he's Will's best friend, he's good-looking, he has no flaws at all," Jones notes. "So what I'm most excited for in season two is for people to see the more human side of Jazz. Like, Jazz still got feelings. [He] trips sometimes and may overreact or overthink . . . He's still the same Jazz, but you get more of a magnifying glass on how Jazz himself is thinking about certain situations."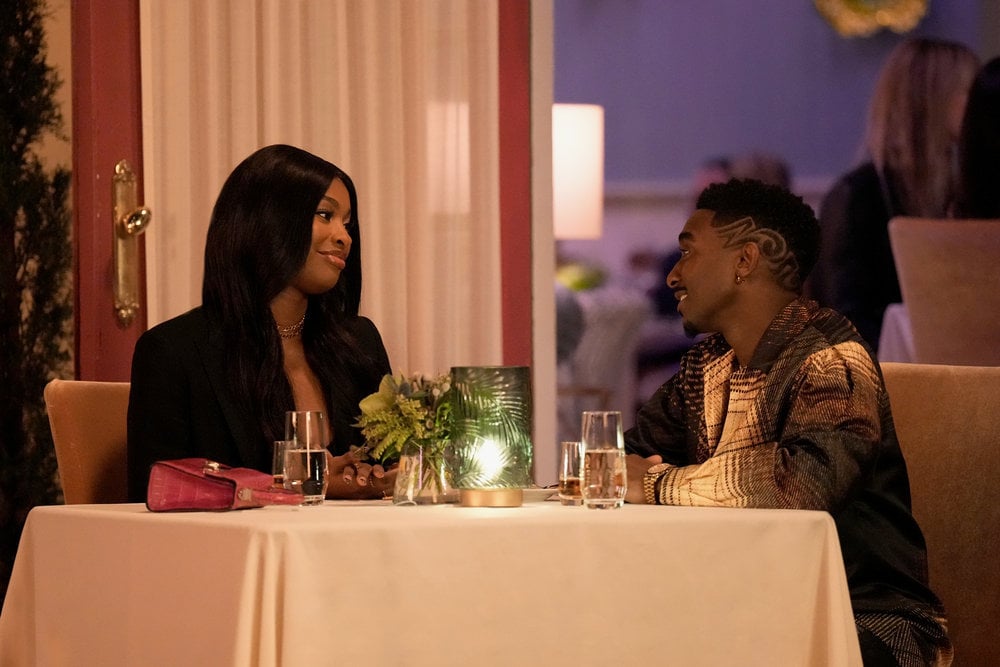 The latest obstacle for Jazz arrives in season two's seventh episode, "Under Pressure," when he attempts to wine and dine Hilary after her ex comes back into town and shakes things up in their relationship. But after a big fight, the two ultimately split up by the end of the episode. Jones assures fans, though, that it may not be the end of the couple just yet.
"Every relationship has ups and downs. Everybody, especially in a relationship, they have to figure out who they are, to be the best person for somebody else. At the end of the day, Jazz is going to figure out who he is within everything. [Episode] seven is not the end of it," he says.
Of course, there are only three episodes left in "Bel-Air" season two, so anything is possible. Will Jazz and Hilary reconcile by then? Jones declines to potentially spoil the finale, however, he believes it's "going to be better than season one's ending." "That season one finale was just about Will. Where's Will going to go? What's he going to do? Of course, as it's supposed to be. But this season is like, 'OK, what about Hilary and Jazz? What's Carlton about to be on?' Everyone has their own little finale," Jones shares. "So I'm really, really excited for this ending because [it] is like seven different endings."
While we wait for the "Bel-Air" season two finale to premiere on April 27, get to know more about Jones ahead — from his myriad date-night ideas to his wise love advice for his "Bel-Air" character.
Source: Read Full Article