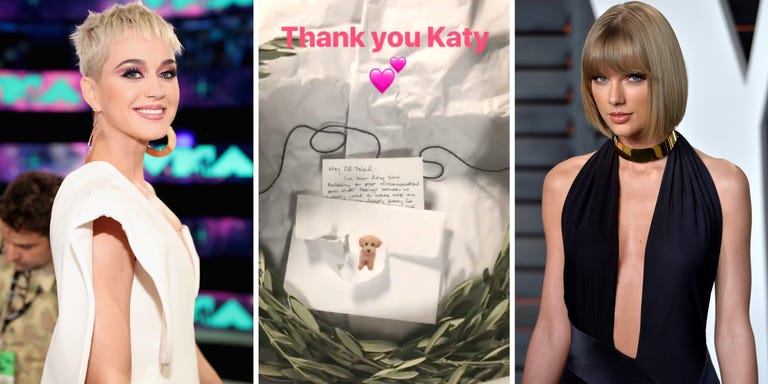 Katy Perry and Taylor Swift's years of feuding may finally be over. This afternoon, Swift revealed on her Instagram story that her longtime frenemy sent her a sweet package ahead of the opening night of her Reputation tour. Its contents? A literal olive branch and an apology letter.
"So I just got back to my dressing room and found this actual olive branch," Swift narrated in a video, showing off the surprise delivery. "This means so much to me," she added.
Taylor also wrote "Thank you Katy," on the clip.
We could only make out a snippet of the hand-written note Perry included in the box (but she did use a puppy sticker for bonus points).
"Hey old friend, I have been doing some reflecting on past miscommunications and hurt feelings between us. I really want to clear the air," the exposed part of the card reads. Perry also adds that she's "deeply sorry" in the note.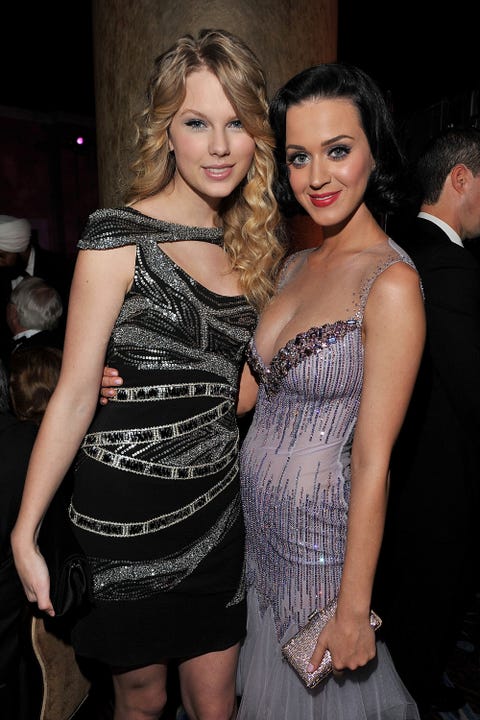 Perry and Swift became friends in 2009, but their relationship got rocky around 2013-2014, when some of Swift's backup dancers reportedly left her Red tour for Perry's Prism tour.
Taylor added fuel to the feud in a 2014 Rolling Stone interview, when she said her song "Bad Blood" was about another woman in the industry. "She did something so horrible," she told the magazine. "I was like, 'Oh, we're just straight-up enemies.' And it wasn't even about a guy! It had to do with business. She basically tried to sabotage an entire arena tour. She tried to hire a bunch of people out from under me." Fans basically took the hint, but Swift later backtracked on her comments.
The squabble continued in the years that followed. Perry said she was waiting for Swift to apologize in 2016 and told James Corden that Taylor "started it" in 2017. But that summer, Perry took a turn, telling Ariana Huffington that she "forgives" her fellow singer. Later that fall, Taylor dropped her Reputation album, which included a few hidden jabs at Perry in songs like "Look What You Made Me Do" and "This Is Why We Can't Have Nice Things."
Now, it seems like the pop stars are finally burying the hatchet. Will Kanye be sending an olive branch next?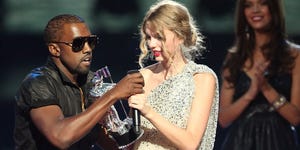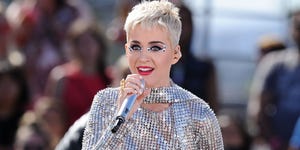 Source: Read Full Article