Former White House press secretary Kayleigh McEnany remains one of Donald Trump's most ardent defenders, just as she continues to be a vocal opponent of President Joe Biden. Since joining Fox News as an on-air commentator in March, McEnany has repeatedly blasted the commander-in-chief over his general lack of press conferences. Earlier in the year, she retweeted a video of President Biden speaking at a White House event in honor of International Women's Day that showed him misremembering the name of the Pentagon, as well as the name of his Secretary of Defense, Lloyd Austin. McEnany captioned the post, "This is why President Biden doesn't hold press conferences. Wow!"
McEnany's anger over Biden's lack of press conferences stems from the fact she believes the media coddles him, while her time in the White House was characterized by criticism and scathing media headlines. (As she revealed during Turning Point USA's Young Women's Leadership Summit in June, her motto was always "offense only," because she "knew what we were up against.") McEnany alleges that the same isn't true of Biden, who is never asked "really hard questions," as she complained during an appearance on Hannity. Given the pundit's ongoing criticism of Biden, it's no surprise she recently took the opportunity to level blame at the president, and paint Trump in a more flattering light in the process. So, what did she have to say?
Kayleigh McEnany believes the U.S. is in crisis under Joe Biden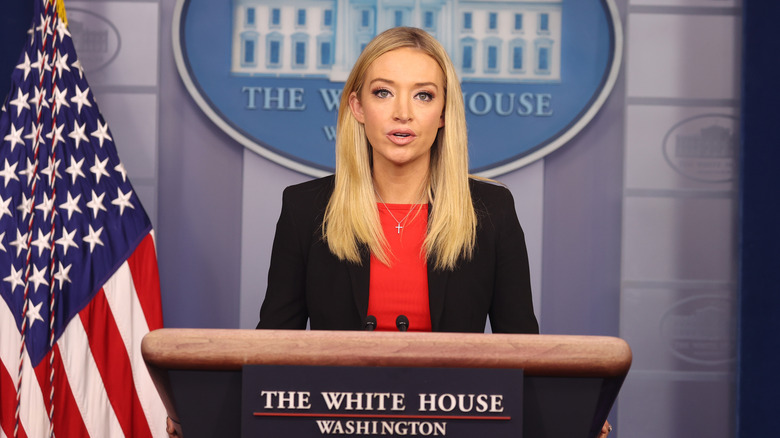 President Joe Biden has seen his job approval take a dip in recent months due to the ongoing COVID-19 pandemic and his handling of the withdrawal of troops from Afghanistan. According to a RealClear Politics poll, his approval rating has plunged to 46%, while an NBC poll shows that the public has lost some faith in his leadership abilities. In the midst of this disapproval, Kayleigh McEnany wasted no time in adding her two cents. During an August 24 episode on Fox News, she asserted her opinion that the U.S. had not struggled with "crisis after crisis" under the Trump administration. "We are eight months into a Biden presidency," she told host Jesse Waters. "We still have three years and four months left. Look, when President Trump was president, you didn't see crisis after crisis. You just didn't see it!"
It's an interesting take, given that in its final year alone, the Trump administration dealt with a deadly pandemic, an economy in crisis, and the storming of the U.S. Capitol, the latter of which resulted in Trump becoming the only president in history to be impeached twice. Democrats like Chris Hahn took McEnany to task by pointing out that the Trump administration was an ongoing crisis. "You're right Kayleigh. It was just a 4 year train wreck followed by a coup attempt," Hahn tweeted. But judging by Biden's relatively low approval rating, perhaps the public isn't feeling too confident with him either.
Source: Read Full Article